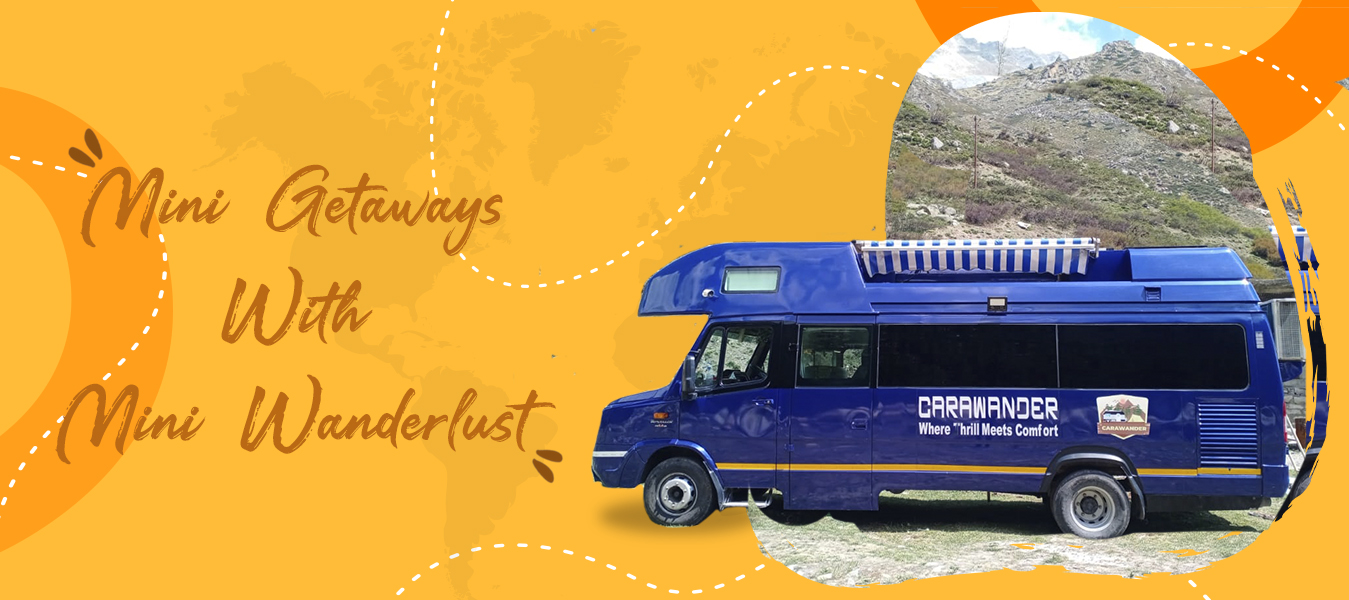 Mini-Getaways With Mini-Wanderlust
You must be tired of the ongoing heatwave, especially if you are staying in the most crowded metro cities of India. Definitely, you wish to escape the heat and humidity, and if possible, settling in the mountains seems like the best idea. However, we know that long leaves are not always possible, so why not take mini breaks and enjoy the pleasant weather at these short getaway destinations by renting a caravan.  
If you rent a caravan for a road trip to these offbeat destinations in India, it will not take much time. It will also be one of the most memorable experiences with friends or colleagues. These short breaks to offbeat destinations will refuel and rejuvenate your mind from the heat of the city and let you get back to work with fresh energy. Also, there is no need for an extravagant travel itinerary to explore these places; it is surrounded more by nature than any tangible heritage. For your mini-breaks, you can always rent a caravan and travel. To make all your short-break planning easier, Carawander's Mini-Wanderlust caravan vehicle will be ideal for seeing these places in India for short-travels.  
The Mini-Wanderlust is an ideal caravan that accommodates a group of six to eight people for travelling to any corner of India. It is the ultimate motel on wheels. You can rent the caravan and save money on food and hotel accommodation while enjoying the luxurious comfort of amenities available on the caravan. 
It is well-lit, spacious, and comes with safety and luxury amenities such as night cameras, a well-equipped kitchenette, air conditioning, and fire extinguishers to ensure that every caravanning trip with Carawander is memorable and secure.
Now let's look at the destinations in India you can visit with the Mini-Wanderlust caravan for a mini-break
1.Coonoor 
There is a misconception amongst people that the Southern regions of India are only ideal for beaches and winter getaways. However, there are offbeat hill stations ideal for mini-breaks to be surrounded by nature and cool weather. One such offbeat hill station is Coonoor which is ideal for travellers looking for a short break from the city life of Chennai and Bangalore. 
You can rent the Mini-Wanderlust caravan and head to Coonoor within nine hours.
The place has beautiful tea gardens located in the hills of Ketti Valley, which is a must-visit. Have some adventure or even a picnic at the scenic Law's Waterfalls. If you are up for more, go for a short hike to Lamb's nose or the Hidden Valley for the most breathtaking views. 
2.Mirik 
The only hill station most people think exists in West Bengal is Darjeeling. Where as the region is sprawling with the untouched beauty of nature and hill stations unknown to the touristy crowd. If you are looking for a short break over the weekend away from the humidity of Kolkata. Be surrounded by only nature, then Mirik is the ideal place you must head by renting a caravan. 
With the Mini-Wanderlust, it will only take eight to ten hours to arrive at Mirik. The place is ideal for trekking and camping. You can enjoy the view at Sumendu Lake, visit the tea gardens, or stroll in the orange orchards. 
Mirik is also ideal for a spiritual experience by visiting the Mirik Church, the Devisthan temple, and the Bokar monastery. 
3.Bhandardara 
If you want to caravan in India and enjoy camping in the forest area at an offbeat place, then Bhandadara is the ideal place. People in Mumbai and Pune must take the Mini-Wanderlust here for camping and sighting fireflies at night. If camping is not your thing, Bhandadara is also great for trekking to Mount Kalsubai or watching the majestic umbrella falls. 
4.Mukteshwar 
A caravan trip in the northern part of India means going to Shimla or Manali. Why not visit a place that has culture, and natural beauty, while giving you a wholesome travel experience. When you head there with the Mini-Wanderlust? 
Located in the Kumaoni region of Uttarakhand, Mukteshwar is one such place ideal for your mini break from Delhi's chaotic city life. You can immerse yourself in the Kumaoni culture while enriching your heritage knowledge by visiting the Indian Veterinary Research Institute. For some spiritual experience, head to the ancient temples dedicated to the Gods of Hills and view the scenic beauty of the Nanda Devi peaks. If you are up for some adventure and thrills, Mukteshwar offers paragliding, rock climbing. And trekking experiences along the Peora and Almora trails. 
5.Landsdowne 
Lansdowne is another mini-getaway destination you can head to with your friends from Delhi via The Mini-Wanderlust. It is an offbeat Garhwali hill station located in Uttarakhand, ideal for trekkers, campers. And those who want to unplug themselves from the noise of city life. You can camp on the forest trails surrounded by Deodar trees and go boat-riding at the Bhulla Lake. Those seeking spirituality can head to St John's Church and Tarakeshwar Mahadev Temple. 
Landsdown also offers a short trekking experience to the Tip n Top point, where you can enjoy mesmerising views. For nature enthusiasts, the hill station is perfect for birdwatching and a wildlife safari to the Kalagarh Tiger Reserve.

Reconnect with yourself and your friends over a nice mini break to these destinations in India via The Mini Wanderlust caravan.