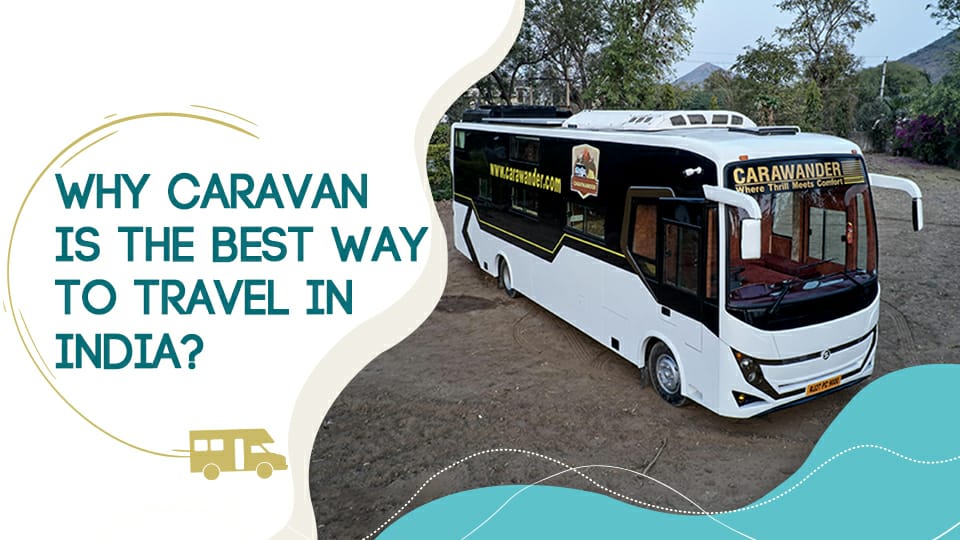 Why caravan is the best way to travel in India?
The best part of travelling in a caravan is it gives you an immense sense of independence, offers a picture-perfect view of a place, the privilege of sleeping under the starry night sky, and a fresh meal on the wheels that make travel a wonderful experience. Along with a caravan, you can explore the wilderness and feel nature up close.
People are going through hustle life on a day-to-day basis and wanting to have new adventures and experiment with their road trips, and that is where caravanning comes in. Here are the benefits once you can avail yourself of using a caravan.
Benefits of caravan   
Closer to mother earth:     
Waking up to the sunrise from a window in your caravan, having access to views on your doorstep to soaking up in the fresh air while travelling in the caravan is the best heavenly experience anyone can have in their life experience.
Affordable travelling:    
A caravan is your accommodation and transport in one, ensuring you have everything you need whenever you need it. Renting a caravan can save you money on accommodation and can be especially useful if you are visiting a new state where you would have to rent a car otherwise to travel around. Caravans provide services like a kitchenette, washroom, fridge, AC, Barbeque, microwave, smart tv, etc., reducing most travel expenses. You can also balance working and exploring with such services provided.   
Bringing your friends and family closer:     
Travelling together is nothing but growing together by sharing moments, hobbies, conversations and passing the time playing games, singing songs together, and dancing. A trip in a caravan with family and friends can create special memories. These memories become the best experiences to live with.
You get your own space:    
Accommodation facilities cannot always be comfortable; you may not have much space to do what you want. There are separate bedrooms and a kitchen in caravans, and you can also set up a camping tent in an outdoor space near nature.
Can take your pets:    
In India, pets are not allowed on trains, buses, or flights. On most holidays, you must leave your pets in kennels or arrange for someone to look after them, which can be distressing for your pet. While on a caravanning holiday, you can take your pets along, have the best companion to travel with, and make the trip enjoyable for your pet.
Meet new people:   
India is a multi-cultural country with many communities, habits, and cultures. Travelling in a caravan to unusual places, we meet new people, learn about their cultures and food habits, and interact with them. In the process, we grow, learn, and explore.
NO time constraint:
Travelling in a caravan will never restrict you or confine you to travel times and put you in a tense situation like trains and buses. You can start your journey in your own time and comfort. Doing this way never puts you in a hurry, and you can recheck if you have packed everything and everyone is done with their daily chores. Caravan travel allows you to stop at a place if the weather is not supportive and restart the journey later, unlike trains and buses.
A chance to try different cuisines on the go:  
If you travel by train, bus, or flight, you cannot get the chance to try various kinds of food at each station you stop by. This will not be the case with caravans. With caravans, you can pause the journey in a specific town or city and try different cuisines of that place without any limitations. If you are a foodie, you will find this interesting and look forward to having a caravan ride for your next travel destination. Another aspect is that you will never be short of food in a caravan as you pack all the healthy snacks or prepare food in the caravan, unlike trains and buses where sometimes you must wait to have healthy food until you reach the destination.
Opportunity to explore unexplored places :
Every beautiful travel destination will have unexplored places that only a few people might get a chance to explore. Be one of them and grab the opportunity to unleash all the hidden treasures of a site by riding a caravan. Exploring hidden places also gives you a sense of satisfaction during the journey.
Remember, taking a holiday is not entirely a luxury. It is known to be legitimately good for your health. It reduces stress, can prevent heart disease, increase your productivity, give you better sleep, and so much more! Considering all these advantages, we can say why caravan travelling is the best way to travel and explore India. Carawander caters for you for the best caravans to try for a spectacular ride in India.