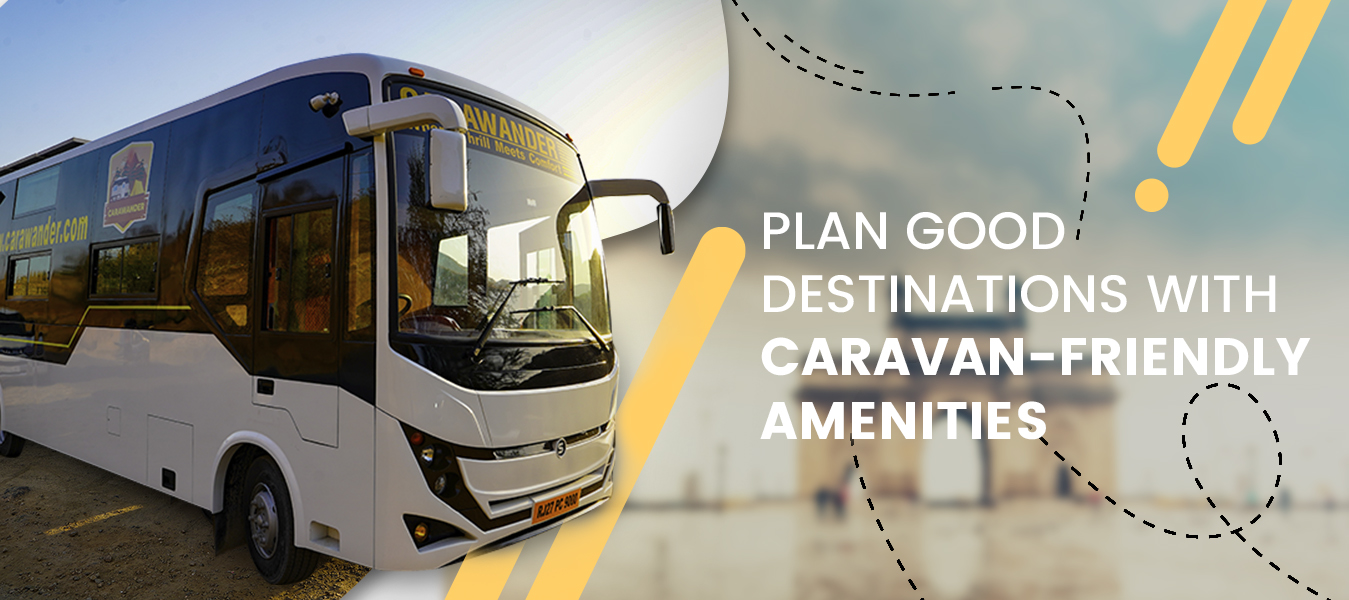 Caravan travel in India: Plan Good Destinations With Caravan-Friendly Amenities
Every heart desire a refreshing camping trip to blue beaches, dunes, green pine forests, and beautiful high mountains. In the present COVID crisis, when social distancing is necessary to remain safe, Caravan is a safer way to travel and perfect for families, friends, and even senior citizens. It is like a motor home on wheels with all the comforts we need.
Caravans are an emerging concept in tourism in India. The government is also promoting caravan travel culture in many states and encouraging travel enthusiasts to opt for caravans for safety and convenience and prefer freedom and flexibility.
Advantages of travelling by Caravan:    
It is a very apt option for the family-based tour in caravan with all the amenities available even to the destinations where adequate accommodation facility is unavailable.
You always think twice about travelling with elderly people as they may not feel comfortable staying in hotels or eating in restaurants. Still, no need to worry as caravan provides with a spacious place and features which give significant comfort to your elders. You can also take your pet along.
You will feel free and independent when you hit the roads with Caravan. You experience the authentic lifestyle and culture during the journey by interacting with local people.
When travelling in Caravan, you do not have to worry about booking a hotel or eating unhygienic food in a restaurant as we provide the best kitchen cabinet with all pantry availabilities (cook your food in it). Thus, it is a safer way to travel, keeping in mind the present Covid-19 situation, as well as a cost-effective medium.
Decide your route, and you can stop your motor home anywhere to enjoy and explore and stay at unexplored places when traveling by Caravan in India.  
Some good destinations to hit on with Caravan in India:    
1. Jaisalmer:
Jaisalmer, also called the "Golden city of Rajasthan," is overlooked by most people traveling through this state. But those who go all the way from different states find themselves in one of the most beautiful places in Rajasthan. We provide with best camping equipment so that you can set up your camping tents in an exotic desert to enjoy the camp experience and have a barbeque in between the perfectly sculpted dunes of the Great Indian Desert.
Some well-known spots in Jaisalmer are perfect for visiting in a caravan:
Rajasthan is known for its historical architectural beauty; enjoy the last living forts of Jaisalmer. 'Jaisalmer fort' is known for its best sunset view, which makes it a golden city.  
Gadisar lake, Jain temples, Bada Bagh, Kuldhara Tazia tower, and Havelis are must-visit places in Jaisalmer. When you are in Jaisalmer, indulge in stargazing at night, enjoy puppet shows, Rajasthani dance with folk music, and famous camel rides. Visit the 'golden city' in your motor home and get unforgettable memories with your loved ones.
2. Rishikesh:
Rishikesh is a town in Dehradun that offers spectacular views of hills covered with green forests. It is a center for studying yoga and meditation, making it so peaceful with yogis, sanyasis, rishis, yogis, and sages.
Rishikesh has a convergence of the great river Ganges and Chandrabhaga. It is famous for adventure activities like white water rafting, camping, trekking, and bungee jumping, which makes it possible to have never-ending memories with friends traveling in the Caravan. This place also has religious importance for Hindus. It is known as the "Gateway to Chaar Dhaam" Hence, many temples, ghats, ashrams, and yoga/meditation centers are present here, making it a preferred destination for elderly people and youngsters. Many resorts and camping sites in Rishikesh host and provide parking and other facilities for Caravans.
3. Kutch (Gujarat):
With the Thar Desert on one side and the Arabian Sea on the other, Kutch- a district with a beautiful amalgamation of sea and desert in the western part of India is a mesmerizing destination to visit. Traveling in a caravan, you can experience the great diversity of Kutch, which makes it an excellent destination for camping, and outdoor experiences like Eco-tourism, Desert safari, and ATV rides.
If you are looking for an offbeat experience, plan your trip in Caravan and go to "Ekal ka Rann" – it is an isolated place close to nature and offers a wonderful experience of local culture. You can also travel to beautiful places like Rann of Kutch; with our hiking equipment, you can visit Kalo Dungar, Mandvi beach, Dholavira, Aina Mahal, Bhardeshwar temple, Siyot caves, and many more destinations.
4. Darjeeling:
A beautiful destination in North-East India because e of its dazzling roads, vast landscapes with delightful views of tea plantations, and vibrant culture. If you want to escape from chaotic city life and relax in the lap of nature, then camping in Darjeeling is one of the best ideas. As it is a hill station, it is cold over there, and after a tiresome day, you have a hot shower bath in Caravan and have a hot coffee made in our instant coffee machine with a charming view.
It is also called the "Queen of Himalayas." Tiger hill of Darjeeling is one of the favorite sites for a thrilling camping experience, to enjoy a bonfire and barbeque with your gang. This beautiful hill town with people from Tibet, Nepal, and nearby Indian states is filled with cultural diversity and a lovely place for all kinds of tourists.
Visiting these places in the best Caravan in India and experiencing the welcoming smiles of local people is a delight for tourists. It is not only about the destination, but "The Journey" also plays a vital role in the memories of any travel experience. So, Start exploring without compromising social distancing and safety norms, and unlock safe travel by Caravans. One can happily follow social distancing and enjoy travelling by road and exploring unfamiliar places with the best well-equipped caravans from Carawander.