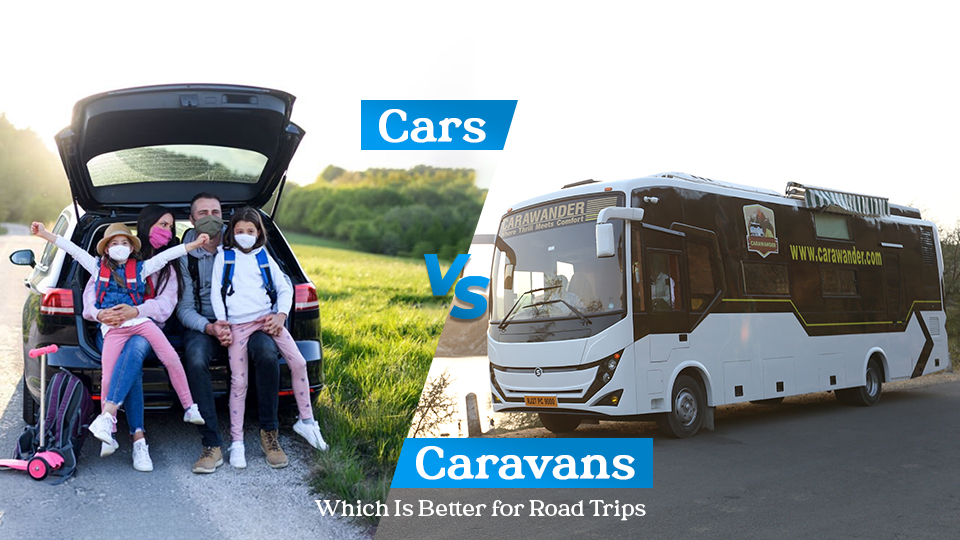 Cars VS Caravans, which is better for Road Trips   
You and your friends sit around, catching up over drinks and dinner. Someone, suitably drunk, suggests a vacation trip. Everyone else, also drunk at this point, raucously agrees and wants in. Everyone recommends dates, hotels to stay in, and places to eat. Then, one alarmingly excited person offers a road trip. Without a doubt, everyone thinks this is a crazy idea. Glasses are cheered, phones are pulled out, and then, as a good sense of carrying the day, everyone discusses how that weekend might be busy, and like many castaway vacation plans, this one also gently makes you float to the bottom of nature.
What if you need to worry about the destination because a road trip is nothing but an adventurous experience to make it more wonderful Say hello to caravans, the new way to travel. Embark on epic road journeys that involve halts where you take out your stuff from the caravan and set it up at your home. You eat on the laps of lush greenery, sleep in the starry night but still are safe and have a clean bathroom at your disposal. Sounds wonderful? It is.
Say 'NO' to cars and 'YES 'to caravans:   
Most friends plan road trips on a long weekend in cars, but as you know, a vehicle does not have a comfortable space to sleep. We must stop in hotels to clean ourselves up and plug in restaurants to have food. Travelling in a caravan, you need not worry about hotel bookings, having unhealthy food, or sitting uncomfortably. Carawander has good news for friends and nuclear families who often opt for a road trip in the car; now, they have the best alternative to have a memorable trip in the caravan.
While tourists make do with seeing local attractions, true adventurers go off the beaten path on a quest for the most hidden gems.
If you are a wanderer who loves to explore as much earth as possible and map uncharted territories, then you love road trips.   
A home on the road:      
You cannot say the same about the trip by car, can you? You carry your caravan with you wherever you go and can park wherever you want, making you enjoy every bit of the journey. Caravans come equipped with kitchen cabins, queen-size beds, seating sofas, and most hygiene toilets: the bigger, the roomier and the more comfortable.
More independence:      
Caravans are the best mode to explore the countryside, where roadside amenities are hard to find. You can park them in most countries anywhere on laybys and camping sites. Imagine setting up a bonfire, having barbecue food, and sleeping in the most breathtaking locations you visit without heading to a town or finding a hotel.
Better budget-saving:     
Travelling home on wheels worries you no more about finding restaurants and hotels. You can cook your food and get your groceries wherever you go. That is particularly convenient when travelling in a large group. You can pack your groceries and cook your meal. You are more likely to back up your previous travel budget for other things like entertainment and leisure.   
Meeting people:      
Travelling by caravan, you meet new people on your campsite and mingle with them. While having conversations, you may obtain information about beautiful places you were unaware of. You tend to know their cultures and food habits. There is a saying travelling makes you grow and explore your soul and travelling in a CARAWANDER to beautiful locations enlightens your brain with a positive aura and fresh vibes.   
Takes more people:   
Younger Travellers do not like to be seated on trips for a long time, and such one's caravan will be the most comfortable space. A car at best takes five people and, on longer journeys, can quickly be oppressive. But in the case of a caravan, it can take more people and give them enough comfortable space so that they do not feel the adverse effects of being confined for a more extended period in a vehicle.
Safety first:     
A family should not have a strong focus on safety. The CARAWANDER is fully equipped to keep you and your family safe and unharmed during your travels. Child protection door locks and advanced airbags keep your passengers safe when the going gets rough.   
Pricing is another thing to keep in mind. Car rental might sound cheaper than caravan rental, but when it comes to the cost of food, accommodation, comfort, and entertainment, caravan rental will be the best choice.
Caravans are the best option to escape from reality to a group of friends and family members. However, more adventurous or out-going Travellers would like the freedom and meetup opportunities offered by a road trip by caravan. Caravans provide more freedom and privacy while allowing you better power over daily expenses.