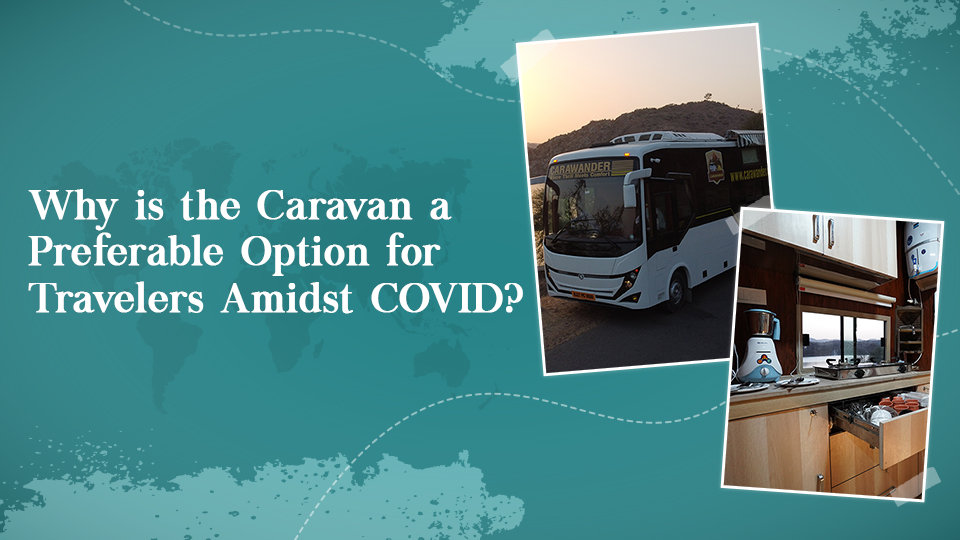 Why is the caravan a preferable option for travelers amidst Covid? 
In the last two years after the onset of the pandemic, the travel and tourism industry has changed drastically. Every time we inch towards normalcy, another wave of Covid arrives. Well, we need to conclude that things will not be the same, but we must change our own gears. Today, in the middle of the pandemic, most people are comfortable traveling via caravan in India  
Road trips via caravan in India are gaining immense popularity for solo trips, family trips, and even for trips by the elderly people amidst covid. As reported by Time of India, even globally, caravan sales have been soaring high in the pandemic.
The current consumer trends show that people prefer safety over luxury. However, Carawander is bringing both to the customers as they can maintain all safety protocols and fulfill their wanderlust in utmost comfort and luxury.
But before traveling via caravan in India in the middle of the pandemic, here are a few things one should keep in mind
1) Make sure you or your family members carry a negative RT-PCR test at least seventy-two hours before traveling or have a double vaccination certificate as it might be checked by authorities on the road while crossing state borders.
2) Avoid traveling to places with high covid infection rates
3) Check the covid protocols for tourists in the particular state of India before you travel
4) Know from before if the public places and tourist spots are open for visit by travelers
Let us understand why traveling via caravan in India is gaining popularity amidst Covid:
1) Social distancing
When you are traveling via train, bus, or flight, there is no chance that you can maintain social distancing. Also, since you are traveling with strangers, you may never know who is healthy or infected with Covid.
However, while traveling via camper van in India, either solo or with family, there is ample space to main social distancing protocols. Also, since you know the medical history of your family members, it is safe to travel with them. 
2) Sanitation
More than people, Covid is transmitted especially by touching unhygienic and infected surfaces such as doorknobs, beds, toilets, etc. Even though toilets, seats, and beds at hotel rooms, trains, and flights are cleaned, one cannot be thoroughly sure about the cleaning process and maintenance since the public commonly uses them.
Carawander's caravans are completely sanitized. It ensures that before boarding, the toilets and the beds are disinfected. During your stay, you can also sanitize commonly used surfaces. This ensures your safety and sanitation during your travels.
3) Safe for children and elderly people
While traveling in the middle of a pandemic, families have to ensure that children, elderly people, and adults with comorbidity issues are safe and do not contract the virus.
Covid affects them worse in comparison to young adults. They are more susceptible to contracting the virus while traveling via trains or flights.
 Traveling via caravan in India is the safest option for elderly people and children as they follow and maintain all the Covid safety and social distancing protocols. 
4) Ensuring healthy eating
If one has recovered from Covid or wants to avoid contracting the infection, healthy eating and avoiding consuming outside food is essential while traveling. One may never know in what hygienic condition the food has been prepared, leading to more health issues.
While traveling via Carawander's rolling paradise or mini wanderlust, you do not have to worry about healthy eating as it comes with a fridge, kitchen, and microwave. Travelers can easily cook, store, and heat food without the need to order food from outside.
5) Being eco-conscious
The pandemic has taught millennials to take affirmative actions about the environment and reduce their carbon footprint as much as possible. Traveling via caravan in India is more eco-friendly than trains, flights, and buses.  
One does not have to take multiple vehicles to reach a destination, thereby reducing the chances of less air pollution.
As travelers will be cooking and storing their own food in caravans, the instances of waste generation are less.
Carawander's caravans are solar-powered and come with necessary kitchen amenities to ensure that your travel is eco-friendly.
6) Rise of the digital nomad
With the continuous work from home trend, employees and entrepreneurs are keen on having frequent workations. As we see more digital nomads fulfilling their desire to travel while doing a job, the caravan has become their preferred mode of workation in the pandemic.
Be it for solo employees or entrepreneurs with small teams, Carawander provides them with all the necessary amenities during their workstations.
With Carawander's amenities and following the state-regulated travel protocols, fulfilling your wanderlust will be possible in utmost safety and security.