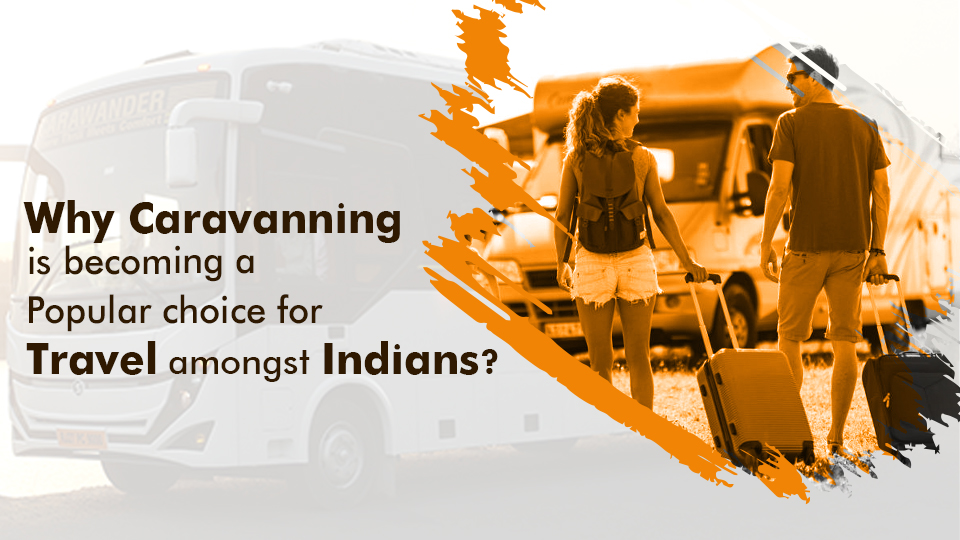 Why caravanning is becoming a popular choice for travel amongst Indians?
When we saw the film Swades, it was the first time we got a taste of traveling by caravan. Since then, popular culture films are showcasing the idea of journey and self-discovery through road trips.
However, it is not because of popular culture that Caravanning becomes a popular choice of travel for Indians.
2020 was a year that everyone will remember. In March 2020, Covid-19 declared a pandemic, leading governments to impose lockdowns and curfews to curb the spread. The pandemic hampered livelihoods, businesses, and industry, amongst which the most hard-hit was the travel and tourism industry globally.
Before the pandemic, the travel and tourism industry boomed, especially with the rise of influencer travel marketing. But with the safety restrictions of the pandemic, countries, and individuals lost 24 percent of revenue that occurs through tourism.
In 2020, Google searched for airfares, airline and railway travel searches dropped nearly to 40 percent leading to the industry losing out a fair share of advertisement.
But like other industries, the travel and tourism industry is also adapting its way to the new normal and clinging to come with methods to resume growth with people beginning to travel.
This was where the idea of travel through caravanning emerged and was soon adopted by Indians.
Let us take a deeper look at it

The trend of sustainable travel and tourism
With the rise of the pandemic, one good outcome that has come out in the travel industry is eco-consciousness towards the planet. The travel and tourism industry has a good share of contribution towards the global carbon footprint. The pandemic is nurturing travelers to do their bit. Instead of traveling by air, people prefer to travel by road on a caravan. Cities like Jaipur are now having caravaning as an option to discover their cultural and local heritage. This silver lining can alter the reputation of the travel industry as caravanning is a way towards greener ways to travel.
Tours becoming more private.
The pandemic has brought out the norm of social distancing. To avoid crowds, heritage places are running on limited timings and entries. This norm percolated into the niche of tour operators who do heritage and nature tours. People are now opting for private tours. With caravanning, people can see places in their own time without the rush to find a vehicle that runs on the stipulated time. This way travelers and tourists can avoid crowds
Vocal for local
The pandemic, especially in India, bought attention to how we can revive the industry by supporting each other locally. The government of India, travel companies, travel influencers have brought out initiatives to encourage people to discover local culture and local tourism by traveling on road. Caravanning became a symbol of how people traveled in earlier times. It started the revival of discovering India through caravanning. This trend is also picking up globally, where people are choosing to stay closer travel locally to revive the economy through caravanning.
Offbeat than popular
With the pandemic, travelers choose alternative destinations to explore rather than going to crowded and touristy places. The work from home model allows employees to work from any location, thereby giving rise to the culture of digital nomads. These travelers prefer to explore offbeat and untouched destinations or go camping and trekking to rejuvenate themselves and be close to nature. However, most offbeat places can only be accessed by cars. It is expensive and often difficult to find transport in such remote locations. This is why offbeat travelers find comfort in traveling in caravans. They can stay and move around in these locations without the hassle to find hotels and food. Caravanning also lets digital nomads travel and work in their own schedule with more flexibility
Functioning of hotels
Before the pandemic, hotels promoted themselves with USPs of luxury and comfort, but in the new normal, it is secondary. To allure travelers, hotels market their hygiene, safety, social distancing norms to ensure guests have a comfortable and safe stay. However, travelers today want to save money more than choose luxury. Caravans are giving them the best of both. It has all the luxurious amenities and one can go with it to see different places without the hassle to book different hotels. Caravanning allows family trips to take place seamlessly. Surely you remember Hum Saath Saath Hai when you plan your next family trip on a caravan.
Indians today are preferring the road and thinking of being eco-conscious, and caravanning is the way forward to implement these ideas in the travel industry.