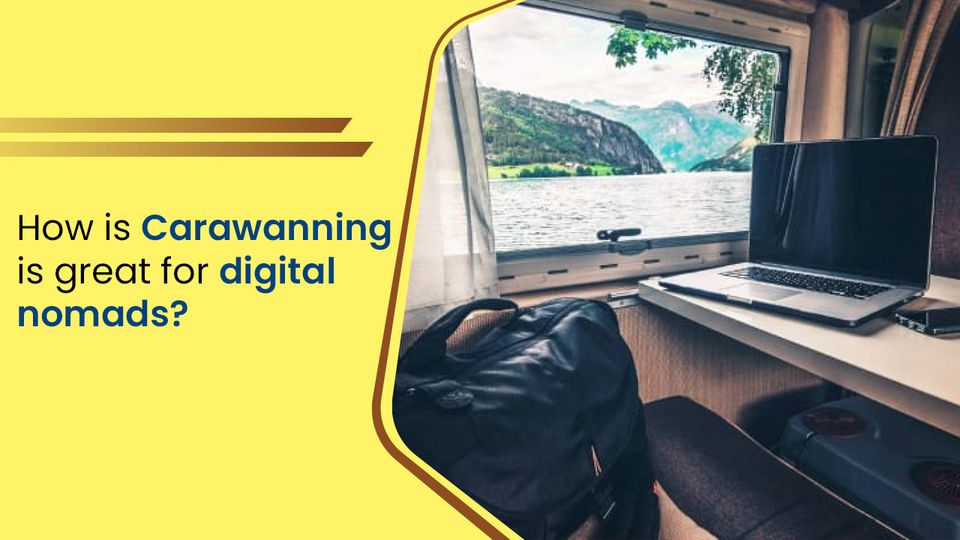 How is Caravanning Great for Digital Nomads?
The world after the pandemic has changed drastically with new norms of living and working. Working from anywhere is something that the young generation of entrepreneurs and employees is venturing as digital nomads.
Digital nomads work and even have vacations. Their main goal is travelling and they are fulfilling the same by giving out their professional services. Technically, they are on workation. 
Being a digital nomad gives you the freedom to earn for the things you love.
Well with caravanning, you can travel on the road and do your work. Even if you are a photographer, writer, food designer, marketer, or even an entrepreneur; caravanning lets you fulfil your digital nomad dream.
The only thing you need to take care of is planning your itinerary for work and travel; then you are good to go.
Let Us Take a Look At How Caravanning Is Great For Digital Nomads:
1. Saves Your Money 
Travelling from one destination to another is quite expensive. On top of that, you have to hire a local vehicle, along with the payment of hotel and food bills. This can be difficult for those who have a small budget for their workation. Caravanning saves the cost of accommodation, transport, and food as it includes all the amenities.
Carawander's luxury caravans can be rented and you can go on a trip and save money as it includes a bed, washroom, sofa, and even a kitchen to make your own food.
2. Wifi
To be a digital nomad, you need your devices and a good internet connection. Modern caravans are technologically advanced. You get Wifi on wheels and do not even have to depend on your phone's hotspot connection and an external router. Working on a caravan with Wifi makes the role of a digital nomad seamless and easy.
3. Save Time 
Time management is a big thing for digital nomads. They have to plan their day and stick to it meticulously. When you are travelling on the road, most of the time is wasted asking people for directions and navigating the road. However, if you are travelling in a caravan that is equipped with technology such as GPS tracking and navigation, you can stick to your schedule without running around in a maze to find the right direction.
4. Working Outdoors
Do you think digital nomads only sit inside the caravan and work with occasional travel? Well, this is a big myth. If you are a photographer, you can venture out and do your assignment while you savour the journey.
Carawaander's luxury caravans even have camping equipment. You can park your caravan and set up a tent for a bonfire at night or simple bird watching during the day, while simultaneously being inspired to finish your work.
5. Great For Retreat
Maybe you are an entrepreneur working remotely, but your team is either cooped up in the office or at home' Through caravanning, you can step in and give them the break they deserve. You can have team barbecues or go camping. It is the retreat that will rejuvenate them.
Caravanning is moving home for digital nomads. They can do whatever they want in their own time. Work and leisure mixed together on a budget and a good schedule. However said you cannot have your cake and eat it too, never met a digital nomad on a caravan.