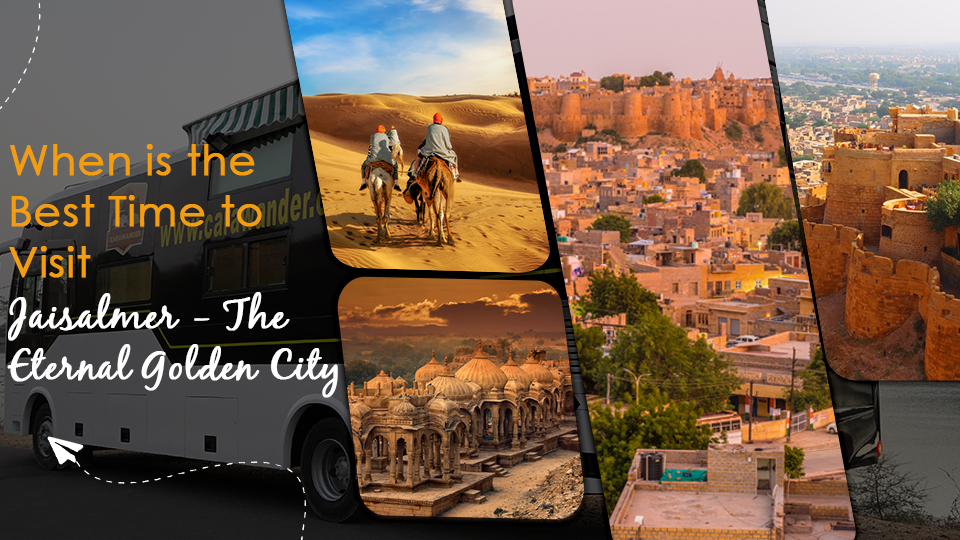 When Is the Best Time to Visit Jaisalmer-the eternal golden city?
Are you planning a vacation to Jaisalmer this year? Well, you might want to check the weather conditions before choosing a month to visit this desert city. Jaisalmer offers something unique for visitors. Rent a caravan for an adventurous experience of the city's eternal brilliance.
In Jaisalmer, our caravans are just 2kilometres from Sam's Dune in the open desert. It is an impressive experience to spend a night under the dome of a starry sky. The fascinating scenery and calm atmosphere will leave you speechless. The second place to camp is at "Mamas Resort and Camp" in Khuri Village. You need to plan your visit well to cover the thorough list of tourist attractions Jaisalmer offers.
In this blog, I will give information about the weather and temperature in Jaisalmer, along with the best time to visit.
About Jaisalmer
It is in the heart of the Thar Desert; Jaisalmer is a popular tourist destination in Rajasthan. Known as the "Golden City," the city is home to royal fortresses, bazaars, and colorful alleys. Named after its founder Rawal Jaisal, Jaisalmer was founded in the 12th century. It is a good Rajasthan city to explore with a rich heritage, religious importance, and an abundance of delicious food.
This famous travel destination is also close to the India-Pakistan border. It has many exciting adventures that can be enjoyed here, such as desert safaris, paragliding, jeep safaris, and more. Renting a caravan is the best option to explore the whole city and enjoy every corner with a comfortable experience.
Jaisalmer is especially famous for the UNESCO World Heritage Jaisalmer Fort, a yellow sandstone architecture in Jaisalmer. Also nicknamed "Sonar Qila," it is one of the few living forts worldwide. This city has many beautiful places to visit, making it a popular tourist destination for visitors worldwide.
When is a suitable time to travel to Jaisalmer?
As Jaisalmer is in the Thar Desert, the average temperature in the city is between 20 and 30 degrees Celsius for most of the year. Due to the arid climate, winters are cold and dry while summers are hot and muggy.
Therefore, avoiding traveling to Jaisalmer in the summer when the temperature is between 40 and 50 degrees Celsius is suggested. You may get heat stroke, preventing you from thoroughly enjoying your visit.
Jaisalmer hardly experiences any rain during the monsoon season, making it an exciting time to visit. In this arid region, you can experience mild, comfortable weather and watch the growth of green bushes. And since our caravan rent per day is very affordable, you can rent a caravan to get an even better experience of being close to nature and beauty.
The climate in Jaisalmer is pleasant, and there are fewer visitors to the city. As for the winters, Jaisalmer is in high season, so tourists from all over the world plan to travel here. If you want to explore Jaisalmer without the crowds, then September, October, February, and March are the best months to visit Jaisalmer.
Best Travel Time for Activities in Jaisalmer
There are many unique activities in Jaisalmer, like camel safaris, desert jeep safaris, dune camping, paramotor driving, and more. But of course, you cannot enjoy them all year round. Most of these activities are canceled during the summer as the weather is too hot to enjoy.
If you want to enjoy these activities, plan a winter or rainy season trip.
Best time to go to festivals in Jaisalmer
One of the most famous festivals in Jaisalmer is the Desert Festival which takes place in February every year. This festival gives you a glance at the traditional culture of Rajasthan. From folk dances to snake charmers, there are many attractions at the Desert Festival, which fascinates people from all over the world and is a suitable time to visit this city.
Apart from that, Diwali and Holi are also suitable times to visit Jaisalmer.
Best Season to Visit Jaisalmer
When planning a trip, you must determine your travel time to Jaisalmer.
It is divided into three seasons: low season, high season, and mid-season.
High Season (October – March)
Jaisalmer is a trending tourist destination in Rajasthan and attracts visitors from all over the world. It is your gateway to experience the Thar Desert and sees the most tourists in the winter season. The temperature varies between 10 and 25 degrees Celsius, an ideal climate for tourism. From October to March, the city is packed with tourists as the weather is pleasant for sightseeing and activities. Hence, this is the peak season for travel to Jaisalmer.
It is also the best time to visit Jaisalmer for camel safaris, dune camping, and other desert activities. You can also see festival celebrations like Diwali in October/November, Holi in March, and Desert Festival in February. Of course, keep in mind the prices for hotels, flights, activities, etc. Are high due to high demand. When renting a caravan, you do not have to worry about all the above costs, as our caravans are equipped with all the necessary amenities for travelers.
Mid-Season (July to September)
Mid-Season in Jaisalmer includes the monsoon months when there is a little rain in Jaisalmer. Although the rain does not mitigate the heat and increases the humidity, it is still an enjoyable time to visit if you want to avoid crowds and experience a cheap trip to this city. Also, most attractions and activities are open currently, making it an excellent time to visit.
Off Season (April – June)
If you do not want to get heatstroke or sunburn, avoid visiting Jaisalmer in the summer. The months between April and June are the worst months to visit this city. Jaisalmer experiences strong sunlight due to its proximity to the Thar Desert. The temperature fluctuates between 40 and 45 degrees Celsius, making it unbearable.
Have a trip to Jaisalmer and experience the charming golden city of India. You can rent a caravan easily with Carawander for your trip to Jaisalmer. With caravan rent per day charges to Rs 5000.