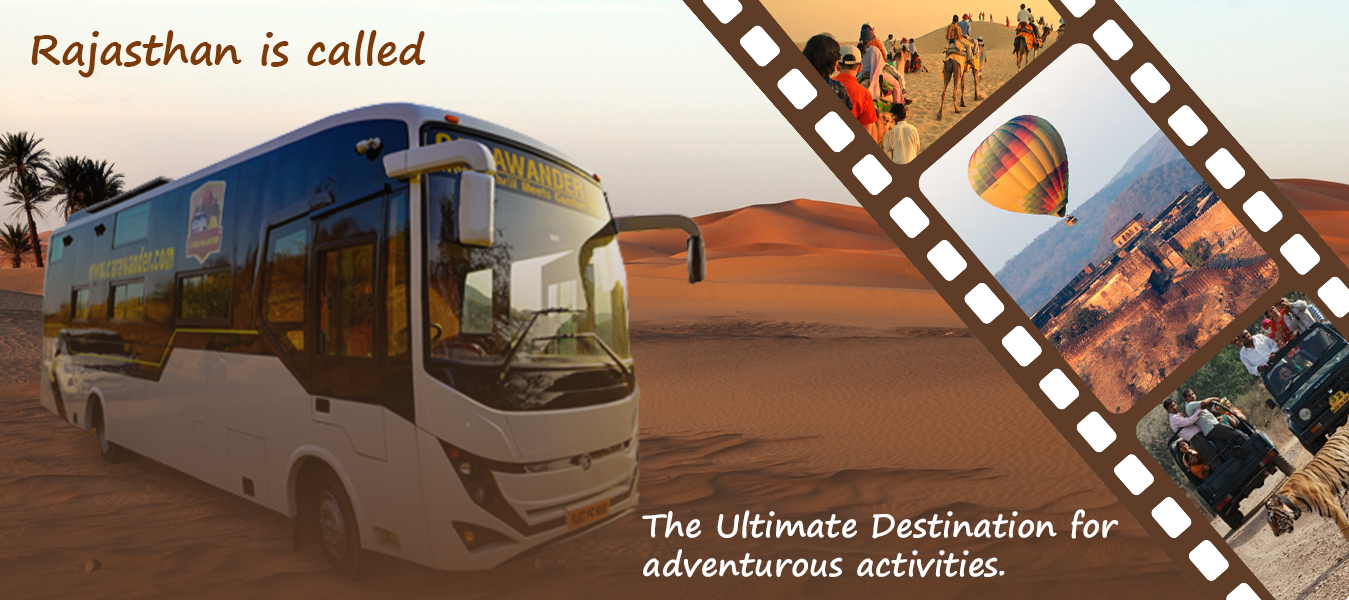 Rajasthan is Calling: The Ultimate Destination for Adventurous Activities. 
Rajasthan is a truly royal state. Its rich food, beautiful places and historical sites are delicious attractions. The state is known not only for its beauty and easygoing heritage but also for its exciting activities. Whether a culture lover, adventure fanatic or history buff, Rajasthan has something for everyone. Strolling through the villages of Rajasthan, exploring the culture, meeting people, and enjoying delicious food is only possible when you Rent a caravan and roam the beauty of Rajasthan.
Rajasthan has a rich and romantic past thanks to the Rajput Maharajas and their royal lifestyle. And today, while travelling in luxury caravans, you can adorn pastel-hued cities, spicy cuisine, colourful turbans, fascinating wildlife, and vibrant festivals that liven up the colours and fill every artist's palette. With so many exciting things to do in Rajasthan, you are never sure what to see next in this multi-hued destination. Here are the top experiences that will make you feel great on your trip to Rajasthan
Hop on a camel and go on a night safari in rustic and majestic Bikaner
One of Rajasthan's most unusual but exciting activities is making friends with camels. A standard itinerary consists of a caravan ride to the camels, a camel expedition to the camp (En route, you will find majestic palaces and ancient temples), and an overnight stay in the village by parking your caravan and enjoying the tasty food and some folk music. Enjoy the camel ride, the stay, the food, and the private time with your loved ones.
Go Zip lining From One Cliff to Another.
One of the most sought-after activities in Rajasthan is Zip Lining or Flying Fox. Jump from one cliff or structure to another, enjoying magnificent views of the forts along the way. Zip lining in Rajasthan you can try at Neemrana Fort and Mehrangarh Fort. While both offer beautiful views, Neemrana is a splendid getaway near Delhi, and Mehrangarh is remarkably close to Udaipur.
Soak up the splendour of Jaisalmer Fort by day and indulge in a bit of Sam Dune by night.
Jaisalmer Fort, featured in Satyajit Ray's Bengali classic Sonar Kella, is still a heavenly urban center with a population of around 3,000. It was built in 1156 AD. C. by the Rajput ruler Rawal Jaisal after whom the city takes its name. You enter the fort near Gopa Chowk and stroll through its winding streets, temples, handicraft shops, restaurants, and guesthouses. The fort's walls are red sandstone, which changes colour depending on the sun's position.
Once you have enough of the golden fortress, head to the Sam Sand Dunes for stunning sunset views. About 40 km from Jaisalmer, you will spend the night roaming the dunes in a luxury caravan, then settle into a camp to enjoy classical music and golden sand is one of the best things to do in Rajasthan.
Safari: A Rendezvous with the Wildlife of Rajasthan
Rajasthan houses some of India's best wildlife and bird sanctuaries. Ranthambore National Park, Keoladeo National Park, Sariska Tiger Reserve, and Bharatpur Bird Sanctuary are the most popular. Tigers, elephants, warthogs, bears, several species of birds and various other natural creatures welcome you to these wildlife sanctuaries.
Savour an authentic Rajasthani meal at the Cultural Village of Chokhi Dhani
chokhi Dhani is a mock Rajasthani village about 20 km from Jaipur and a unique place to highlight Rajasthani arts, culture, and cuisine. It casts a spell over you with its old Rajasthani charm, sparkling turbans, and silver anklets. There is enough here to keep you entertained for about a minute. Lessons: traditional dance, palmistry, authentic meals, elephant and camel rides, llama tossing, puppet shows, shooting, henna painting and, of course, shopping.
Enjoy a bird's eye view of Jaipur as you ride a hot air balloon over the beautiful landscape.
A unique and magical experience is a hot air balloon ride over the cosmopolitan city of Jaipur. It usually takes an hour. Soar above the Pink City landscape and enjoy phenomenal views of this extraordinary city's palaces, forts, and natural beauty. Most balloon rides start from Jal Mahal, Amer Fort, Shiv Vilas or Delhi-Jaipur Road. If you opt for the early flights, you can see the sunrise from the balloon. Sky Waltz is a popular choice for hot air balloon rides in India. However, the prices are high.
Abhaneri Step Well – Admire impressive architecture.
One of the best things to explore in Rajasthan is to visit the regal structure and admire its architecture and beauty. The ancient site once collected rainwater is impressed with its sheer excellence and colossal size.
Trekking – yes, the desert state has hilly seasons
Trekking in Rajasthan can be challenging and tiring due to the hot summer weather. But in the right season and on a day with little wind, it can be an incredible experience.
The lush vegetation of Alwar and the rich cultural heritage of Mount Abu is the best treks for adventure lovers. At the same time, these hikes range from easy to moderate, and the otherworldly beauty and healthy climate appeal to adventure seekers and nature lovers. Spot colourful birds and interact with the villagers. Add this to your things to do in Rajasthan.
Ajmer Sharif: Say Your Prayers
One of the most sacred places in Rajasthan, Ajmer Sharif, is the holy resting place of the Sufi saint Moinuddin Chishti. The shrine is visited by thousands of believers every day. Famed for its magic of granting and granting all wishes, ardent believers of all religions flock to the beautiful Dargah with believing hearts. Visiting this place and taking blessings is one of the peaceful things to do in Rajasthan for all seekers of solace. It is one of the must-see places in Rajasthan to understand the importance of the place.
Rural Rajasthan: Discover Village Life
which is one of the most unusual activities in Rajasthan. The culturally rich State Houses are equally warm and kind to locals. When you rent a caravan, you will find beautiful mud houses, straw huts, simple objects, colourful clothes but hearts full of love and faces adorned with smiles – this is the real Rajasthan.
Rajasthan is natural sugar, spices, and many beautiful things, despite all the noise, chaos, and heat. You cannot complain, as no other place in India offers such value for money. You can save more and explore more of Rajasthan with our Luxury Caravan.