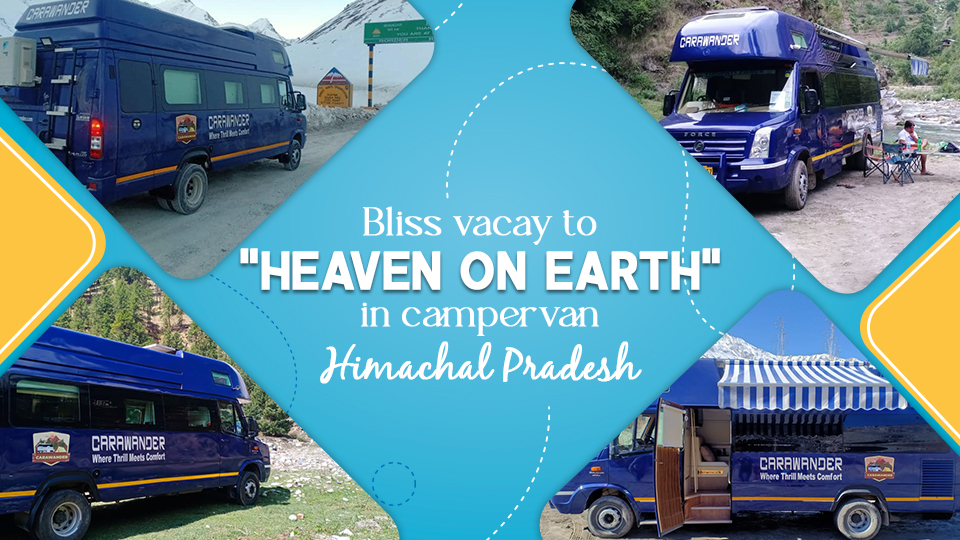 Bliss Vacay to "Heaven on Earth" in Campervan: Himachal Pradesh 
Himachal Pradesh, which translates to "The Homeland of Snow," is a place that every Indian dream craves to visit at least once in a lifetime. If you have not reached this Himalayan paradise yet, the best way to start planning the trip of your dreams is by renting a caravan and encountering heaven close to you.
Plunging valleys and towering mountain ranges that are both awe-inspiring and terrifying, Himachal Pradesh is a heavenly place that no one can forget once visited. From treacherous hiking trails and magical rivers to relaxing resorts and serene monasteries, there is so much to explore in Himachal Pradesh that you will not get enough of. You can opt for caravan rent in India, as caravan culture is trending, and carawander has the best-equipped caravans for a blissful holiday with all the needs.
Explore everything around you in nature. Whether exploring scenic hill stations or attempting the impossible at paragliding, here is an intrepid guide to Himachal Pradesh.
Eye-catching places to visit in winter:
1.Shimla:
Shimla, the "queen of hill stations," is a major tourist center in India. It satisfies all desires of a traveler by offering top-notch tourist spots to visit, exciting activities to enjoy, delicious food to eat, comfortable accommodation options, and a complete mall to shop at. Hence, Shimla is undoubtedly one of the winter's best places to visit in Himachal Pradesh.
The weather of Shimla in winter: The average temperature is around 12°C.
Main Attractions: Visit Vice Regal Lodge, Christ Church, Jakhoo Peak, and Indian Institute for Advanced Study for sightseeing, Shop Mall Road, Lakkar Bazaar, and Tibetan Market, and experience outdoor activities like paragliding, camping, skiing, and much more.
2.Manali:
Manali is the most eclectic and popular place to visit during your trip to Himachal in winter. It attracts all types of tourists, from honeymooners to family members to solo travelers, from glitzy and scenic views to mouth-watering food; Manali has it all for its travelers. Hence, it always retains first place in all lists of the best places to visit in winter in Himachal Pradesh. By renting a caravan, you can halt your caravan anywhere you want in the most beautiful places and enjoy its essence just feeling near you.
Weather in winter –the average temperature is around 10°C.
Must-See Experiences:
Visit the snow-capped Rohtang Pass, the divine temple of Hidimba Devi.
Enjoy exciting outdoor activities in the Solang Valley, including hiking, paragliding, and skiing.
Shop on Mall Road to visit to fulfill your shopping needs.
3.Tosh:
Tosh is another picturesque village in the Parvati Valley at an elevation of 7,874 feet, leading to the exciting Pin Parvati Pass. It is one of the fantastic, offbeat destinations to visit during your Himachal tour in December. Tosh Valley trek leads to Tosh Glacier via scenic trails with mountains on one side and the Tosh River on the other during your December Himachal trek.
Winter weather: The temperature falls below freezing times in December.
Must-See Experiences: Head to Tosh Village for mesmerizing views of the Tosh River on one side and the wondrous mountains on the other. Also, visit Tosh Glacier and Pin Parvati Pass for thrilling experiences. Barot is another remote place in the Mandi district of Himachal Pradesh. So, check the weather before visiting us.
4. Spiti Valley
One of the most impressive and breathtaking destinations in Himachal Pradesh is undoubtedly the Spiti Valley. One is usually speechless when witnessing the snow-capped mountains surrounding a clear blue lake that stretches as far as the eye can see.
The high-altitude Spiti Valley is a cold desert mountain that is unique.
Weather in winter: The average temperature in the Spiti Valley in December is between -1 and -5 degrees Celsius during the day. However, the temperature can drop at night to -20 and -25 degrees Celsius.
Must-See Experiences: Fight the waves while rafting down the river. The water may be cold, but it would be a great adventure.
Welcome the peace at several ancient Buddhist monasteries—camp at Lake Chandratal.
5.Barot:
The city does not experience a large influx of tourists, making it a peaceful place to sit by the Uhl River and spend a few days relaxing in the arms of nature, away from the bustle and hustle of the city. Hence this hidden gem, one of the best places in Himachal Pradesh in December, is a must-see on your next trip. Choosing caravan for rent in India is a safe and stress-free way to enjoy your family vacation in remote places like Barot and gather Precious Memories.
The weather of Barot in winter: The average temperature is around 12°C.
Must See: Visit Dev Pashakot Temple, Uhl River, and Nargu Wildlife Sanctuary. Go to the trekking camps and enjoy fishing with prior permission from the relevant government agency. Mcleodganj Mcleodganj, known as Little Lhasa, is a unique hill station where one can witness a harmonious fusion of Indian and Tibetan cultures. Not only is the rich culture, but the city is also home to several cafes serving delicious Tibetan, Italian and Himachali cuisine, making it one of the best places in Himachal to visit in December.
Winter weather: The average temperature is around 12 °C. Must-See Experiences: Trek to Triund, bathe under Bhagsu Falls, visit Bhagsunath Temple, Baglamukhi Temple, Namgyal Monastery, Tibetan Museum, and Dal Lake.
6.Kheerganga:
Kheerganga is one of the best and most beautiful villages in Himachal Pradesh. It is another sacred place that travelers must include in the itinerary of their trip to Himachal in December. Located at an altitude of 2690 meters, Kheerganga is a small town in the mystical Parvati Valley, covered on all sides by gigantic mountains. If you are traveling in a rented caravan to reach the summit, you will have to walk an arduous 13-kilometer trek from Barshaini.
The trip, upon completion, offers mesmerizing views of lush green mountains and a natural hot spring to wash away the tiredness and make this village one of the best places to visit Himachal Pradesh in winter.
The weather of kheerganga in winter: The average temperature is around 15 °C.
Must-See Experiences: Experience the magnificent waterfalls of Rudra Nag and Sheshnag on your trek to Kheerganga and bathe in the hot sulfur spring at the end of the hike to wash away tiredness.
7.Solan:
Solan, known as the "Mushroom Capital of India," is a metropolis in Himachal Pradesh surrounded by enchanting hills. Hence, one must visit one of the most important historical places in Himachal during one's trip. It also includes a 3-day fair.
Weather in winter: Average temperature around 15 °C.
Must visit places: Visit the mystical Shoolini Temple, Jatoli Shiv Temple, and explore other parts of the city such as Gurkha Fort and Tibetan Monastery.
You can also visit nearby places like Kasauli, Chail, and Parwanoo.
8.Rohtang La
If ultimate adventure and excitement are your idea of a vacation, visiting Rohtang La should be on your bucket list. Immensely blessed by Mother Nature, Rohtang La, also known as Rohtang Pass, this destination connects two of Himachal Pradesh's most significant valleys – Manali and Lahaul & Spiti. The Rohtang Pass Permit is only available during certain months of the year.
Climate In winter: Due to its high altitude, this destination is covered with snow most of the year.
Rohtang Pass is open to tourists in December when it does not snow much. However, the portion of snow that falls at this destination is unpredictable—a lot of snow. With fresh snow, the land becomes magical. Get a bird's-eye view of the whole city while paragliding overhead. Embrace your adventurous inner soul as you indulge in snowmobiling.
Caravan tourism turning famous in Himachal Pradesh
Caravan tourism is becoming famous in Himachal Pradesh, and the national authorities specialize in it. Caravan tourism has become famous in pandemic times, as you can stay limited in caravans without blending with too many people. Hence, caravans for rent in India have turned into pretty trending amongst Travellers.
Caravan tourism aims to lure perfect home and overseas tourists. Himachal Pradesh Chief Minister Jai Ram Thakur said the authorities would sell and increase this tourism model and enhance circuits at locations with insufficient motel accommodation. Other Indian states like Kerala, Goa, and Karnataka have already taken steps for caravan tourism promotion.