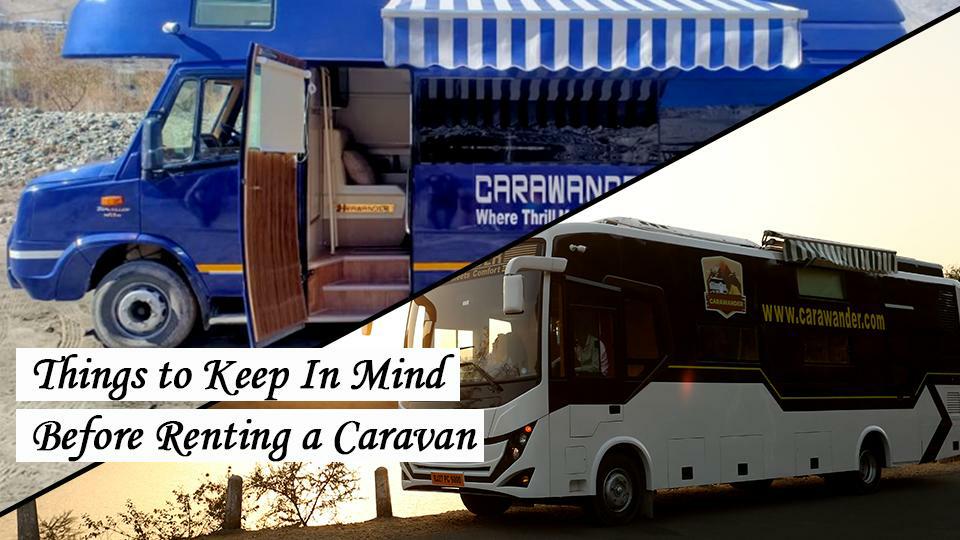 Things to Keep in Mind Before Renting a Caravan 
Caravanning is the latest trend for travellers to fulfil their desire for wanderlust. Since the pandemic, people want to travel in a safe mode with adhering and keeping in mind government-mandated safety and social-distancing protocols. Therefore, people prefer to rent a caravan to travel solo or in a group.  
Before any travel, one plans thoroughly. Similarly, before you decide to rent a caravan, there are specific details you must look into from the caravan provider. These details make your travel experience seamless. Travellers, especially females, must ensure that the caravan provider guarantees both safety and comfort throughout the road trip. 
Long road trips can be physically tiring and exhausting; hence, travellers will be looking for comfort while saving money on staying in luxurious accommodations.
If you are a beginner and will be taking your first road trip, here are the things you must consider before renting a caravan.
1.Cost
Travelling can cost extensive, and it completely depends on the traveller of how much they are willing to spend. When you rent a caravan from Carawander, the cost of accommodation and food gets saved. You get to sleep on a queen-sized bed, and the kitchen comes with a fridge and gas stove to easily make meals. Carawander's caravans give you a sense of home that is moving on wheels.  
The caravan rent per day depends on the destination and the type of caravan you rent, but it is way more economical than staying at the hotel. 
2.Space
It is crucial to consider the spaciousness available before deciding to rent a caravan. If you are travelling alone, still then, space should be regarded as so that with luggage, the caravan does not look cluttered.
If you are going on a family trip or travelling with friends, spaciousness becomes essential. Everyone travelling must feel comfortable and have free movement inside the caravan.
Knowing the spatial capacity before you rent a caravan is essential for the comfort of your road trip.  
Therefore, Carawander provides two special ranges of caravans- The Rolling Paradise and The Mini Wanderlust.
The Rolling Paradise is a big vehicle that accommodates a group of six to eight people. It is ideal for friends or family trips.
On the other hand, The Mini Wanderlust is an ideal vehicle for solo travellers and digital nomads travelling with six people.
3.Hygiene amenities
Hygiene is crucial for travellers in India. It becomes even more critical for female travellers to have clean washrooms as dirty public toilets may lead to contracting UTIs and other infections. Also, it is not safe to use public restrooms in a pandemic.
Availability of clean toilets at hotels during road trips is a dire necessity.
Carawander understands these existing problems during road trips. Hence, it provides clean and hygienic washrooms for travellers. It comes with western-style washrooms, which are comfortable for elderly travellers, along with a shower and geysers.
4. Safety amenities
The caravan should also be safe for travellers. It should have all the safety amenities to cope with any emergency situations.
Carawander considers safety to be the utmost priority for the travellers who rent the caravan.
There is no driver in the caravan; this ensures the safety and privacy of travellers.
Besides this, the caravan has an emergency medical kit and a fire extinguisher. In case someone falls ill, or there is a small fire, the emergency equipment will come in handy for the travellers and ensure they are healthy and safe.
The caravan comes with spare tires to fix punctured tires and ensure the travel continues without any roadblock. This saves time on hunting for mechanics or tire shops in remote places.

5. Kitchen amenities
Travellers spend a lot eating outside or ordering room services from the hotel. Other than the expenditure, these meals might not be safe or hygienic. The road trip experience can be ruined if the traveller falls ill with stomach issues.
Travellers want the Airbnb experience when they rent a caravan. They can be allowed to cook anytime they want and save money from eating outside.  
Carawander understands this need of the travellers; therefore, it comes with kitchen amenities such as a fridge, gas, and microwave.
Travellers can cook, store, and heat food. This not only saves money but also prevents wastage of food.

6.Digital and entertainment amenities
After a long day of travel, some relaxation is required. Carawander's caravans come with TVs which provides entertainment and rejuvenation.
Secondly, today caravans are the ideal mode of transport for digital nomads who travel and earn. To make it easy, Carawander provides Wi-Fi and Geo-Navigation for the digital nomads who are renting the caravans.
This allows them to work seamlessly and reach their destination within the scheduled time.
Carawander ensures that all the pre-requisite amenities are met for travellers' comfort and safety before they decide to rent a caravan for their first road trip.