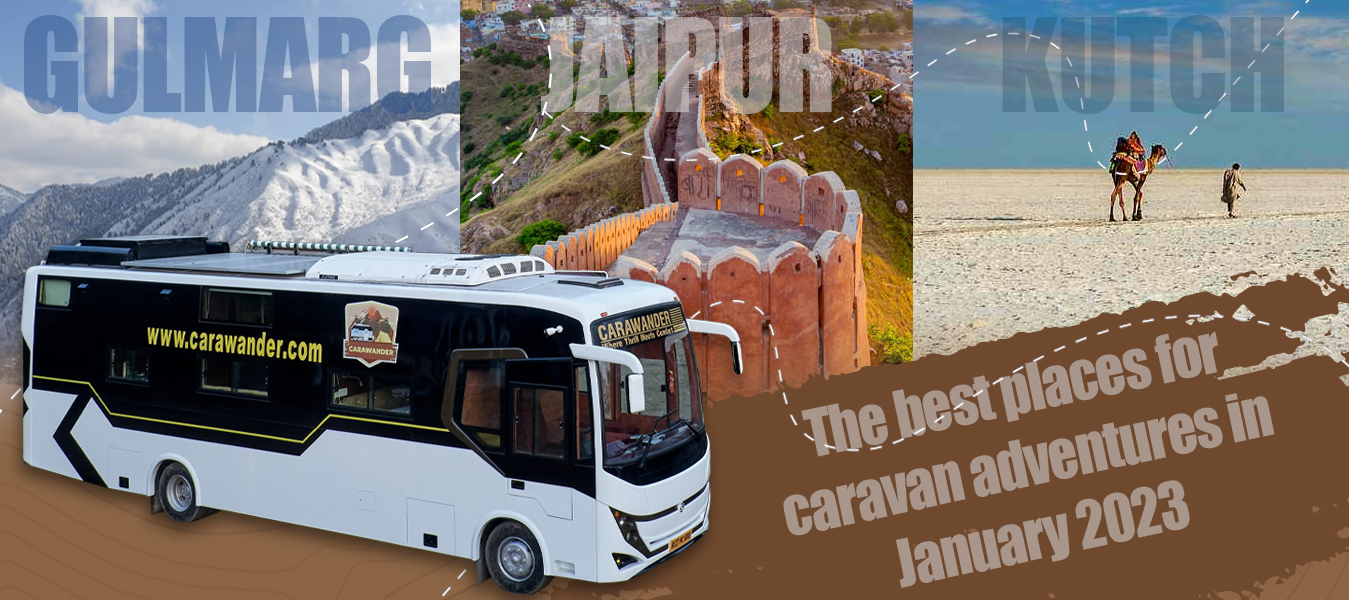 The Best Places for Caravan Adventures in January 2023  
As the new year approaches, many start making resolutions and planning trips. While most people save up for summer vacations during the latter half of the year, winter travel is becoming increasingly popular. You can avoid the scorching heat by travelling to beautiful destinations in a caravan.
As nature has permeated all the air, every living being has been seduced to travel. As the breeze brings chills, some parts of India are covered with glittering snow. The skies are soundless as birds seek shelter, care, and warmth.
If you have plans to kickstart your New Year Celebration 2023 with a perfect vacation, we are helping you further by providing an excellent list of the best places to visit and things to do in January in India. You can rent a luxury caravan from Carawander to make your experience more memorable.
1. Great Rann of Kutch, Gujarat: A Visit to the Land of White Sand and Get Familiar with the Much-Celebrated Festival
Undoubtedly, the Great Rann of Kutch in Gujarat is a fascinating and beautiful place that attracts tourists from all over the world. This area is well-known for its white sand desert and is reputed to be the largest salt desert in the world. If you are looking for an exciting travel destination, The Great Rann of Kutch should be on your list!
This area becomes a shallow wetland during the monsoon season that submerges into the water but becomes scorched during the summers. The winter season is considered the best time to visit kutch in a campervan because, post-monsoon, the sand dries, and the Rann Utsav begins.
The festival in Kutch has something for everyone – from hogging delicious food to shopping for souvenirs, and there is something for everyone. You can also enjoy the cultural festivities, take part in sightseeing and adventurous tours, watch folk dances, and buy handicrafts. There are several activities to keep you busy during the festival.
Popular Tourist Attractions in Great Runn of Kutch
If you are looking for a bird-watching trip that will take your breath away, consider seeing the flamingo paradise in Gujarat. Not only will you see beautiful migratory birds, but you will also have the chance to explore some fantastic temples and landscapes.
Another excellent spot for bird watching is Kalo Dungar, where you can enjoy panoramic views of the temple and salt marsh. It would take approx. 3-4 hours from Great Rann of Kutch to reach this spot.
Mandvi Beach is the perfect destination if you are looking for a family vacation full of relaxation. With its sandy beaches and tranquil atmosphere, it is easy to spend a few carefree days here in a campervan by preparing your favourite meals and having quality time with your loved ones by spending a night in a star-studded sky.
2. Gulmarg, Jammu and Kashmir, Perfect Destination for those Bitten by the Adventure Bug
Gulmarg is the perfect destination if you want to be enveloped in snow and indulge in adventure activities on your vacation, with plenty of adventure activities to endure, such as skiing, cable car rides, and more. During the winter, Gulmarg transforms into a winter wonderland. This January, you will have the chance to see nature at its best as you walk through the thick snow, survive the piercing wind, and catch glimpses of the elusive wildlife.
When you drive in a caravan in winter, it is the time when you witness the entire valley and the Himalayan range engulfed by a pristine white sheet, making it one of the places to go in January. The difficulty level and the thrill of walking on snow make it one of the wonderful places to visit in India in January.
Gulmarg's Top Tourist Attractions
Biosphere Reserve of Gulmarg, Ningle Nallah, Strawberry Valley, Apharwat Peak, KhilanMarg, Maharani Temple
Top things to do in Gulmarg
Gulmarg's best activity is skiing.
The second highest cable car is the Gondola Ride.
Witness breathtaking views of Gulmarg and the tranquil Nanga Parbat.
Seek holy blessings from Baba Reshi Shrine. The temple dates back 600 years.
Beautiful views of Alpather Lake and thrilling pony rides will take your breath away.
Wazwan, Kahwa, Gushtaba, Rogan Josh, and other Kashmiri specialities are available.
3. Jim Corbett, Uttarakhand, Wildlife Jeep Safari in Corbett National Park
Imagine a place where you can spot ferocious big cats, such as the Royal Bengal Tiger and other species. The breathtaking display of flowers greets you at every turn. If you are looking for safaris and wildlife in India, then Corbett National Park is the place to be this January. Corbett is India's best-protected and managed national park, with 600 species of birds, 500 species of flora, and numerous varieties of wild animals.
Places to visit:
Visit Garjiya Devi Temple, the Bijrani Zone of Corbett National Park, Corbett Falls, and the Corbett Tiger Reserve.
Activities in Jim Corbett include a Jeep safari, wildlife photography, and camping.
4.Nainital, Uttarakhand, Live the lake life
Nainital in Uttarakhand is one of the best tourist destinations in India in January, known for its romantic vibes and abundance of places to visit. It is the most well-known hill station near Delhi, where Delhiites can escape for a weekend. The hill station is surrounded by beautiful mountains, which you can have the best experience in a caravan, and the famous Naini Lake is a popular spot for boat rides and day trips.
Nainital attractions include Naini Lake, Tiffin Top, and Snow View.
Things to do: Sightseeing from a caravan, boating, cable car rides, trekking, and temple visits are among the activities available in Nainital.
Plan a caravan trip to your favourite Indian destination to begin the year on a high note with many unforgettable memories to carry with you. If you want to start the year with a sense of adventure and freshness, this list of the most attractive places to visit in India in January will not let you down! Call us and book a caravan for the best adventure to start a new year.