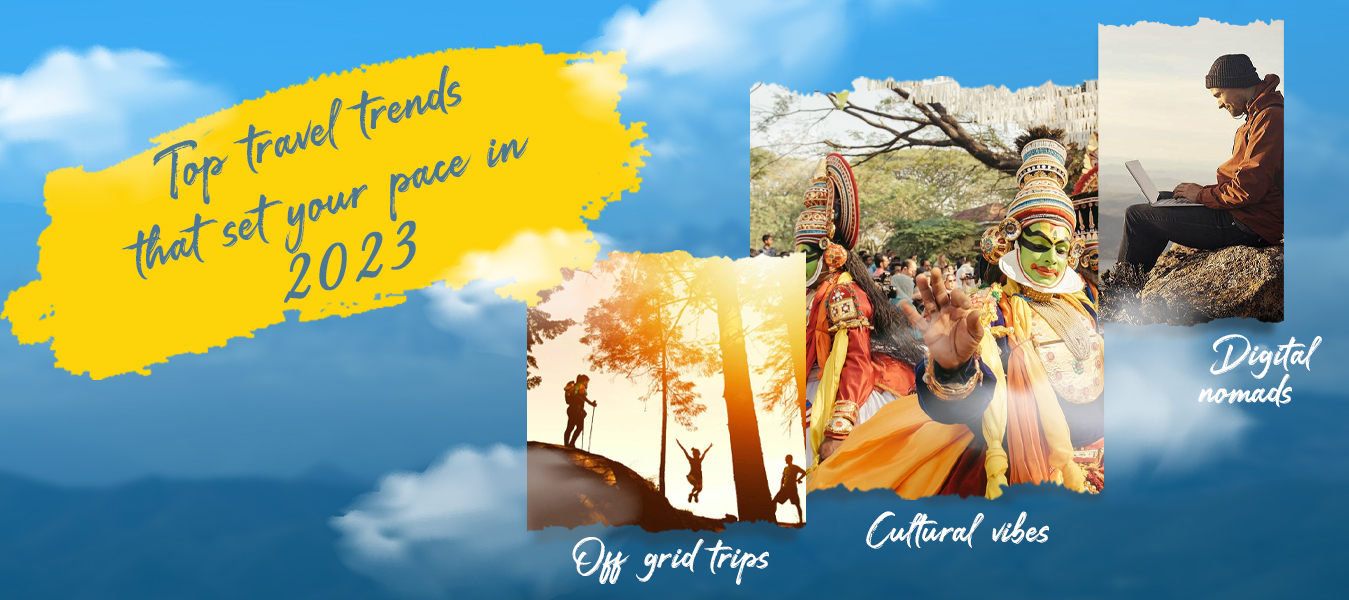 Top Travel Trends that Set your Pace in 2023 
New Year To travel is to discover the unknown places of you. Travelling is the most calming and introspective experience, especially when it's the new start to the year and many travel destinations are awaiting you to explore them. With the new beginnings, many new trends and ways to unleash the new side of existing trends have recently come into the picture. From offbeat places to unexplored ones, every place awaits people to explore them. Many people have shown varied interests in travelling to different places and destinations that uncover the best in them the most exciting way possible without a hint of doubt. Having said that, let us have a look at the top travel trends in the year 2023
Off-grid trips
Off-grid trips are the best and most appealing trips for people who want to stay close to nature, away from all the hurry, burry and noisy lives they live daily. With the technology that is overtaking our lives constantly, people also want to make a move to serene and beautiful places that keeps them away from technology as much as possible. With caravans' growing demand, you can choose them as the best options to escape to some of the most beautiful off-grid places you have ever come across.
Some of the best off the grid trips you can go with our caravans
Gurez Valley
Tulail Valley
Jawai
Mussoorie etc.
Cultural vibes
Culture never goes out of trend, and with the new year that has just started, many people are showing their interest in going to the more culture-driven places that make them experience the new taste of tradition, language, food and other cultural fragrances that one can unleash by being to the most underrated and untouched beautiful destinations of the country. If you are curious about cultural diversity, pack your bags and dive into the touch of this New Year.
Best cultural places you can visit with our caravans
Vaishnodevi
Udaipur
Haridwar and Rishikesh
Muktheshwar temple
Retreats
Wellness retreats and spiritual centres open new doors to travel and let us be in the moment, mingling with the serene atmosphere around us. This segment of travel is witnessing tremendous growth, and half of the travellers are showing much interest in mindfulness and spiritual places that improve their health and well-being and drive them towards a new path of self-discovery. The main benefit of visiting a health and wellness retreat is that it leaves you highly energetic instead of draining you away while returning the trip. Our caravans are the best options you can have to fill your soul with the exuberance of travelling to spiritual places in the eternal paths of nature you experience throughout.
You can visit some amazing Wellness retreats in India with our personalized caravans like
Ananda Retreat in Himalayas
Six Senses, Fort Barwara, Rajasthan
Roseate Ganges, Uttarakhand
Digital nomads
This is the ongoing trend happening in most places where employees tend to work from the place they wish. This is the ongoing trend people are adapting to have a stress-free and amicable workcation in between. Millions are digital nomads sprouting up these days, and this trend is here to stay. What's the best option to have a stress-free professional life than working at your own pace, taking long halts whenever you want, in your caravan? Choose a caravan and have limitless travel experience.
Nostalgic trip
According to the survey conducted, 90% of people showed interest in travelling to nostalgic places that reminded them of memorable moments. 60% of the people displayed interest in going to theme places and parks that reminded them of their childhood places. Most travelers are also interested in voting for family reunions, which elevates the importance of spending time with family when it's been a long time since you met your family. With a caravan, you can have an enjoyable time spending time with your family as you can stay together and explore unexplored places just by being in the caravan.
Bucket list
The most trendy and exciting trips are the bucket list trips that you wish to go to this new year. A bucket list is so precious as it is all about what you wish to splurge upon for a long time. Ticking off the places on the bucket list gives you another level of happiness that you always wanted to experience. About two-thirds of the travellers gave stated that they would have their full focus on travel hacking and deals, while others said that budget also plays a significant role while heading to their dream destinations. With our Mini Wanderlust, you can have a well-equipped travel with all the amenities in place without having to worry about it.
Conclusion
Travelling never falls out of place and we will always have something new to offer to everyone who wants to explore more. With the growing affinity with travel, many people have their ways of unveiling the new travel trends that give them nothing but the best with every new beginning. The above-mentioned are some of the most exhilarating trends that site your pace to travel at your best this new year with your friends, family and even in your solitude.