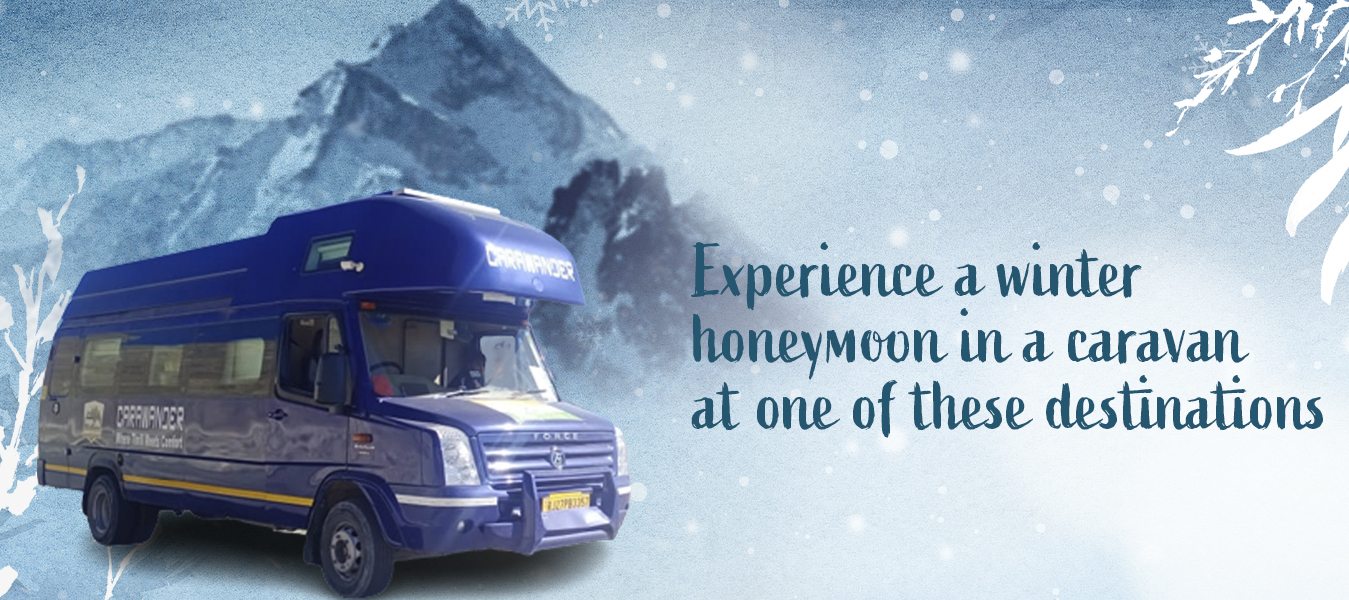 Experience a Winter Honeymoon in a Caravan at One of these Destinations:  
Romance is a sweet bliss, rain in the desert that transforms the dark and gloomy of everyday life into a bliss, and everything seems utopian.
Travelling as a couple in a caravan is a beautiful experience of a lifetime with never-ending memories to talk about. Our luxury caravans offer the perfect opportunity for newlyweds to enjoy moments of togetherness through sweet and sensual escapades. At the stage of love, everything seems lovely and delightful. You get to spend the best time together in our luxury caravan; Matching the romantic vibes of your heart, India is littered with breathtaking landscapes that add to your romantic mood. Every season in India has its charm, but winter offers the best weather for sightseeing, opportunities for adventurous activities and the most beautiful views to capture with your lens.
That is why winter is the preferred season for a romantic trip in India. You will always find a view where you can feel the harmony of togetherness when renting a caravan for your honeymoon or escape getaway with your beloved partner. From surreal landscapes to panoramic city views, from picturesque lakes and waterfalls to stunning mountains, from outstanding monuments to breathtaking hill stations – you name it, you will find it in India.
Udaipur – Romantic Paradise
It is no exaggeration when we call Udaipur the land of romance. Udaipur is a paradise of lakes, and in its serene charm, you will redefine your love and enjoy the bliss of romance. If you are looking for beautiful places for your honeymoon in India, then Udaipur is the best choice for a lovely honeymoon trip with Carawander. Blissful temples where you seek the blessings of togetherness, fairytale palaces, narrow lanes with colorful markets, dense forests and mesmerizing sunrises and sunsets reflected in the tranquil waters of beautiful lakes by sipping a coffee from your caravan. This will make your honeymoon a romantic movie that you will want to watch again and again whenever you come here because the beauty of Udaipur is irresistible. In December and January, the cold waves are even more delightful.
Best activities for a couple in Udaipur
Camel Safari
Paragliding
Udaipur city tour in a caravan
Beautiful sunset at the Sunset Terrace
Romantic boat ride on Lake Pichola
Romantic day at Ambrai Ghat
Jaisalmer – Love in a golden haze
You know the best thing in life is to hold each other's hand in a place like Jaisalmer. It is one of the perfect destinations for a honeymoon in India. Located in the heart of the golden desert of Thar, the heritage of Rawal Jaiswal, Jaisalmer has been luring tourists for centuries with its age-old aura of valor and mesmerizing charm. The hill fort of Jaisal, surrounded by golden sands, is the center of attraction. You will see camels galore and houses built of yellow Jaisalmer stone. Travelling in a caravan, you will also come across beautiful architectural wonders adorned with vibrant golden hues. When you park your caravan at the end of the day, the most romantic and best thing you can do is admire the starry sky amidst the golden Thar desert at night in the desert camps of Jaisalmer.
The best activities for a couple in Jaisalmer
Dune bashing in the Thar Desert
Desert Safari and Camping
Desert Jeep Safari
Camel Safari
Bhang Lassi tasting
Jaisalmer City Tour
Shopping in the colourful bazaars
Parasailing
Paramotoring
Quad biking in the Sam dunes
Shimla – Enjoy Crisp Mountain Air with your beloved
Your soul and the soul of your beloved will be forever intertwined with the beauty of this unique hill station called Shimla. Shimla is the best hill station for a romantic caravan vacation this winter if you plan a romantic trip. Shimla is delightfully chaotic and mesmerizing at the same time. If you want to see the soul of Shimla, then it comes alive in the colourful markets. If you wish to seek eternal peace and divine grace, you must visit Shimla's serene temples to experience the blessings of centennial togetherness. If you are a thrill-seeking nature lover, then skiing, paragliding, ice skating, and trekking on the hills surrounded by pine and oak forests will make your caravan trip the best.
The best activities for a couple in Shimla
Seek bliss in Jakhoo Hills
Mall Road for fun
Sunrise at Chadwick waterfalls
A romantic day in Green Valley
Breathtaking views of the Naldehra Peak
Skiing and horse riding in Kufri
Seek divine blessings in Chail
Amazing nightlife at Scandal Point
Kashmir – Place for Snowy-Flowery Love Escape
Imagine sitting with your beloved in a velvety meadow surrounded by snow-capped peaks or taking a boat ride on a lake lined with mountain forests and talking for hours about your future destinations – this can only happen in Kashmir, the 'heaven on earth Kashmir, the most sought-after honeymoon destination in India, is the ultimate place for romance where you will find nature in its purest form in every corner. This beautiful place offers breathtaking views of nature, glowing lakes, snow-capped mountains, lush green meadows, and picturesque Mughal gardens while you travel in a campervan across the roads of Kashmir.
The best activities for a couple in Kashmir
Shikara ride
Food Tour
River rafting
Paragliding, trekking and mountain biking
Hot air ballooning
Pony ride
Houseboat stay
Gondola ride
Camping
Shopping
Manali – Coveted Honeymoon Destination
One of the most popular honeymoon destinations in North India and the entire country, Manali is in Himachal Pradesh, the picturesque state of India. Manali has been on the top list of places for a honeymoon in India since British times because it offers a relaxing holiday in the lap of nature. The glistening apple orchards, the breathtaking views of the nearby snow-capped mountains and the narrow lanes with rushing rivers on one side – all make it a perfect place to start the first days of your married life. Besides, sites like Hidimba Temple, Jogini Waterfalls, Naggar Castle, Beas River etc., make it even more beautiful to visit with your beloved.
The best activities for a couple in Manali
Hot spring bath
Monastery walks Nature walks
Camping
Watching the snow fall together
Trekking, hiking, and paragliding
Travel shows you love and life in all its glory. We are all the same people, with the same desire to celebrate our victories, get through the tough times and open your hearts to strangers by renting and travelling in a caravan. With our equipped luxury caravan, you can cook together, watch movies, camp in a remote location with your partner, sip coffee, and watch a beautiful sunrise from a caravan. Does it not sound so dreamy, so stop dreaming, book a caravan from carawander and enjoy the experience of a lifetime with your partner.