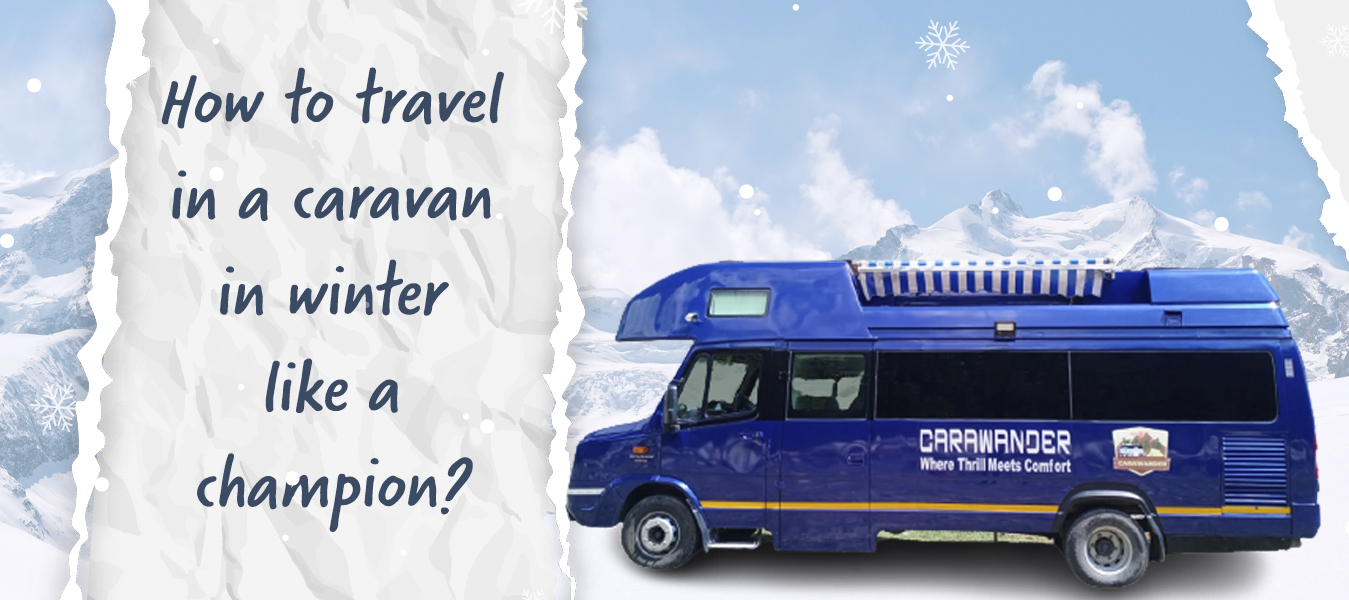 How to Travel in a Caravan in Winter Like a Champion?  
Travelling in winter has so many advantages that it is impossible to resist. It is like having most of the attractions and parks to yourself. Imagine nights of peace and tranquility under the stars without noisy tourists or snagging a spot right by the lake and waking up to a majestic sunrise to the sound of the waves – that is what we call REAL life in a van.
But all these dreams have one great enemy: the COLD.
Travelling in winter, especially when renting a caravan, can be a hassle if not done correctly. When you opt for carawander campervans, with well-equipped winter friendly features such as hot AC,hot shower, coffee machine, kitchen cabinet for making warm food on wheels, your trip gets smoother and more hassle-free.
Here are some essential tips to help you brave the cold and make the most of your trip.
1. Wear quality winter clothing
A common mistake many make is wearing too many layers. It causes more discomfort than comfort, especially when sleeping at night, as thick layers restrict movement and do not encourage breathability. Sweating under those thick layers at night is awful, and you might even catch a cold.
It also does not help during the day, as you may feel restricted and tired if you have trouble moving with limited flexibility. Investing in quality winter clothing, like merino wool or cashmere products, will go a long way. Natural fibers offer excellent insulation and breathability. They are usually made in thin layers, so layering is easy and simple. Yes, the prices are higher, but they last, and you will thank yourself every winter. Our luxury caravans are equipped with a hot shower feature, and you can have a refreshing shower when your body freezes with a chill.
Tip: High-quality thermal clothing under your pyjamas is essential on frosty winter nights.
2. Hot water bags
Ask any seasoned camper, and they will tell you this is their holy grail. Nothing beats snuggling in a hot water bag in bed during the chilly winter. Keep them well-insulated under the covers, and you might wake up a little hot in the morning. And make sure to keep your body warm with warm meals prepared in your caravan and drinks; our luxury caravans have a coffee machine where you can brew your coffee and have it on winter mornings with a view.
Caution: Do not fill hot water bags with boiling water, as this may cause leakage. Make sure to wrap them up tightly because, in winter, there is nothing worse than wet sheets.
3. Disposable Heat Packs (Kairos)
Use these small, inexpensive heat packs to warm your body by sticking them in your pocket or sticking them on as hand warmers. Place them on top of your clothing to warm areas like your lower back and your feet (in shoe soles). A regular backpack will last 6-8 hours if kept in a secure place (pockets, under a jacket, etc.).
4. Sleeping bags
A good sleeping bag ensures restful sleep. Not only does it offer comfort, but it also provides the insulation that is crucial to keeping your body warm. Like a down sleeping bag, investing in quality sleeping bags will help you beat low temperatures. When you rent a caravan from carawander, which includes spacious beds and a cozy environment but in case you are overly sensitive to freezing weather, then prefer sleeping in sleeping bags on beds.
Note: Do not go to bed cold. Suppose your body is cold; sprint or do HIIT exercises to boost your metabolism before bed.
All these insulating winter garments do not generate heat; they store the heat emitted by your body.
5.Portable Humidifiers
Sleeping in a trailer and breathing the cold, dry air at night can be a nightmare for our skin and respiratory system. Nothing is worse on a trip than waking up with a dry, sore throat or cracked lips. People choke in the middle of the night without moisture in the air because their throats cannot take the dry, freezing air. The good news is that many portable USB-powered humidifiers on the market solve this problem.
They are small, light, and easy to use. You must screw it onto a water bottle, plug it into a USB power source (such as a USB portable charger), and keep it close to you while you sleep.
6.High-fat diet
You know that carbohydrates give us energy. Guess who is doing the same thing and taking longer to metabolize? – FATS. Eating a high-fat winter diet will keep you warm and is far healthier than empty carbs like sugary snacks. In winter, we mostly prefer hot smokey food, which warms up the body, and while in a caravan, you can prepare your warm food and boost your body and immunity.
7. Spending the night at a powered site
While the joy of "van life" is being able to park anywhere and stay overnight, sometimes it is just not a luxury you can afford, especially in the winter. Always check the weather forecast, and do not hesitate to spend the night somewhere with electricity if you know the weather will be unbearable. Enjoy a hot shower, get electricity to use the heater in the van and rent a caravan with a BBQ set up for warm meals on winter nights. Are you ready with all these excellent helpful tips and tricks? Are you prepared for the challenge?
Other winter caravanning tips
Plan when you will arrive at the site; Arrival during the day if possible. Driving the caravan backwards onto the pitch in the dark is not so much fun!
Before you set off, ensure you have all your winter essentials, especially if you intend to use your caravan for any length.
Keep the temperature in your caravan down when you are out all day – it is so much better to get back in a warm car!
Keep an eye on the weather forecast!
Remember to empty your caravan when you return.
If you are thrilled to visit a winter wonderland, carawander has perfect comfort and luxury caravans for your trip.
Friendly reminder: While travelling during the peak winter season is rewarding, everyone's body reacts differently. Remember to listen to the signals your body is giving you.
Always remember safety first and stay warm!