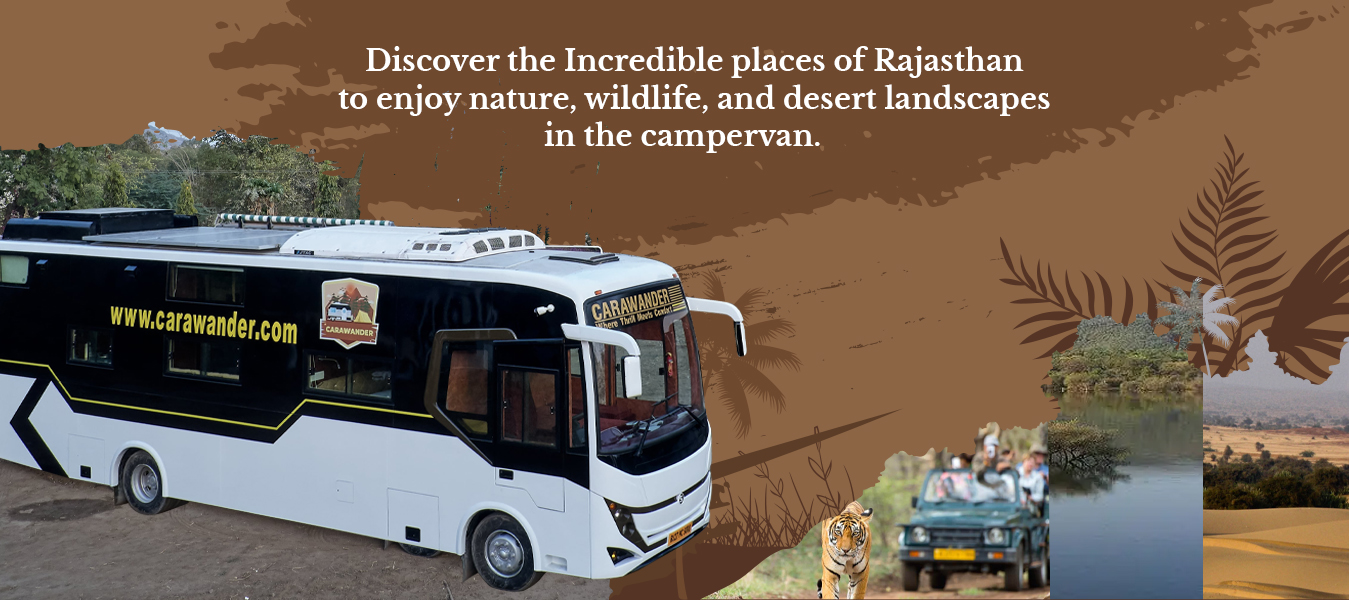 Discover the Incredible Places of Rajasthan to Enjoy Nature, Wildlife, and Desert Landscapes in the Campervan.   
The largest state in India is filled with splendour and beauty and not only a perfect mélange of history and culture but also a hidden treasure of the most spectacular landscapes. Witness the best of Rajasthan delight by renting a caravan from Carawander, as it offers a new way of exploring and travelling with all the luxury and necessary amenities needed for a comfortable and smooth trip.   
Nature Getaways
Mount Abu:  
Nestled in lush green hills on the highest peak of the Aravalli range, Mount Abu is a popular escape from the oppressive climate of Rajasthan.
When you travel by campervan in India, you discover a blend of beautiful landscapes close to you; park your caravan and enjoy the perfect sunset at Sunset Point for mesmerizing views. Boat trips on Lake Nakki and exciting activities such as abseiling and rock climbing. Mount Abu, the state's only hill station, is a scenic wonder that will enchant you with its beautiful waterfalls, vast deserts, and tranquil lakes. During your stay, climb Guru Shikhar Peak for panoramic views of the city and the plains below.
Jawai : 
A must-destination for nature lovers, the picturesque village of Jawai offers a uniquely fascinating experience of unspoilt natural beauty. Set amongst ancient granite cliffs and centered on the Jawai River, this stunning landscape is home to exotic wildlife, including leopards and migratory birds.
Head to the Jawai Dam for leopard spotting, panoramic village views and the best sunrise and sunset views and sip a hot coffee as our caravans have coffee machines, so you do not need to stop near a cafeteria. Just Park your caravan in a beautiful place where you can watch the sunrise and sunset while having a coffee. For adventure lovers, the granite hills are a great trekking experience in the solitude of nature!
Udaipur  : 
Udaipur, well known as the "Venice of the East", is a dream location set amidst sparkling lakes and the majestic Aravalli Hills. Among its many famous lakes, Lake Pichola is a must-see for its beautiful waters, with the magical Lake Palace at its center. There is also the crystal-clear Fateh Sagar Lake and Jaisamand Lake, the second-largest artificial lake in Asia. An absolute pleasure awaits!
For the best experience, enjoy sunset cruises and breathtaking panoramas in the most tranquil setting from your caravan. You can also explore this city of lakes and palaces by renting a caravan, which offers magnificent views of the enchanting landscapes.
Wildlife hotspots
Ranthambore  : 
One of India's largest and most famous national parks, Ranthambore National Park offers an exciting opportunity to view the majestic tiger in its natural habitat. As well as the giant tiger population, the vast landscape of deciduous forests, grasslands, lakes, and heritage sites such as Ranthambore Fort is home to an incredible variety of wildlife, including Sloth Bears, Leopards, Indian Wolves, Sambhar Deer, the Nilgai etc. Exploring this spectacular Park in one open jeep or gallop safari is an incredible experience for nature lovers!
Sariska    
The Sariska Tiger Reserve covers an area of 800 square kilometres and is known for its biodiversity and varied landscapes ranging from grasslands and deciduous forests to mountains and cliffs. This National Park is home to tigers, wild cats, sambhars, wild boars, hyenas, jackals, and several species of birds, especially peacocks, partridges, and golden woodpeckers. Due to its proximity to Jaipur and Delhi, Sariska makes a great weekend getaway for nature lovers and can easily be explored with a jeep or gallop safari.
Bharatpur   
Home to one of the world's most renowned bird sanctuaries, Keoladeo Ghana National Park, Bharatpur attracts eager bird watchers and ornithologists each winter when thousands of migratory waterfowl flock here. Named for the ancient Keoladeo Temple that sits on its grounds, this national Park is home to more than 370 recorded species of native and migratory birds, including ducks, geese, flycatchers, shorebirds, birds of prey and more. Take the opportunity to see the green sandpiper in the wetlands of this World Heritage Site. And take a road tour of this beautiful landscape in our campervan in India.
Jewels of the Desert   
Jaisalmer   
Located in the heart of the vast Thar Desert, Jaisalmer offers the best experience of Rajasthan's rich desert culture. This "Golden City" boasts the two most prominent dune areas in Thar, Sam, and Khuri Sand Dunes. Sam Sand Dunes will amaze you with its 30-60-meter-high dunes in 3-5 km of desert area. Pure with little vegetation.
Jaisalmer hosts the lively Desert Festival amidst its impressive dunes every February. Exciting adventure activities, such as camel safari, jeep safari, etc., await you here. Less touristy, the Khuri Sand Dunes offer small desert homestays and leisurely walks through the pristine dunes in a remote area of Thar. By renting a caravan, you can explore the heritage, culture, and life of the people in the remote areas near Jaisalmer.
Bikaner   
Famous for its distinctive dunes that stretch across the region, Bikaner is a desert destination entirely within Thar. This medieval city retains its ancient wealth and offers exotic desert experiences amidst its golden dunes. Also called "the land of camels," Bikaner is said to have some of the best camels in the world and is home to one of the largest camel farms. While you are here, enjoy a desert safari and camp at Raisar Dunes; enjoy breathtaking and unforgettable sunsets. Dune Walks in Katariasar Village or plans and attends the lively Bikaner Camel Festival held every January.
Jodhpur   
Located on the edge of the Great Indian Desert, Jodhpur is the second largest city in Rajasthan and the gateway to the Thar. The Jodhpur desert experience is necessary for its peaceful and authentic adventures away from the crowded tourist dunes of other places in Rajasthan.
Head to its most outstanding desert wonder, the Osian Desert, for exhilarating desert safaris, camping experiences and starry nights in the most remote places. This desert city is also famous for its two temples, the Osian Matha temple and Jain temples and is rightly known as the Khajuraho of Rajasthan. What's more, Visit the historic Mehrangarh Fort and try your hand at zip lining, explore the famous 'Blue City', admire Jaswant Thada, visit the Rao Jodha Desert Rock Park, marvel at the Umaid Bhawan Palace and much more.
I loved reading about these beautiful places and soon wanted to explore; what could be a better option than renting a caravan and having a wonderful vacation with your loved ones in a luxury home on wheels