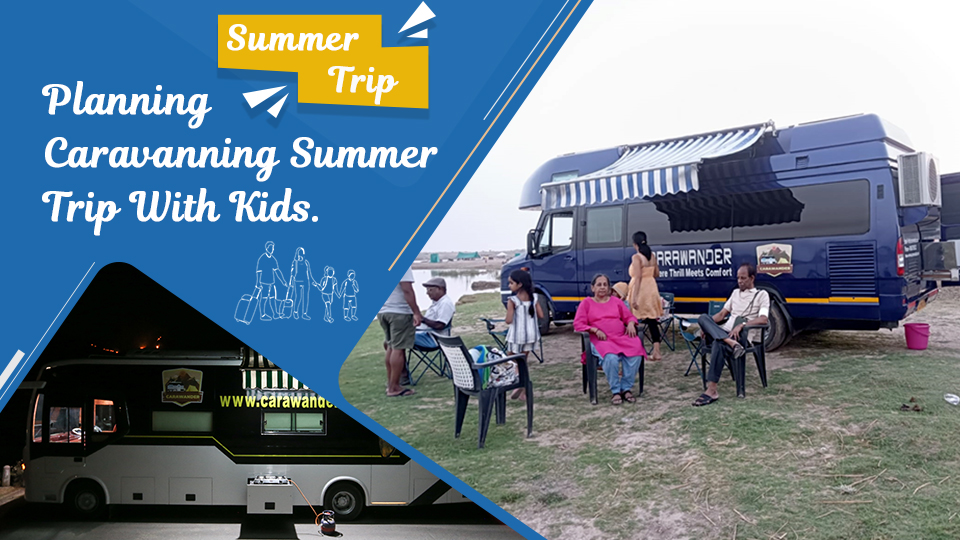 Planning A Caravanning Summer Trip With Kids
The summer season is here, and finally, after two years of hiatus and staying cooped up in their houses they can travel (still keeping in mind the safety precautions). Summer destinations beckon all of us from the chaos of city life. We all want to escape the heat and humidity of the city and head to cooler places. But summer is not only the season for travellers; it is also the time when schools are closed for kids. And what better way to celebrate the togetherness of holidays is by going on a caravan road trip in India.
Popular culture films and shows like Hum Saath Saath Hai and Little Miss Sunshine have heavily inculcated the idea of caravanning trips with kids in the summer. It shows that these experiences are fun and memorable for the kids and family. It fosters the spirit of travelling together and helps kids to bond with their parents. A caravan road trip in India also serves as a great exposure opportunity for the kids to see offbeat India. They get to know about the culture and heritage of these places. Indeed, this seems both an educational and fun opportunity for both parents and kids.
Going for a caravan rental during road trips in the summer is ideal, especially if you are travelling with kids. It is safe, ventilated, and hygienic for kids who tend to have motion sickness. Secondly, kids can maintain social distance in a caravan rather than a mode of public transport. Even travelling via cars during the summer is not ideal for kids as they can be more susceptible to heat strokes and feel exhausted.
Well, sure, travelling via caravan in India with your kids and families sounds fun, but it needs proper planning and taking the smallest details into consideration. In this article, we elucidate a detailed plan for a caravanning trip in India with your kids. Let us take a look at it.
How to plan a caravan trip in India with your kids: 
1.Check the route of travel
Checking the route of travel for a caravan road trip in India with your kids is very much important as a part of your planning. Do not keep multiple destinations as the high temperature might cause more fatigue. Planning and knowing the route of travel is very helpful in case you have a tight itinerary.
Younger kids tend to be more impatient on road trips; hence a shorter and quicker route would be ideal and less exhausting for both you and your children while travelling in the caravan. But it is imperative to make sure that route is safe and secure at night as you are travelling with children.
2.Proper ventilation
Sometimes younger children are prone to motion sickness while going on a road trip. This occurs, especially in winding mountainous regions where roads are uneven. Also, speedy driving might trigger motion sickness even more. Hence, ensure that the vehicle from the caravan rental company is well-ventilated with adequate windows. This allows in-flow of fresh air, thereby reducing the chances of claustrophobia leading to feeling sick.
In the hilly regions, driving slowly in a caravan is the ideal practice for the safety and well-being of others.
Be it kids or elderly people, Carawander understands the comfort of travellers who have gone on a road trip. All its vehicles are spacious, well-lit, and ventilated so that one does not feel exhausted or cramped in a small space.
3.Medical health and wellness of the kids
Sometimes while travelling in remote places during the summer, kids might feel sick; hence it is best to take all medical precautions into account before starting a caravan road trip. If possible, get all the booster shots and immunity against viral infections sorted prior to the trip. For teenagers, getting covid vaccine doses is also ideal. Keeping an emergency medicine and first-aid kit seems like a wise decision.
A little more preparedness does not hurt, hence, taking note of the hospitals, pharmacies, and clinics present at the destination can come in handy.
Carawander is one of the few caravan rental companies that understand the occurrence of unforeseen health emergencies. Therefore, all the vehicles are well-equipped with basic medicine and first-aid kits, along with a geo-navigation system so that you can locate and find medical assistance if such a situation arises.

4.Plan a list of thrilling activities
It is great if you are going historical site-seeings, but kids during road trips want adventure and thrills. They want to do things that are fun, and unknown compared to the activities they do in their daily life.
Parents should plan outdoor activities such as safari, trekking, and fishing during their long road trips in the summer. Having a bonfire while camping is also an exciting way for kids to bond with their parents and cousins while sharing stories.
This summer vacation, let your kids find leisure outdoors. Book an exciting road trip with Carawander.