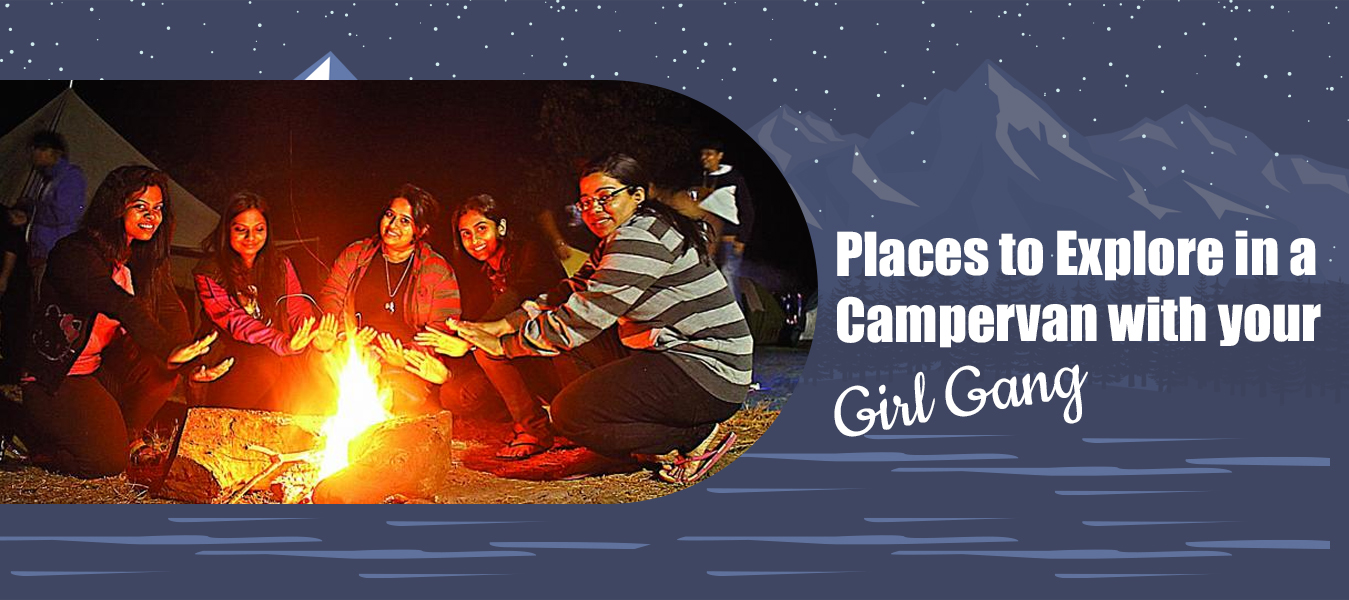 Places to Explore in a Campervan with your Girl Gang   
Gone are the days when girls had to rely on male companions for their travels, as the world has opened its arms to the spirit of feminism. With every passing year, women are embracing their freedom and exploring the world like never before. However, safety remains a key concern, and finding the perfect destination that caters to their requirements can often be challenging.
That is where Carawander comes to the rescue! Our luxury caravans offer the perfect blend of safety, comfort, and freedom that every girl gang deserves. With Carawander, you can create unforgettable memories with your friends without compromising safety or comfort.  
Our caravans are equipped with all the amenities that you need, from comfortable beds and cozy interiors to a fully equipped kitchen and a private bathroom. You can travel to your heart's content and explore the hidden gems of India, all while having the peace of mind that comes with our expertly designed safety features.
If you believe the phrase "Why should boys have all the fun?" rings true, this list of incredible destinations will inspire you and your girl gang to pack your bags and set out on a caravan adventure like no other.
Shimla: Life on the rocks!  
Escape from the hustle-bustle of city life and immerse yourself in the tranquil beauty of Shimla. It is the perfect place to recharge your batteries and reconnect with nature. Life in Shimla is about embracing the rocks, mountains, and beauty surrounding you. You are in for a real treat with trekking, cycling, ice skating, and many other exciting activities nearby! As you set up your caravan in Shimla, you will be mesmerized by the stars twinkling above you. Enjoy a cozy bonfire and have a BBQ with your girl besties while singing and dancing the night away. The peaceful ambience of the mountains will soothe your soul, and the cool breeze will wash away all your worries.
Experience royalty on a ride in Jaisalmer!
Jaisalmer is the perfect destination for a group of adventurous girls seeking excitement and thrills in the arid deserts of Rajasthan. In Jaisalmer, you can choose from various activities such as desert camping, Jeep safaris, wildlife spotting, and village tours by caravan to satisfy your inner adventure junkie.
Conquer your ride in Ladakh!
Make sure to check out Ladakh, the destination for you and your all-girl gang. With crazy caravan rides through the valleys of the Himalayas and thrilling activities like yak safaris, kayaking, cycling, trekking, camel safaris, and skiing, your adventure level will soar beyond expectation, making Ladakh a must-visit place. You can park your caravan near Pangong Lake, enjoy a beautiful party on the shore of the lake, and wake up to a stunning sunrise while sipping coffee from your caravan.
Defy the odds in Rishikesh!
If you and your girl gang are adrenaline junkies, Rishikesh is your ideal destination. You can enjoy thrilling activities such as white-water river rafting, kayaking, bungee jumping, and canyoning, making your trip unforgettable. Rishikesh also has some awe-inspiring places to visit that can provide the ultimate trip experience, including the best camping experiences when renting a caravan with our equipped camping gear and more!
Spice up your adventure in Manali!
If you are looking for something beyond the usual adventure activities, Manali is the perfect destination for you. It is well-known for thrilling activities like ice trekking, skiing, rafting, rappelling, rock climbing, and paragliding, providing your girl gang with enough excitement to satisfy their thirst for adventure.
Rann of Kutch: Discover the endless expanse of white sands in the Rann of Kutch!
Imagine taking a perfect display picture with your girl gang on the white sands of Rann of Kutch! It is time to rev up your bikes and embark on an unforgettable caravan ride with your all-girl friends on the great Rann of Kutch in Gujarat. Along the way, you can visit several tourist attractions, take a stroll on the beach, and bask in the calm and serenity of the place. It is an experience that you and your friends will treasure for a lifetime!
Experience paradise on earth in Kashmir!
Kashmir is a must-see destination with numerous places and equally exciting activities. Thrilling adventures like snow skiing, road trips, paragliding, hang gliding, and hot air ballooning will make you want to get up immediately! Imagine parking your caravan in a beautiful vacation spot and spending quality time with your girl gang in the serene solitude of Kashmir. A trip to the paradise of India can transform your travel experience entirely, especially a visit to Kashmir, which can awaken both your inner adventurer and traveller.
Immerse yourself in the vibrant colours of Udaipur!
Udaipur is a stunning and culturally rich destination in India that offers diverse experiences. You can admire the city's vibrant colours and eclectic shopping options from your caravan, which adds to its charm. With its royal majesty and serene lakes, Udaipur is a place to return to repeatedly.
Experience the wild side of Ranthambore!
If you are looking for an exciting adventure with your all-girl gang, Ranthambore is a must-visit destination, regardless of whether you are an animal lover. With a rich royal legacy, Ranthambore is one of the best wildlife destinations in the country, boasting thrilling safari rides, sightseeing experiences, and even hot air ballooning that will amaze you with its natural beauty. Get ready to explore the wild side of Ranthambore!
Conclusion
Do not wait any longer, ladies! Leap with your friends and embark on the adventure of a lifetime with Carawander. We guarantee you the safest and happiest vacation, all while living life on your terms. Contact us to rent a caravan for the perfect vacation with your girl gang. With Carawander, you can create unforgettable memories with your friends and explore the beauty of India uniquely and excitingly. So, what are you waiting for? Let's hit the road!