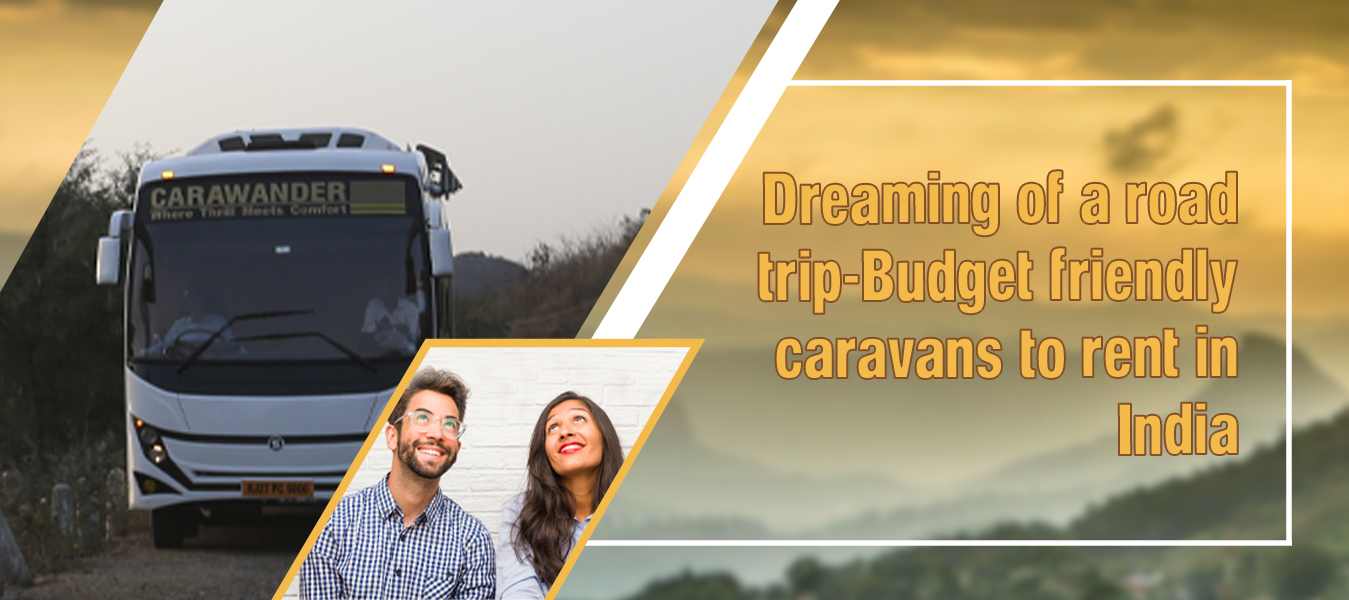 Dreaming of a Road Trip? Budget-Friendly Caravans to rent in India  
Traveling is that escape you need from your rat race to keep yourselves free of every chaos that you go through. Though many people prefer to travel via standard modes of transport like trains, buses, planes and so on, road trips usually need you to choose the best option like caravans, that gives you a unique travel experience all the while as you hop on them for an exciting ride and road trip. What more do you want than a budget-friendly caravan that takes you to a world full of surprises? Be it solo travel or group travel, you can choose a caravan to unleash the wanderlust in you and give your weekend the best gift of travel. On that note, let us look at our caravans for rent in India that you can consider having an enthralling road trip.  
Mini Wanderlust
The Mini Wanderlust is the perfect vehicle for your small road trip adventure. Whether you're travelling alone or with a group of friends, this caravan offers all the luxury amenities of a hotel on wheels. With spacious and well-lit interiors, hot and cold air-conditioning, and comfortable seating, the Mini Wanderlust is ideal for groups of four to six people. It also includes a smart TV, intelligent entertainment system, and queen-size bed for restful sleep. Also, it features a western-style toilet with geysers, a shower for added hygiene, and safety features such as a fire extinguisher and night-vision cameras. The Mini Wanderlust is also perfect for digital nomads, with a kitchenette, coffee machine, stove, refrigerator, and microwave, as well as Wi-Fi and geo navigation to ensure a seamless travel experience. And for nature lovers, the caravan comes equipped with camping, hiking and barbeque equipment.
Rolling Paradise
The Rolling Paradise of Carawander is the perfect way to explore India's beautiful roads with your family and friends. This spacious and comfortable caravan is designed to make your road trip experience seamless and hassle-free.
One of the most appealing features of Rolling Paradise is its spacious interiors, which allow six to eight people to travel, sleep, and eat comfortably. The living room area is well-lit and ventilated and comes with a large sofa and a television, so you and your family can relax and unwind after a day of sightseeing. The caravan also includes a clean and well-maintained bathroom with a geyser and western-style toilet, ensuring that you and your loved ones stay comfortable and hygienic throughout your journey.
Carawander also prioritizes safety; Rolling Paradise comes with fire extinguishers, first-aid kits, and a medicine box to ensure a safe journey for all. The caravan can be easily taken anywhere across India, and the GPS navigation system ensures that you won't get lost on the way and that you can focus on the journey and not get lost.
In conclusion, Rolling Paradise is the ultimate road trip adventure vehicle with all the amenities you need to make your journey with friends and family a memorable one. With Carawander, you can be sure that your wanderlust on the road will be seamless and comfortable. Get Rolling with Carawander and make unforgettable memories with your loved ones!
Best amenities you can get in our Caravans
Queen Size Bed
2 Luxurious sofas in the living room
Solar powered
Awning
Spacious and well-equipped kitchenette and bathrooms
Night vision cameras
GPS tracking
Coffee machine
Entertainment system
AC
Wi-Fi
Smart TV
Generator
Camping equipment
Fire extinguisher
Barbeque etc.
Coffee Machine etc
Places you can travel to with our caravans.
Caravanning is the trendy catch, and with our Rolling Paradise and Mini Wanderlust, you can travel places and enjoy memorable moments with your friends and family. You can also lock your memories and unveil the photographer in you by pausing and parking the caravan at the most exotic destinations. You can also have a good rest while enjoying nature by choosing the caravan for your casual as well as adventurous trips. To keep the balls rolling, let us look into some of the most beautiful destinations you can reach using our caravans.
Rajasthan
City of forts, Rajasthan, is the truest reflection of the right heritage of India. From Bhangarh fort to Thar desert, every location of the place is a thrill to watch and having a road trip in a place like this can motivate you to travel more with every chance you get.
You can visit several places in Rajasthan like Jaisalmer, Udaipur, Jodhpur, Jawaai, and Ranthambore by hoping our caravans.
Himachal Pradesh
Known for its wide range of jaw-dropping milky white mountains, Himachal always has something to offer for travel lovers, and there is no second thought about it. Gearing up for a road trip is exciting, and with our caravans, you can have a multifold road trip experience.
With us, you can visit some of the most thrilling and beautiful locations of Himachal Pradesh, like Shimla, Spiti, Kasol, Thirthan valley, and Manali.
Jammu and Kashmir
Often termed as Heaven on Earth, Kashmir welcomes you with the hidden treasures of beauty. If you are a travel enthusiast, you will have the most unforgettable experience by riding on our caravan for your Kashmir trip.  
Places like Gurez valley, Gulmarg, Pahalgam, Srinagar, Yusmarg, Sonamarg, and Vaishnodevi are awaiting to take you on an exotic travel ride.
Uttarakhand
Dev Bhoomi. This is the name given to Uttarakhand due to its spiritual importance, and travelling to such a place only leaves you with serenity and the highest spiritual experience. Be the one that soaks in the realm of divinity with our caravans.  
Dehradun, Rishikesh, Mukuteswar, Haridwar, and Nainital can be visited by choosing our caravans.
Leh Ladakh
Predominantly known for its unending roads that are the best fit for solo or group road trips, Leh Ladakh has the best to offer for those who enjoy road trips to the fullest, and our caravans will give awe-inspiring moments in no time.  
Pangong Lake, Khardung La Pass, Nubra Valley, Santi Stupa etc., can be visited with our caravans.
Delhi and Agra
A cosmopolitan city with ancient Indian vibes, Delhi and Agra takes you to the Mughal times with Indian culture tinted on them. You can start your road trip with our caravans and explore the city roads and unexplored destinations without a second thought.  
Qutub Minar, Taj Mahal, Gateway of India, Humayun Tomb, Red Fort, and Lotus Temple are major tourist attractions of Delhi and Agra.
Conclusion
India is the amalgamation of many wonderful tourist destinations, and with us, you can get the best out of your travel with our Mini Wanderlust and Rolling Paradise.