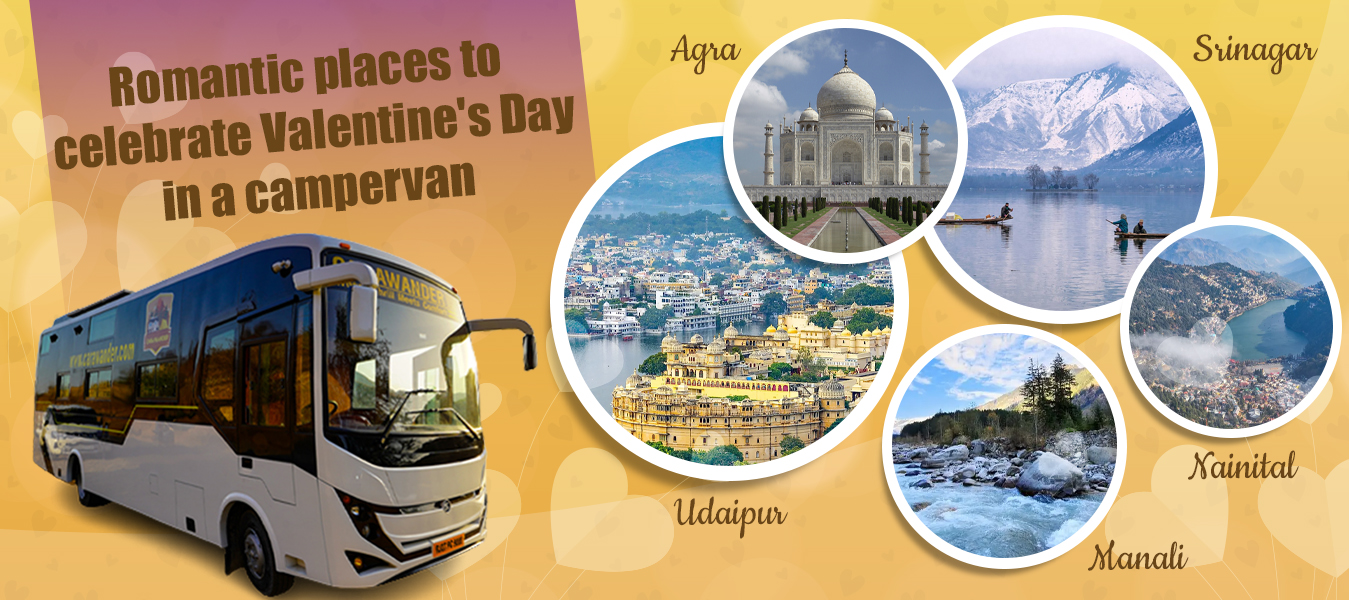 Romantic places to Celebrate Valentine's  Day in a Campervan
Romantic places to celebrate Valentine's Day in a campervan
Valentine's Day is an occasion for couples to celebrate their love and affection for each other. If you are looking for a unique and romantic way to spend this Day with your significant other, consider celebrating in a campervan.
India is home to many beautiful and romantic destinations, travelling in a campervan allows you to explore these places at your own pace and in the comfort of home on wheels. Here are some of the most romantic sites in India that are perfect for a Valentine's Day celebration in a campervan:
Udaipur – City of Romance
Experience the romance of royalty in the charming city of Udaipur, known as the "City of Lakes" or the "Venice of the East". Home to majestic forts and palaces, it is the ideal setting for a romantic getaway. Imagine strolling hand in hand through the picturesque streets, taking in the beauty of the lakes, and exploring the grandeur of the palaces. Visit the beautiful Lake Palace, the grand Sajjan Garh Palace, the serene Lake Pichola, the picturesque Dudh Talai, and the enchanting Saheliyon Ki Bari. Visiting Udaipur in February is the perfect time to make memories that will last a lifetime. Book your caravan vacation now and spend Valentine's Day in the most romantic city in India  
Agra – Epitome of Love
The Taj Mahal, an iconic symbol of love and devotion, is the perfect destination for Valentine's Day. Built-in memory of his beloved wife, Mumtaz Mahal by Shah Jahan, the Taj Mahal is one of the most popular tourist destinations in the world and is near Delhi. The majestic beauty of the Taj Mahal will melt your heart. A visit to the Taj Mahal is a must for couples looking to rekindle their romance. You can spend a day exploring the beautiful monument and its surroundings. Agra also boasts other historical structures, such as Fatehpur Sikri, which is also worth visiting.
Srinagar – Blessed with Beauty  
Spend Valentine's Day in the picturesque valleys of Srinagar, India. Rent a caravan, explore the beautiful city, and park it in a scenic spot to watch the sunset and sunrise together. Enjoy horse and gondola rides and take a romantic ride on Dal Lake with your partner. Enjoy a bonfire and BBQ with a star-studded sky as your backdrop and make it a truly unforgettable experience.  
Manali – The Couples' Favourite
Nestled between the snow-capped ranges of Dhauladhar and Pir Panjal, Manali is a picturesque and secluded honeymoon destination in India. The natural beauty, friendly atmosphere, and charming roads of Manali make it the perfect destination for couples. The weather in February adds to the romantic ambience and makes it an ideal time to visit. The snow-covered landscapes and the chilly weather will make you want to get closer to your partner and rekindle your romance. A romantic holiday in Manali will make you create beautiful memories to cherish for a lifetime during Valentine's Week.
Nainital – The Himachal Paradise
Nainital is an underrated destination for Valentine's Day celebrations. The hill station offers breathtaking views and romantic tourist attractions such as the Naini lake, the ropeway from Mallital, Eco Cave gardens, and more. Enjoy boating and watching the sunrise and sunset together. Rent a caravan and make your dream of watching the sunset together while sipping coffee come true. Nainital is a must-visit for couples looking for a romantic getaway.
Khimsar – The Gateway of Thar Desert  
Escape to the hidden gem of Khimsar for a unique and offbeat Valentine's Day celebration. This lesser-known tourist spot near Jodhpur is steeped in cultural heritage and boasts ancient settlements and vast dunes. It is the gateway to the Great Thar Desert, the perfect setting for a romantic getaway. Avoid the crowds and spend quality alone time with your partner in Khimsar. It is a perfect place for Valentine's Day celebration.
Theog – A Lost Paradise
Discover the hidden treasure of Theog, a lesser-known paradise in Himachal Pradesh. Surrounded by snow, Theog is the closest thing to heaven for couples looking for a romantic Valentine's Day destination in India. Located just 32 kilometers from Shimla, it offers a secluded and picturesque setting for romantic getaways. Put Theog on your bucket list and make it a trip to remember with your partner.
Conclusion
Elevate your Valentine's Day celebration with a luxury caravan holiday in India. These destinations, handpicked for their natural beauty, rich history, and cultural significance, are the perfect setting for a romantic getaway.
Plan your holiday with Carawander and surprise your partner with an unforgettable, stress-free, and romantic journey this Valentine's Day. Indulge in the serene beauty of nature, create lasting memories, and escape from the hustle and bustle of everyday life. Book a caravan today and we will give you the gift of a lifetime of memories.