Touring Caravans in India Perfect for Families!
Looking for a family vacation destination but don't know where to start?
Caravanning holidays are an ideal way for families to make memories and discover more together. Caravanning has become a popular activity for Indian families due to its fashion quotient and use as a means of recreational travel. Also, caravanning is an affordable family activity that allows them to experience nature in comfort at a reasonable cost. Thanks to our long-standing love affair with caravans, many caravan providers have emerged that offer comfort and excitement in our country.

Choosing the Right Caravan for Travelling
Caravans come in various shapes and sizes, including pop-top, motor home, full-body, fifth-wheel, etc. Buying one is not mandatory since there are lots of caravan hiring services available too. However, finding the right caravan provider is still a big deal. When choosing a caravan for your trip, it is a good idea to write down your priorities and requirements and the type of terrain you will be travelling on. Here we have listed some of the essential things below to watch while choosing a caravan for a family vacation.
1. Size of the touring caravan
In choosing a new family caravan, size is one of the most important factors to consider. Obviously, how many people reside in your family will help you decide how many berths you need, but ensuring your caravan has all the amenities you need is also essential. You'll probably need a travelling caravan with a good-sized bathroom and kitchen, for example, if you have a family of 5 or more. This is where Carawander tops the list of caravans in India. Carawander allows a maximum of 6 people to comfortably accommodate inside a single caravan, which is indeed a great deal for a family of 5 or more.
2. Caravan Layout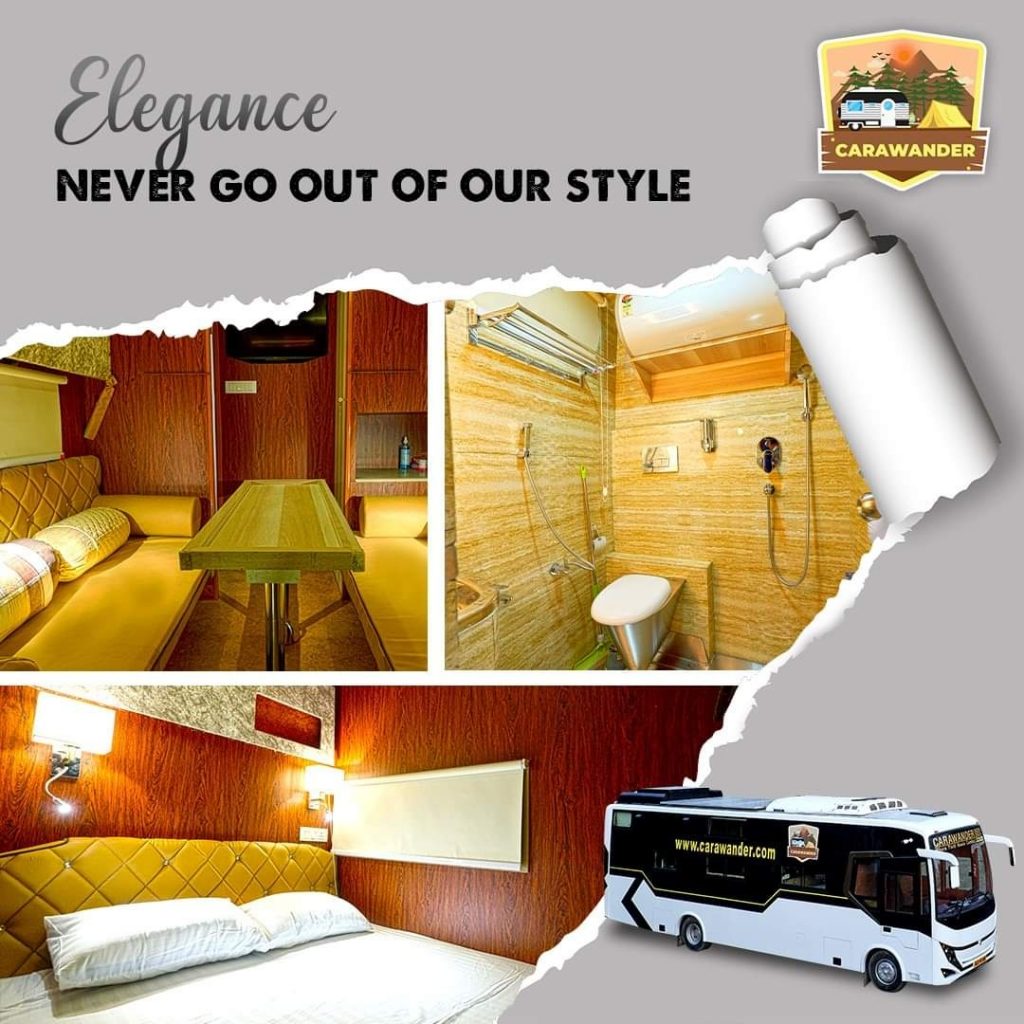 The next step will be determining what caravan layout is best for your family based on the number of berths you will need. Families should usually opt for fixed bunk beds rather than a fixed double bed since they are space-saving and give children their own space. This sleeping arrangement also allows for a larger dining table and seating area, which is helpful for families, but the double bed will need to be put away every morning.
Another important aspect of the caravan layout is the placement of the bathroom. The kids will need to go past your bed if they need the bathroom in the night if you opt for a fixed double bed with a bathroom at the back. A bathroom in the centre of the caravan would be a better solution. This may, however, result in a smaller bathroom. The placement of the bathroom is not an issue with fixed bunk beds since access is more straightforward.
It is certainly the best option for you to choose Carwander, since the room offers both sofas and beds, in addition to a very sophisticated bathroom.
3. Safety features
The safety of your family is obviously one of the most important features of any caravan. Be sure there is space for a first aid kit and that the fire extinguisher is functional and up-to-date before any trip. You should check all locks and hinges for security and prevent leaks before booking a caravan for your family trip.
Carawander caravans offer exceptional safety and security, as each unit is equipped with safety measures like an inbuilt First-aid kit, GPS tracking, Night vision cameras, Speed governors, and Fire extinguishers.
4. Storage
When going on vacation, you and your family will inevitably bring a lot of belongings and food, so make sure you have enough storage space. However, it can take a few trips to figure out where everything fits best! You can find storage under beds, in large cabinets, and overhead cabinets.
When it comes to Carawander, we have considered every detail to ensure your luggage and essentials are well organized without disrupting the caravan's beauty.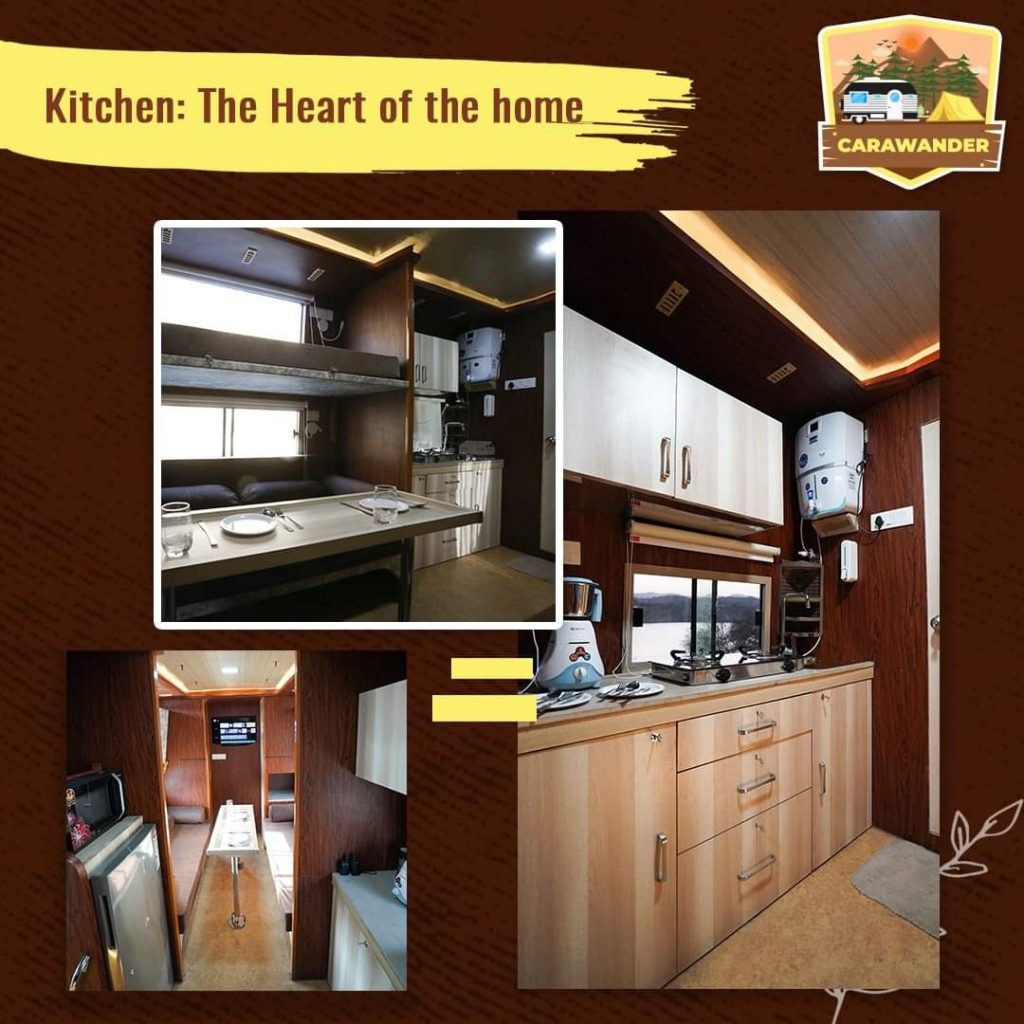 5. Kitchenette
The joy of caravanning is that you can prepare your own meals, possibly trying out some regional produce, and relax around the dining table, whether inside or out, when the weather permits. You can greatly amplify the enjoyment of your vacation by having a well-equipped kitchen.
Carawander caravans are equipped with an all-included refrigerator and microwave for added convenience and pleasure.
6. Awnings & Camping
An awning is an ideal way to give your family that extra space for activities, family meals, or just relaxing when pitched on a site. They can also serve as shelters after a long walk and as places to store your muddy boots. Caravan awnings are permanently attached to the caravan and are pulled out when needed. The simplicity of assembly makes them an excellent addition to any family touring caravan.
The benefits of travelling with Carawander include all the above necessities, including an awning, camping equipment, and an entertainment setting for assured fun. A starry night sky can be a wonderful sight to behold. Pitch your tent beneath the stars and lie back and enjoy the show. Observe the stars and planets visible from the countryside while enjoying a barbeque and music.
Bottom line:
A beautiful caravan home is a great place to enjoy outdoor adventures like bird watching, fishing, camping, and photography because the caravans offer you a chance to escape into nature with all the necessary comforts, regardless of where you are.
Caravans of Carawander are self-sufficient with a bedroom, living room, and bathroom. Our kitchen is a hi-tech place where you can try out your culinary skills using modern gadgets. Open the mortised awning, pull out your chairs and fire up the barbecue. Each caravan is given a safety and medical kit. We want you to enjoy the most memorable camping experience using our modern camping equipment. Let Carawander's caravans take you on a trip of a lifetime with your family!