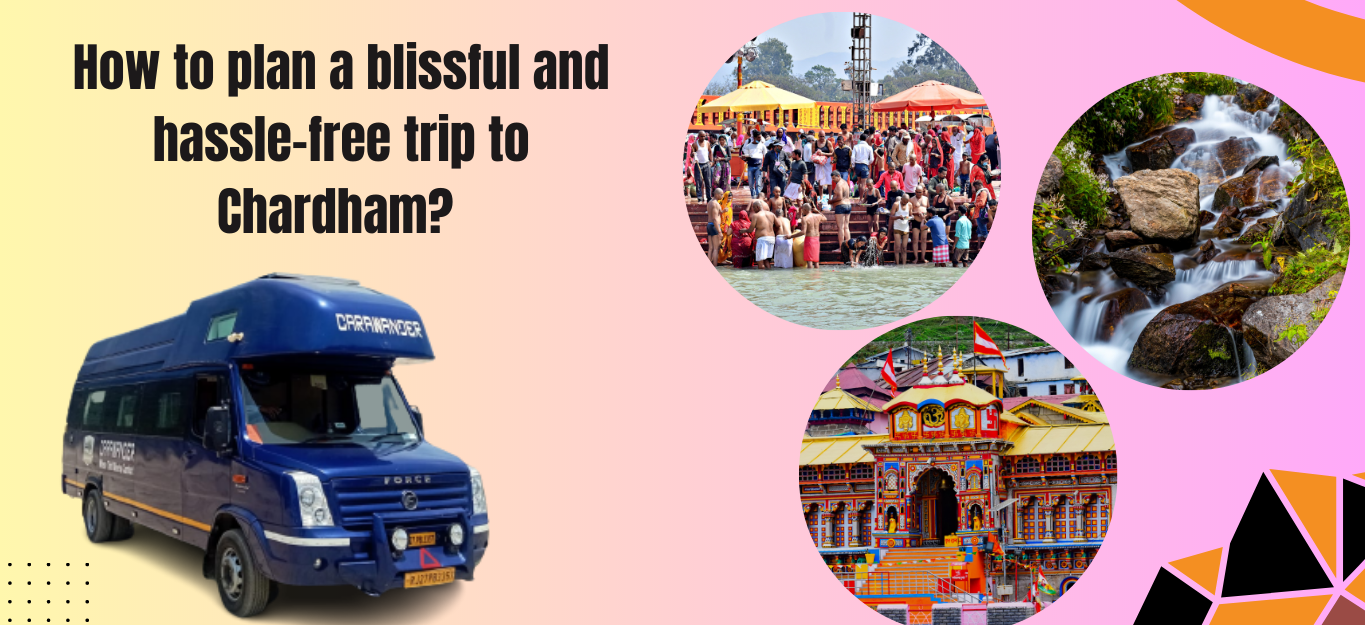 How to plan a blissful and hassle-free trip to Chardham?  
Uttarakhand, widely known as "Devbhoomi" or the Land of the Gods, is replete with numerous holy shrines and welcomes devotees all year round. One of the most renowned pilgrimages in the region is the Char Dham Yatra, which involves visiting four sacred destinations: Yamunotri, Gangotri, Kedarnath, and Badrinath, situated in the lofty Himalayas. The term "Char" signifies four, while "Dham" denotes holy places, highlighting the significance of these sacred sites.
It is believed that adhering to a clockwise direction while undertaking the Char Dham Yatra is essential. Thus, the pilgrimage commences at Yamunotri, Gangotri, and Kedarnath and culminates at Badrinath. Some devout followers even embark on a Do Dham Yatra, visiting the shrines of Kedarnath and Badrinath. Covering all the locations in the Chardham pilgrimage usually takes around 13 to 14 days.
To avoid the potential hassles of booking accommodation, missing temples, waiting for transportation, and other such concerns, we offer a unique solution: a campervan tour to Chardham. Renting our caravan will ensure a hassle-free and blissful trip, allowing you to imbibe the essence of sanctity without any worries.
Our suggested itinerary includes traversing Delhi – Haridwar – Mussoorie – Barkot – Yamunotri – Barkot – Uttarkashi- Ganghani – Gangotri – Gadolia – Phata- Gaurikund – Kedarnath – Okhimath- Joshimath via Rudraprayag or Chopta – Badrinath – Chamoli – Srinagar – Rishikesh – Haridwar – Delhi.
Day 01: Delhi – Haridwar: (210 km) Embark on a serene drive to the sacred city of Haridwar in the early morning, taking your time to soak in the picturesque surroundings. Enjoy a delightful lunch at a scenic spot within the cozy confines of your caravan, followed by a visit to the iconic Har Ki Pauri for a mesmerizing Aarti night ceremony. Return to your comfortable caravan, relish a delectable dinner, and drift off to a peaceful sleep beneath a glittering star-lit sky. Rested and rejuvenated, prepare to embark on a wondrous journey the next day while you spend the night in the charming "Mini Wanderlust" campervan.
Day 02: Haridwar – Barkot: (176 km) Your day will start with breakfast in Haridwar, where you will be comfortable. Then, you will take a two-hour drive to Dehradun, Uttarakhand's capital, and Char Dham Yatra's starting point. On the way, you will stop for lunch near the lovely Kempty Falls and get your first glimpse of the Mussoorie Hills (2005m). Once you have explored the area, you will head to Barkot and spend the night in a campervan.
Day 03: Barkot – Yanki Chatti – Yamnotri – Barkot: Today's adventure involves a round trip of 98 km, including a 12 km walk. Your day will begin with an early breakfast, followed by a 46 km drive to Janki Chatti (2650 m). Once you arrive, you can take a 6 km hike to one side, which can be completed on foot or with the assistance of a Palki or Pony.
During your journey, a delicious, packed lunch, prepared right in the caravan, will be served en route. Once you reach Yamunotri Temple (3185m), you can perform Pooja and take a holy Achman, which marks the beginning of your sacred pilgrimage to Char Dhams. Afterwards, you will retrace your steps to Janki Chatti and proceed to Barkot following a nutritious dinner. Once there, you can unwind and get a good night's sleep in the comfort of your luxury caravan.
Day 04: Barkot – Gangotri: (174 km) Embark on an awe-inspiring journey to Gangotri (3048 m) after indulging in an early breakfast. As you make your way to this serene destination, take a break for a delightful lunch in Uttarkashi before resuming your drive. En route, relishing the breathtaking beauty of Harsil and Dharali, two enchanting villages adorn the route. Upon reaching Gangotri, immerse yourself in the tranquil atmosphere by partaking in the evening aarti on the riverside. Retreat to the caravan for a delicious dinner and some much-needed relaxation before retiring to the campervan for a peaceful night's sleep.
Day 05: Gangotri – Gangnani: (53 km) At the break of dawn, seize the opportunity to purify your soul with a sacred dip in the revered waters of the Ganges. After performing Pooja:
Relish a delectable breakfast amidst the enchanting surroundings.
As you continue your journey, witness some of the most awe-inspiring vistas of the beautiful valley en route to Gangnani (2133m).
Once there, spend the rest of the day exploring the region or hiking to the nearby mountains, where you can bask in the rejuvenating hot springs.
Day 06: Gangnani – Gadolia: (139 km) Embark on a journey to Gadolia via New Tehri after your morning meal. Enjoy a delectable lunch in Dharasu as you take in the sights of ancient Tehri's rich cultural heritage, which now descends towards the holy waters of the Ganges owing to the dam's construction. Follow the meandering paths alongside the dam's water reservoir, leading you to your destination in Gadolia.
Day 07: Gadolia – Phata: (131 km) Today, following your enjoyable visit to Gadolia, you will have the opportunity to witness the breathtaking confluence of two stunning rivers – Mandakini and Alaknanda – near Rudraprayag. Afterwards, you can take a well-deserved lunch break before continuing your journey to Phata, a serene rest stop with a pleasant atmosphere. For those interested, an optional helicopter service is available from here, providing round-trip transportation to the Kedarnath Temple (located at an elevation of 3584m). Please note that reservations for this service will be arranged well in advance from Delhi.
Day 08: Phata – Gaurikund – Kedarnath (20 km) Begin your day with an early breakfast, then proceed to Gaurikund to embark on a 14 km trek (one way) – optional palki or bangs are available. It is recommended to bring a packed lunch for the journey. You will find stalls leading up to the Kedarnath Temple along the way. Once there, perform Pooja, visit the Adi Shankaracharya Samadhi at the temple's back, and sign in at the available tents and hotels. Spend the night near the temple, immersing yourself in the sacred atmosphere. Be sure to attend Kedarnath Panda's Evening Arti. Overnight accommodation is available at GMVN/tents.
Day 09: Kedarnath – Gaurikund – Okhimath: (14 km & 46 km trek) You must rise incredibly early in the morning to witness the morning pooja again from Pandas at the sacred Kedarnath Temple. After breakfast, you will retrace your steps and trek 14km back to Gaurikund, then depart for Okhimath. Please note that breakfast and lunch are not included on this day. Dinner and overnight accommodation will be provided in the caravan.
After breakfast, you will depart for Joshimath (1890m) via Rudraprayag or Chopta (2700m), one of the most picturesque spots of the entire journey. Enjoy a beautiful ride through the lush healing forest to Chamoli. Stop for lunch in Pipalkoti before arriving in Joshimath in the evening for some relaxation. An early dinner and overnight accommodation will be provided in the caravan.
Day 10: Guptkashi – Joshimath via Chopta: (143 km) Following breakfast, begin your journey to Joshimath (1890m) via Rudraprayag or Chopta (2700m), which is one of the most picturesque spots of the entire trip. Enjoy a beautiful drive through the dense healing forest to Chamoli and take a break for lunch in Pipalkoti. You will arrive in Joshimath in the afternoon for some relaxation, followed by an early dinner and accommodation in the campervan.
Day 11: Joshimath – Badrinath: (46 km) After a delightful stay in Joshimath and a nourishing breakfast, drive leisurely to the Badrinath Temple (3096m). Once there, perform Pooja and take the opportunity to explore the city of Mana, which is the last city before the Tibetan border. Afterwards, return to your caravan for a satisfying lunch. Dinner and overnight accommodation will be provided in the caravan. In the evening, return to the Badrinath Temple for the Panda's Arti ceremony.
Day 12: Joshimath – Rudraprayag: (170 km) Prepare to retrace your steps back to Rudraprayag as you pass through the first gate to Joshimath.
Day 13: Rudraprayag – Following an early breakfast, embark on your journey to Rudraprayag, stopping for lunch in Chamoli and witnessing three Prayags (confluences). During your trip, briefly visit Devprayag, where the Alaknanda and Bhagirathi rivers merge to form the mighty Ganges. In the afternoon, arrive in Rudraprayag and enjoy some relaxation.
Day 14: Delhi: (236 km) Embark on your journey to Delhi after an early breakfast and bid farewell to the scenic mountains of Uttarakhand. As you make your way, take a break for lunch in Muzaffarnagar and reach Delhi in the evening. A representative from our company will accompany you and drop you off at a convenient place where your tour will end.
Conclusion
Following the comprehensive plan, you can experience a stress-free and delightful journey to the Chardham pilgrimage site in a campervan. Rent our caravan and enjoy a comfortable and convenient way to seek the blessings of the divine. It is an ideal mode of transportation to take your parents on this sacred journey without any concerns.