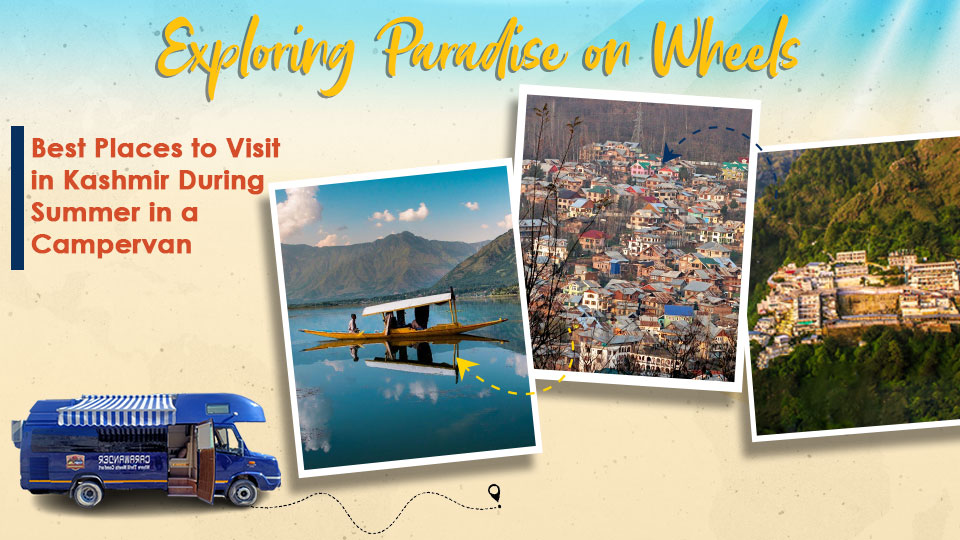 Exploring Paradise on Wheels: Best Places to Visit in Kashmir During Summer in a Campervan  
Summer is a season that beckons travelers from all over the world to explore and unwind amidst the beauty of nature. And when it comes to natural beauty, nothing compares to the scenic land of Kashmir. Nestled amidst the Himalayas, Kashmir is a magical land that transforms into a paradise during the summer months.
In this blog, we will take you on a journey to explore the mesmerizing land of Kashmir in summer. We will not only provide you with the best places to visit in Kashmir but also give you compelling reasons to explore this paradise in a campervan.
Reasons to visit summer in Kashmir
Blossoming flowers in Kashmir: A feast for the eyes Kashmir is a land of natural beauty, and its blossoming flowers add charm. Kashmir's transitional season is renowned for its stunning blooming flowers, which can be admired in several gardens and parks. The flowers, including tulips, daffodils, hyacinths, and cherry blossoms, create a visual treat for visitors and make the valley even more enchanting. The famous Mughal gardens are a must-visit to witness the spectacular display of these colourful flowers.
Adventure sports: A thrilling experience amidst natural beauty. In addition to its breathtaking natural beauty, Kashmir is also a haven for adventure seekers, offering a range of thrilling activities to get your adrenaline pumping. Summer is the perfect season to explore the picturesque valley and indulge in exciting adventures such as trekking, river rafting, and camping, ideal for those who love the great outdoors. The serene atmosphere and stunning landscape make these activities more enjoyable and memorable.
Accessibility in Kashmir: Travel made easy in the summer season brings better road and air connectivity to the valley of Kashmir, making it easier to travel to and around the region. The well-connected roads make exploring the valley and its hidden gems convenient, providing a seamless travel experience. Whether you prefer to travel in a campervan, improved accessibility ensures a hassle-free journey.
Kashmir offers a plethora of experiences to all kinds of travellers. Whether you're a nature lover, an adventure seeker, or simply in search of some peace and tranquillity, this magical land has something for everyone. In this blog, we bring you the best places to visit in Kashmir during the summers in a campervan.
Places to visit in Kashmir:
1. Srinagar: A symphony of colours and culture
Srinagar's enchanting allure and this splendid destination's memories remain with you forever. The exquisite Dal Lake, a precious jewel of Kashmir, is nestled among the awe-inspiring Himalayan peaks. During the summer, the valley blossoms into a riot of colours with vibrant flowers like tulips, daffodils, and lilies. Surrounded by snow-capped mountains and verdant green forests, the beauty of this place is truly awe-inspiring.
To fully appreciate the lake's beauty, a tranquil Shikara ride is a must-do, as the shimmering waters reflect the stunning surroundings. Places like Chasme Shahi, Nishat Bagh, Shalimar Bagh, etc. are home to a diverse range of flora and trees and were once campsites for the Mughals. One of the fascinating places in Kashmir is the Shankaracharya temple, perched atop a hill, providing a panoramic view of the entire city. This holy site is also adorned with ancient architecture that showcases Persian carvings.
2. Beautiful landscapes of Kathua
The city of Sufis in Kashmir, Kathua, is where history and culture come alive. The city is home to several Sufi shrines that are a testament to the spiritual richness of the place. As you travel from Srinagar to Kathua, you will be treated to stunning views of the snow-capped mountains, lush green pine forests, and quaint villages. The Kali Mata temple is a must-visit for those who seek a deeper connection with the divine, and the wildlife sanctuary is a treat for nature lovers. Trekking to the Shivalik hills is a thrilling adventure that will take you along scenic paths and offer breathtaking views of the surrounding landscapes. Come and experience the magic of Kathua in a luxury caravan, a city waiting to be explored.
3.The splendid beauty of Pahalgam
Looking for the perfect getaway from the hustle and bustle of city life? Look no further than the stunning mountains and rivers of Pahalgam. This idyllic destination offers the perfect combination of relaxation and adventure. Enjoy the breathtaking scenery while indulging in a delicious BBQ with your loved ones. And when the sun sets, get ready for a nature-themed party under the twinkling stars.
But that's not all! Pahalgam also offers a range of exciting activities for thrill-seekers. Hop on a pony for a scenic ride through the mountains or challenge yourself with an exhilarating river rafting adventure. And for those who prefer a more leisurely pace, there's horse riding amidst the picturesque snow-capped peaks and verdant forests. No matter your preference, Pahalgam will surely leave you rejuvenated and refreshed.
4. Breathtaking scenes of Sonamarg
The captivating beauty of Sonamarg makes it a must-visit destination in Kashmir during the summer months. With its snow-capped peaks, rolling hills, and verdant meadows, this place is perfect for those seeking to escape the heat and indulge in adventure. You can try your hand at trekking, sightseeing, camping, fishing, and other exciting activities that will make your trip memorable.
As the snow melts, the mountains come alive with colourful flowers, and the green meadows stretch as far as the eye can see. Take a caravan ride and witness the breathtaking views of the landscape. You can also enjoy a picnic with your loved ones amidst the beautiful scenery or take a refreshing dip in the river's clear waters.
Sonamarg is also an ideal location for those who love photography, as the picturesque surroundings offer many opportunities to capture some stunning shots. Whether you are looking for adventure or a peaceful retreat, Sonamarg is the perfect destination for you.
5.Scenic vistas of Gulmarg
Gulmarg is truly a paradise for nature lovers, especially during summer. The breathtaking scenery of the snow-capped mountains and the lush meadows dotted with wildflowers will leave you mesmerized. Explore the enchanting beauty of Gulmarg on a campervan and experience the thrill of adventure activities such as gondola rides, mountain biking, and hiking. Take a peaceful stroll in the sprawling gardens and enjoy the tranquillity of the valley. Remember to indulge in local delicacies and shop for handmade crafts and souvenirs to take back home. Renting a caravan and embarking on a trip to Gulmarg is an experience that is bound to stay with you for a lifetime.
Conclusion
Leave the chaos and sweltering heat of the city behind and embark on a journey to the heavenly abode of Kashmir in a luxury campervan. Even if you are not a fan of winter snow, you can still witness the breathtaking beauty of the Kashmir valley in summer, surrounded by picturesque mountain landscapes and lush green meadows. Our well-equipped caravan has all the amenities to make your vacation as comfortable as possible. So why wait any longer? Rent our caravan and indulge in the ultimate road trip, exploring the paradise on wheels that is Kashmir.