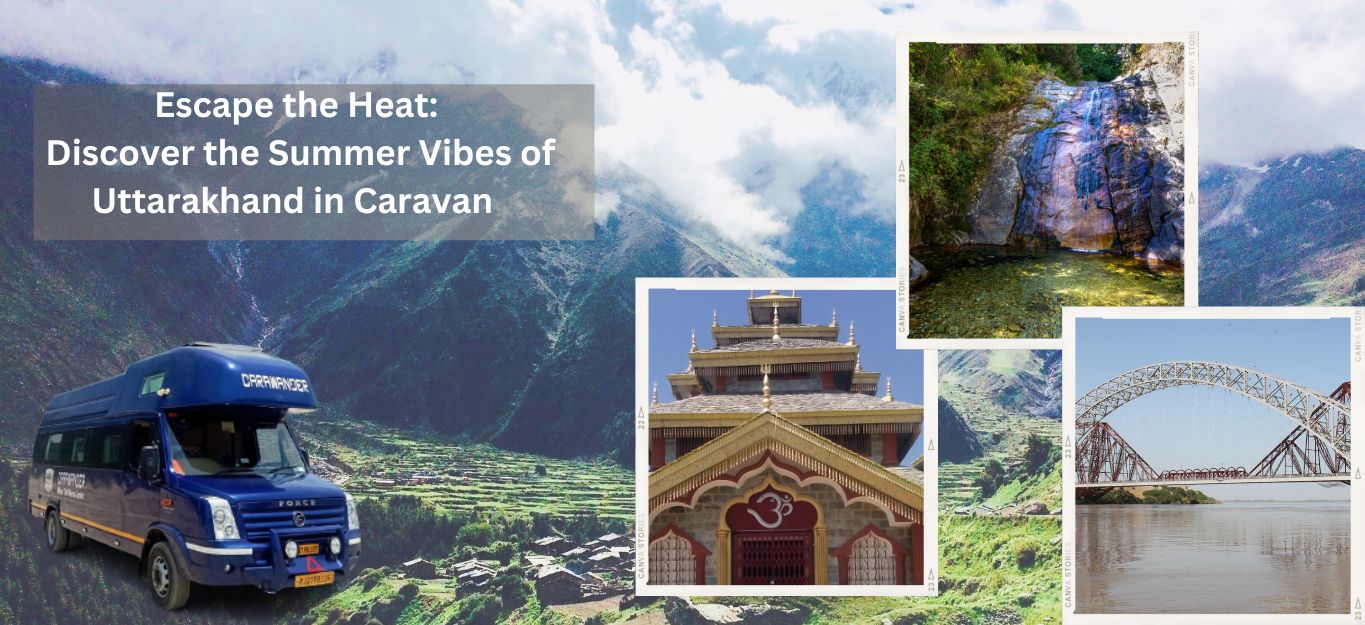 Escape the Heat: Discover the Summer Vibes of Uttarakhand in Caravan  
This enchanting state boasts a plethora of picturesque destinations that are ideal for a family vacation. With its sprawling meadows, lush forests, and glistening waterfalls, Uttarakhand is the perfect retreat for those seeking respite from the scorching temperatures.
As you traverse the rugged terrain of Uttarakhand, you will be captivated by the ethereal beauty of the land. The region is home to several quaint villages, each with its unique charm and character. With the opening of Chardham in the summer season, you can also experience the spiritual significance of this holy land while immersing yourself in the splendour of nature.
Whether you are looking to trek through the verdant forests, frolic in the gurgling streams, or simply bask in the soothing weather, Uttarakhand has something for everyone.
This blog is all about exploring the breathtaking destinations of Uttarakhand during the summer season, and what better way to do so than in our luxury campervan. We have compiled a list of must-visit places that are perfect for a campervan adventure with your family.
Dhanaulti
Perched at 2,286m above sea level, Dhanaulti offers a unique getaway from the bustle of city life. Tucked away in the Tehri region of Garhwal, this hill town boasts majestic mountain peaks and pleasant weather, making it an ideal destination to visit with family or friends in a campervan during the summers. Escape to this quaint town and rejuvenate amidst the soothing embrace of nature.
Tourist attractions in Dhanaulti: Adventure Park, Eco Park, Adventure Camp, Dashavatar Temple, Tehri Dam, Deogarh Fort, Kanatal
Things to do in Dhanaulti: Trekking, camping, nature walking, sky walking, sky bridging
Kausani
Kausani, a popular honeymoon destination in Uttarakhand, exudes rustic charm and natural splendour. The snowy landscapes effortlessly captivate tourists seeking a break from the hustle-bustle of city life. Take in the panoramic views of Trishul, Nanda Devi, and Panchachuli peaks on a leisurely nature walk. Discover rural life and culture as you explore Kausani in a motorhome. The tranquil surroundings of Kausani offer the perfect opportunity to unwind and rejuvenate in the lap of nature.
Tourist attractions in Kausani: Gwaldam, Kausani Tea Estate, Pinnath, Rudradhari Falls and Caves, Baijnath Temple, Sumitranandan Pant Museum, Stargate Observatory
Things to do in Kausani: Trek to Pinnath, camp, hike, and observe celestial objects in Stargate Observatory
Lansdowne
A quaint cantonment town perched on a hilltop; Lansdowne is one of the few places in India where you can still get a glimpse of the old-world charm of the British Era. The hill station offers all the quietude and harmony you expect from your getaway. The sunset views from Tip n Top Point are spectacular while enjoying a sip of coffee from the caravan. And you will be amazed how spick and span the town is. Lansdowne is 270 km away from Delhi and takes an overnight journey to reach here. You can also visit on weekends by renting our caravan.
Tourist attractions in Lansdowne: Tip N Top, St. John Church, Snow Viewpoint and Hawaghar Bhulla Lake, Tarkeshwar Mahadev Temple
Things to do in Lansdowne in Summer: Boat ride, trekking, camping
Nainital
Nestled in the Kumaon region, Nainital, the 'City of Lakes', boasts scenic views of the majestic Himalayas and moderate weather. Its colonial architecture adds to the charm of this hill station, making it a popular choice for a quick getaway from Delhi and nearby areas. Make the most of your trip by enjoying the stunning vistas of the Kumaon Himalayas from the comfort of a campervan. Ideal for a family vacation, May and June are the perfect months to visit this idyllic destination.
Tourist attractions in Nainital: Naini Lake, Naini Devi temple, Tiffin Top, Snow Viewpoint, High Altitude Zoo, Eco Garden,
Things to do in Nainital: Boat ride, cable car ride, trekking, horse ride, speed boating
Ranikhet
Ranikhet, a picturesque hill station in Uttarakhand, is a true haven for nature lovers. With its breathtaking beauty, serene ambience, and army regiment atmosphere, it offers a perfect escape from the hustle and bustle of city life. The stunning landscapes, surrounded by lofty mountains and pine trees, are a treat for the eyes. Experience the charm of Ranikhet by staying overnight in a caravan and marvel at the breathtaking sunrise from the Haidakhan Babaji Temple. Don't miss the step farms, which add to the beauty of this enchanting destination.
Tourist attractions in Ranikhet: Haidakhan Babaji Temple Majhkhali, Bhalu Dam, Chaubatia Orchards, Dwarahat, Golf Course, Kumaon Regimental Centre Museum, Katarmal Sun Temple
Things to do in Ranikhet in summer: Golfing, nature walks, camping, zorbing, zip-lining, fishing, trekking, paragliding
Uttarkashi
Nestled in dense forests of Fur, Pine, and Deodar, Uttarkashi is a spiritual haven with great religious significance. Located on the banks of Bhagirathi, it serves as a gateway to many high-altitude treks and is a favourite haunt of Sadhus seeking solace and wisdom. A visit to Gangotri and Yamunotri Dham is a must to seek blessings from the Almighty, while the picturesque views around will leave you mesmerized. For some soul-searching, embark on a trek to Gomukh, the birthplace of the holy River Ganges, which begins from Uttarkashi. Feel the power and beauty of the mighty Himalayas as you explore this enchanting destination.
Mussoorie
Mussoorie, also known as the 'Queen of the hills', is a must-visit destination in Uttarakhand. Immerse yourself in the serene and breathtaking views that this place has to offer while relaxing in a luxury caravan. If you are a peace lover, then Mussoorie is the perfect destination for you. For thrill-seekers, a night safari in the sanctuary of Mussoorie is a must-try, the first of its kind.
Experience the best of both worlds by witnessing the stunning beauty of Mussoorie from the comfort of a motorhome, making it an ideal destination for both adventure and relaxation.
Tourist attractions in Mussoorie: Lal Tibba, Gun Hill, Mall Road, Jharipani Falls, Lake Mist, Kempty Fall, Landour, Bhatta Falls
Things to do in Mussoorie in Summer: Trekking, camping, paragliding, rappelling, rock climbing, boating, fishing
Conclusion
Experience the beauty of Uttarakhand like never before by travelling in a campervan this summer. With a plethora of stunning destinations to choose from, including Binsar, Dehradun, Mussouri, Nag Tibba, Abbott Mount, Chopta Valley, Mukteshwar, Hemkund Sahib, Auli, Almora, and many more, Uttarakhand is a traveller's paradise.
Witness the rich culture, pristine nature, and vibrant pilgrimage sites that this state has to offer. Rent our luxury caravans to embark on an unforgettable journey and explore the breathtaking beauty of Uttarakhand in style and comfort.