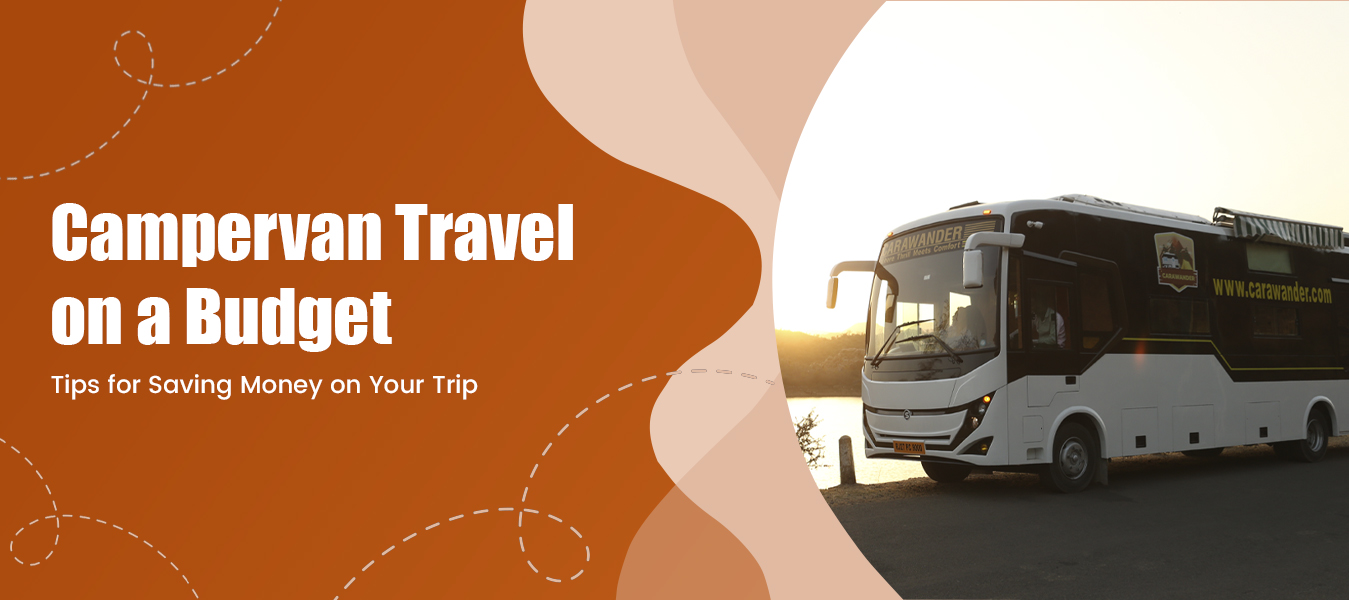 Campervan Travel on a Budget: Tips for Saving Money on Your Trip 
Imagine driving down the open road in a campervan, but expenses holding you back? Fret not, with a touch of pre-planning, a few smart decisions, and the choice of an eco-friendly and budget-friendly caravan rental company like Carawander, you can indulge in a lavish and stress-free vacation without breaking the bank.
What could be better than an affordable caravan that whisks you away to a world brimming with surprises? Whether you prefer to go solo or travel with your tribe, you can rent a caravan that unleashes your inner wanderlust and presents you with the ultimate gift of a weekend jaunt. In this blog post, we shall reveal some insider advice and tactics to help you embark on an extraordinary campervan trip on a budget.
1.Precise Route Planning for Your Adventure
To ensure a smooth and budget-friendly campervan journey, it's essential to plan your route meticulously before embarking on your adventure. By doing so, you can steer clear of unnecessary expenses like tolls, ferry crossings, or high fuel costs. Leverage useful online tools such as Google Maps or Roadtrippers to chart out your itinerary and determine the most budget-friendly routes.
Furthermore, we can provide you with guidance to identify the ideal route, and our team of highly skilled drivers can safely take you to a plethora of stunning landscapes and lesser-known destinations, including offbeat locations that are off the beaten path.
2.Perfect Campervan Selection for Your Road Trip
Choosing the right campervan can significantly impact your budget. Opt for a fuel-efficient van with a small engine size to keep costs low. Consider the size of your group and select a van that comfortably accommodates everyone without being too large and expensive.
Our range of caravans caters to solo travellers, digital nomads, families, and friends. Let's explore two of our popular models.
Mini Wanderlust: Our Mini Campervan
Ideal for small groups of four to six people, the Mini Wanderlust is equipped with a queen-size bed, air-conditioning, and a smart TV. It also features a Western-style toilet, shower, and kitchenette with a coffee machine, stove, refrigerator, and microwave. For nature lovers, camping, hiking, and barbecue equipment are available.
Rolling Paradise: Our Motorhome
The spacious Rolling Paradise comfortably accommodates up to eight people. It includes a well-lit living room area with a large sofa and TV, a clean bathroom with a geyser and western-style toilet, and safety features like fire extinguishers, first-aid kits, and a medicine box. The GPS navigation system allows for easy travel.
3. Essential Packing Strategies
When embarking on a journey in a campervan, it is crucial to be mindful of what you pack. Not only will it save you money on fuel expenses, but it will also make your travel experience much more comfortable. Fortunately, Carawander provides exceptional services that can help ease the burden of packing.
With BBQ equipment, camping gear, pantry supplies, cooking utensils, and kitchenette cabinets, you will have everything you need for an enjoyable trip. Plus, their night vision cameras will ensure that you are always safe and secure throughout your journey. So, leave the stress of packing behind and let Carawander take care of everything for you.
4.Embracing the Outdoors: Free Campsites and Wild Camping
Accommodation expenses can be one of the most significant costs of any road trip. However, there are ways to reduce this expense by taking advantage of free campsites and wild camping. Imagine parking your caravan in a picturesque location, waking up to the aroma of freshly brewed coffee, refreshing yourself in our spacious washroom, and enjoying breakfast in one of the most beautiful places without worrying about a checkout bill.
With Carawander, this dream can become a reality. There are few free or low-cost campsites in many national parks, forests, and other scenic areas, allowing you to enjoy the great outdoors while keeping your budget in check. So, don't let accommodation costs hold you back from experiencing the road trip of a lifetime. Let Carawander help you find the perfect place to park your caravan and make unforgettable memories along the way.
5. Delicious Eats on the Go: Cook your meals
If you are planning an extended road trip, dining out every day can be a significant expense. Fortunately, there is a better way to enjoy delicious meals while keeping your budget in check. Our campervans come equipped with a small kitchen area that includes a refrigerator, microwave, and other essential cookware. Alternatively, you can opt for a camping stove and cookware for more flexible cooking options.
By cooking your meals in the comfort of your campervan, you will save money and have the freedom to explore local markets and try out fresh produce. Plus, cooking your meals allows you to eat at your own pace, without having to worry about restaurant hours or wait times.
6.Maximize Savings: Utilize Discounts and Promotions
It is always a good idea to keep an eye out for any discounts or promotions when you are planning a road trip. Many campervans rental companies offer exclusive deals and discounts throughout the year, so it pays to do your research.
We want to make sure that our customers can hit the road without worrying about high rental costs. That is why we offer a range of discounts throughout the year, including during peak seasons, long weekends, and festival periods. Just visit our website or check out our Instagram page for the latest deals and give us a call to take advantage of these offers.
Conclusion
With the right planning and smart choices, it is possible to have an unforgettable campervan adventure on a budget. By implementing the tips mentioned above, you can save money without sacrificing the quality of your trip.
At Carawander, we offer a range of caravans with all the amenities necessary for a hassle-free and budget-friendly vacation.
Contact us today to rent our caravans and embark on an unforgettable journey. With our well-maintained and fully equipped motorhomes, you can have a comfortable and affordable road trip experience.
So, pack your bags and hit the road without any worries. With Carawander, you can have an amazing campervan adventure without breaking the bank.