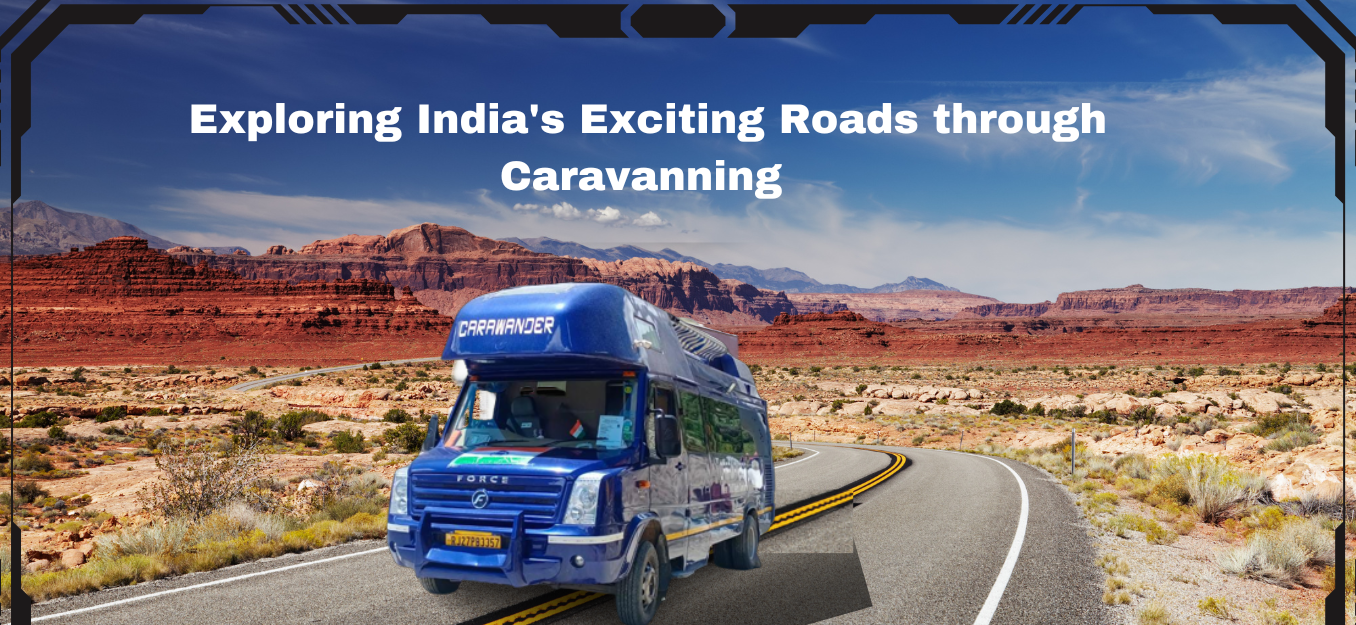 Exploring India's Exciting Roads Through Caravanning 
India, well-known for its varied landscapes and vibrant cultural heritage, is sure to captivate you. Here, a plethora of awe-inspiring road journeys await, ready to leave you spellbound and longing for more. Brace yourself for an extraordinary adventure as you traverse steep slopes and navigate winding paths, all while embarking on an unforgettable caravan expedition.
For those who relish the joy of long drives and seek extraordinary road trips that stray from the ordinary, get ready to be amazed. Buckle up and embrace the thrill of a lifetime as we set off on a remarkable odyssey through India's most thrilling roads. Rent our luxury caravans, where every moment promises to be a testament to the extraordinary.
Baralacha Pass (Manali to Leh):
Prepare for an exhilarating adventure as you journey from Manali to Leh, a road nestled in the majestic Himalayas. This awe-inspiring route will put your driving skills to the test and send your adrenaline soaring to new heights. The highlight of this expedition is the renowned Baralacha Pass, towering at an altitude of 16,040 feet. Travelling through this pass in a caravan, you will be treated to awe-inspiring vistas of snow-capped peaks, pristine lakes, and expansive meadows. The road's steep gradients and challenging terrain make it a favourite among adventure seekers and thrill enthusiasts. It is advisable for tourists to visit the pass between the months of April and October.
When you rent our caravan, you can simply park it near a picturesque location or by a serene lake and bask in the tranquil beauty of the starry night sky. Wake up to the breathtaking sights of the Himalayas, creating unforgettable memories at every turn.
Cliffhanger Road (Killar to Kishtwar):
For an adrenaline-fueled escapade, look no further than the Cliffhanger Road from Killar to Kishtwar in Jammu and Kashmir. Aptly named, this road clings to the edge of a steep cliff, treating you to breathtaking vistas of the Chenab River and the majestic Pir Panjal Range. Brace yourself for a heart-pounding adventure as you navigate the narrow, winding path with its hairpin bends and sheer drops. This thrilling journey will keep you on the edge of your seat. The road opens in the third week of June and remains accessible until early October.
Do not miss this once-in-a-lifetime experience. Carawander offers you the incredible opportunity to witness this excitement firsthand in the comfort of our luxury caravans. Embrace the thrill and make unforgettable memories as you embark on this extraordinary adventure.
Khardung La Pass (Leh to Nubra Valley):
If you are an adventure enthusiast, make sure to include a visit to the legendary Khardung La Pass in your itinerary. Renowned as one of the most drivable passes globally, it is an absolute must-see. Sitting at an astounding altitude of 18,380 feet, this pass connects Leh to the breathtaking Nubra Valley. The journey to reach this pass will undoubtedly give you an adrenaline rush as you navigate through challenging terrain and negotiate sharp bends.
However, the moment you conquer the summit, a magnificent reward awaits you: awe-inspiring panoramic views of the snow-capped Himalayas and the rugged grandeur of Ladakh. Plan your visit between the months of April and June, or September and October, to experience the Leh-Khardung La Pass in all its glory.
Chang La Pass (Leh to Ladakh)
Prepare to be amazed by the majestic Chang La Pass, an extraordinary mountain pass that reaches an astounding elevation of 17,586 feet (5360 metres) above sea level. As the third-highest mountain pass globally, it holds an esteemed position in the realm of natural wonders. Connecting Leh to the scenic Shyok River valley, this pass treats travellers to breathtaking vistas that leave them in awe. The journey across Chang La Pass is not only visually stunning but also exhilarating, as the adrenaline surges through those who conquer its heights.
Accessible only from May to October, Chang La Pass is an essential stop on your tour from Leh to Pangong Tso. Additionally, it serves as the primary gateway to the renowned Changthang Plateau in the Himalayas.
Zoji La Pass (Ladakh to Kashmir):
The scenic Zoji La Pass, linking the enchanting region of Ladakh with the picturesque Kashmir Valley, promises an awe-inspiring road journey. Set at an elevation of 11,575 feet, this pass is renowned for its formidable terrain, narrow stretches, and steep inclines. As you brave this challenging road, you will be treated to breathtaking vistas of majestic snow-capped mountains, cascading waterfalls, and verdant green valleys. It is a thrilling roller coaster ride that will create memories to cherish for a lifetime, especially when experienced in the comfort of a caravan.
Chandigarh-Kasol Road Trip:
Embark on a mesmerising journey through the scenic hills of Himachal Pradesh, where every turn reveals breathtaking vistas of lush forests, rushing rivers, and charming villages. The winding roads and hairpin bends add an exciting touch of adventure to the drive, while the serene allure of Kasol will leave you spellbound. This road trip seamlessly blends thrills and natural beauty, making it an unforgettable experience. Often referred to as the "Amsterdam of India," Kasol offers a unique charm of its own.
When you rent our luxury caravan and extend your holiday, you will have the opportunity to immerse yourself in the enchanting beauty of the Parvati Valley. Seize the opportunity to embark on the renowned Kheerganga Trek, where you can personally experience the captivating enchantment of nature. This captivating journey promises an extraordinary blend of tranquilly and exhilaration, allowing you to create unforgettable memories along the way.
Jaipur to Jaisalmer
If you are seeking an adventure through the desert landscape, look no further than a road trip from Jaipur to Jaisalmer. This journey from the Pink City to the Golden City will immerse you in a sea of magnificent sand dunes while providing an opportunity to experience the rich culture and traditions of Rajasthan up close. As you traverse the roads, you may even encounter the delightful sight of a camel or two strolling alongside your caravan, giving you a chance to wave and embrace the unique charm of the region. Get ready for an unforgettable experience where the desert unfolds its wonders and Rajasthan's vibrant heritage comes to life.
Conclusion
One important thing to note is that you do not have to drive yourself. When you rent our caravans, we offer the services of a professional driver who is skilled in navigating these thrilling roads, allowing you to fully immerse yourself in the beauty and excitement from the comfort of your caravan. Reach out to us today and book our caravans for an exhilarating road trip along some of the most adventurous routes.