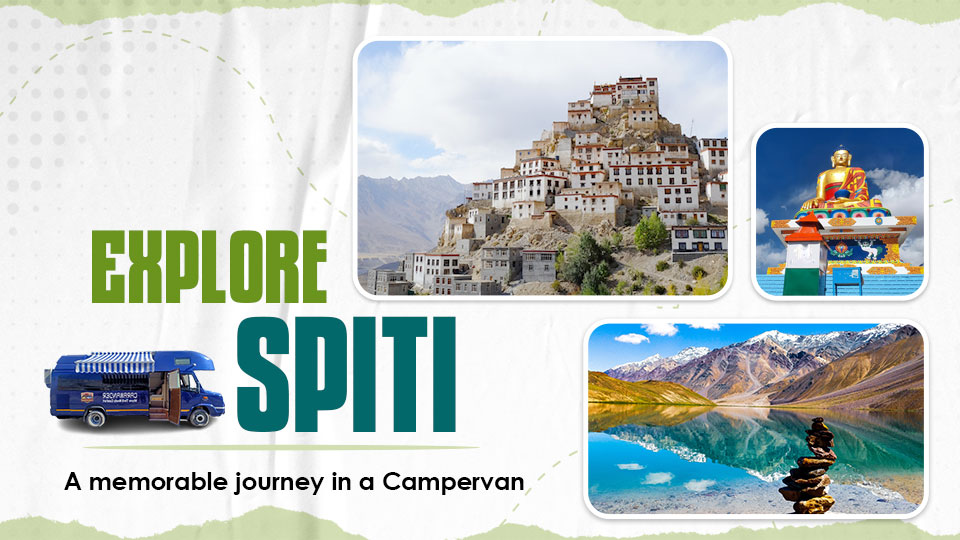 Exploring Spiti : A memorable journey in a Campervan 
Spiti, which translates to "the middle land," is a cold mountainous region with green patches among its arid and weather-beaten appearance. It has beautiful valleys, windswept landscapes, and peaceful villages. The locals have a great appreciation and aspiration towards the abundant glacial stream.
Spiti, a once secluded area, has seen a rapid increase in tourism in recent years owing to its surreal moonscapes, picturesque Himalayan lakes, and harsh highlands that are sustained by prayers at ancient monasteries. Visitors are enraptured by the pristine beauty of this moon slice, leaving them awestruck yet wanting more, such is its allure.
Travel through Spiti's rugged terrain in our luxury campervan, with breathtaking views at every turn, and experience this land's unrivalled solitude and spirituality firsthand.
Best time to visit spiti :
From March to June, the beautiful valley begins to shed its white snowy covering after the long and dark winter months. Tourists who prefer solitude and wish to avoid crowds begin to travel to Spiti from Shimla.
You can rent our caravan and experience bright, clear, and pleasant days perfect for immersing yourself in the beauty of the surroundings. Although the nights are chilly, they offer an excellent opportunity for camping under the brilliantly illuminated starry skies.
Places to visit in Spiti :

Key Monastery:
The renowned Key Monastery is in Lahaul, a thousand-year-old Tibetan Buddhist monastery and the largest in the Spiti Valley. The Monastery is not only stunningly beautiful, but it also serves as a religious training centre for around 300 Lamas. The Monastery is situated at a high altitude and boasts a breathtaking backdrop. Visiting the Key Monastery in a caravan is an excellent opportunity to experience Lama culture.
Chandratal Lake:
The Spiti Valley's Moon Lake is a breathtakingly beautiful location with water that changes colour from reddish to orange, blue, emerald, and green throughout the day. The lake is considered sacred and is surrounded by vast stretches of green meadows, making it an ideal camping spot with plenty of wildflowers during spring. With camping equipment in a caravan, you can set up a tent, enjoy a bonfire, and barbeque under a starry sky with your loved ones.
Dhankar:
Dhankar is renowned for its 1200-year-old Monastery, pristine lake, and an ancient fort. The Monastery is perched precariously on the edge of a cliff at an altitude of 12,774 feet, providing an incredible panoramic view of the Spiti valley. In addition to the stunning vistas, Dhankar Hompa is home to the Dhayan Buddha statue and a small museum that houses scriptures and murals.
The Dhankar Lake is near the Monastery and offers a tranquil and stunning getaway. You can spend hours here just appreciating the natural beauty, with the chilly breeze and shimmering blue water reflecting the sun's rays. It is the perfect place to escape city life's chaos and recharge your mind and spirit.
Tabo: "Ajanta of the Himalayas"
Tabo, a small and secluded village in the heart of Spiti, is renowned for its over-a-thousand-year-old Monastery. The town is approximately 40 kilometres from the border between India and Tibet, and you are likely to pass through it by road from Kaza to Reckong Peo. The most famous attractions include a 1000-year-old monastery considered one of the holiest by the Dalai Lama, several temples, and ancient caves once inhabited by Buddhist monks.
A must-see spot for those seeking an offbeat adventure, Tabo is known for its serene and tranquil beauty. Sprawling apple orchards surround the village in a cold desert. If you want to escape from the hustle and bustle of everyday life, a trip to Tabo will surely rejuvenate your mind and body. Travelling in a caravan is not just about exploring; it is also an opportunity to learn about various cultures and embark on a spiritual journey to learn about life.
Hikkim, located in the Spiti Valley, is a renowned destination for housing the world's highest post office, making it a must-visit spot.
Komic, on the other hand, is a fascinating destination as it is considered the highest village globally with a running motorable road, making it an absolute must-see destination.
Langza is another location popular with visitors, especially those interested in fossil hunting. The village is also home to a giant golden statue of Lord Buddha that overlooks the valleys, giving visitors a sense of being guarded by the deity.
Pin Valley National Park
This national park in Himachal Pradesh is a cold desert with diverse natural features, making it a must-visit for nature lovers. It is surrounded by green valleys and brown mountains and offers breathtaking views, especially during snowfall. Established in 1987, the park's high altitude and extreme temperatures provide a habitat for endangered animals like the snow leopard and Siberian fox, along with rare medicinal plants.
Suraj Taal Lake
Suraj Tal, also known as Surya Taal, is a breathtakingly beautiful lake in the Lahaul Spiti valley. It is surrounded by valleys and mountains, including the Bara-lacha-la pass. During winters, the surrounding mountains get covered by layers of snow, enhancing the lake's beauty. The lake is popular among nature lovers, divine souls, trekking enthusiasts, and motorcyclists. The Manali-Leh path passes through the lake, making it a hotspot for bike trips and trekking. The lake is also a dream destination for photographers as the scenic beauty here is like something straight out of a storybook.
Kunzum pass
Kunzum Pass, situated in the Kunzum Range of the Himalayas in Himachal Pradesh, is a stunning mountain pass. At an altitude of 15,060 feet above sea level, it offers breathtaking views, and 15 hairpin turns that test the driving skills of travellers. Adventure drivers and bikers love to visit the past for the thrill. Kunzum Pass is also one of the highest motorable passes in India and connects the Lahaul Valley and Spiti valley. Located 122 km from Manali, it is a popular destination for photographers due to its beautiful glaciers, snow-clad peaks, and the valley beyond. The pass is also home to a temple dedicated to Goddess Kunzum Devi, who protects travellers from evil powers. Visitors often stop by the temple to seek blessings for their journey.
Conclusion
This enchanting valley offers more than just stunning mountain views and picturesque sunsets. With its treacherously winding roads, delectable Himachali cuisine, and warm and friendly locals, it is a paradise waiting to be discovered. Have you yet to experience the wonders of this mystical valley? Do not wait any longer! Contact us to book a caravan for an unforgettable adventure.