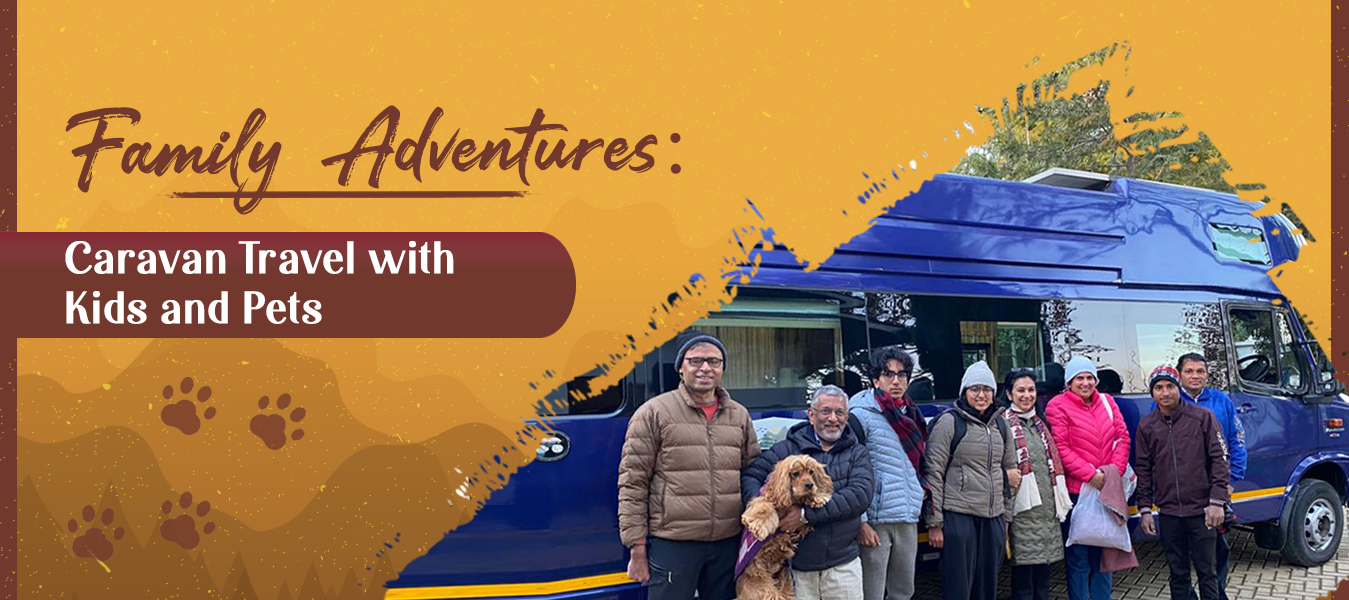 Family Adventures: Caravan Travel with Kids and Pets  
In our fast-paced world, finding quality time to spend with our loved ones can be a challenge. This is especially true for families with young children and pets, who often yearn for a break from the routine and an opportunity to create lasting memories together. Our caravans are dedicated to giving families a unique and unforgettable travel experience.  
Embarking on a journey with your family in a caravan opens up a world of possibilities, offering freedom, flexibility, and the chance to explore nature's wonders at your own pace. In this blog, we will delve into the myriad benefits of caravan travel for families, highlighting how Carawander's exceptional services make it a game-changer in family adventures.  
1. Unrestricted Exploration:  
Caravan travel grants families the freedom to chart their course, unburdened by strict itineraries or the limitations of conventional accommodation. With Carawander, you have the keys to your own home on wheels, enabling you to embark on impromptu detours, discover hidden gems, and tailor your journey to suit the preferences of every family member.  
Our caravan services extend to some of the most beautiful places in India. Imagine exploring the heavenly landscapes of Himachal Pradesh, the peaceful scenes of Jammu and Kashmir, the adventurous terrains of Leh and Ladakh, the untouched nature of Uttarakhand, the royal elegance of Rajasthan, and the lively heart of India, Delhi. These places offer a truly special experience. When you look out from your caravan, you will see incredible beauty that will leave a lasting memory in your heart.
2. Comfort and Convenience  
When you are on the road with your kids and furry friends, ensuring everyone is comfortable and things run smoothly is super important. That's why our caravans have all the amenities that make your trip a breeze. Picture this: a fully stocked kitchen for delicious family meals, a snug queen-size bed plus two more cozy hideaway beds, camping gear and a barbecue for a fun night under the stars, and even a coffee machine for those magical sunrise moments. And remember the entertainment system for some extra fun! It's like having a home away from home right on wheels.  
3. Kid-Friendly Features  
At Carawander, we know that families have special needs, especially when little ones are involved. That's why our caravans are made with kids in mind. Safety is covered with secure seating, child-proof locks, and even proper Western toilets. Plus, we have sorted your climate comfort with hot and cold AC. And do not worry about bringing all the gear – we have plenty of space for strollers and toys. Inside, there's loads of room for kids to play and stretch their legs during the trip, so everyone can relax and enjoy the journey.  
4. Pet-Friendly Expeditions:  
We understand that pets are like beloved family members for many families. It can be tough to leave them behind, especially when they cannot come along on trains or flights. We often go to them in dog care centers or kennels, which can be heart-wrenching for them and us. That's why we have got pet-friendly caravans. This means your furry friends can come along on the adventure, too. We have set up special spots and added amenities just for them. So, you can relax, knowing your four-legged friends will be just as comfortable and content as the rest of the family during the trip. They are part of the adventure, too.
5. Quality Time Together:  
Caravan travel creates the perfect environment for quality family time, unlike any other type of vacation. Say goodbye to the usual hassles like booking hotels, checking in and out, and arranging transportation. Instead, you can fully concentrate on connecting, swapping stories, playing games, and being together.  
Imagine roasting marshmallows or chicken on a campfire or gazing up at the stars from the cozy comfort of your caravan. These moments will stay etched in your memory for years, cherished and treasured by the whole family.
6. Learning Through Exploration:  
Travelling in a caravan opens up a world of educational opportunities for children. They can learn about geography, history, and nature first-hand, gaining a deeper understanding of the world around them. Additionally, experiencing different cultures and environments fosters cultural awareness and empathy, shaping them into global citizens.  
Travelling is a powerful way of learning about life. Your children will encounter new experiences, meet people from different cultures, and explore fascinating villages. These encounters become valuable lessons shaping their understanding of the world. Through caravan adventures, the classroom extends far beyond the four walls, offering an education rich in diversity and hands-on experiences.
7. Connecting with Nature  
Introducing your children to the wonders of the natural world is a gift that will last a lifetime. Caravan travel opens the door to awe-inspiring landscapes, from tranquil countryside to towering mountains and endless deserts. It is a chance to unplug from screens, breathe in fresh air, and reconnect with the beauty of our planet.  
Conclusion  
Carawander empowers families to embark on unforgettable adventures, creating a lifetime of cherished memories. With the freedom to explore, unparalleled comfort, and amenities tailored to kids and pets, our caravans are the perfect companion for your family's next escapade. Embrace the opportunity to foster strong bonds, provide enriching educational experiences, and create a love for nature that will last a lifetime.  
Rent our caravans for a family adventure that will leave you eagerly anticipating more. Your journey begins today. Don't miss out on the magic that awaits.