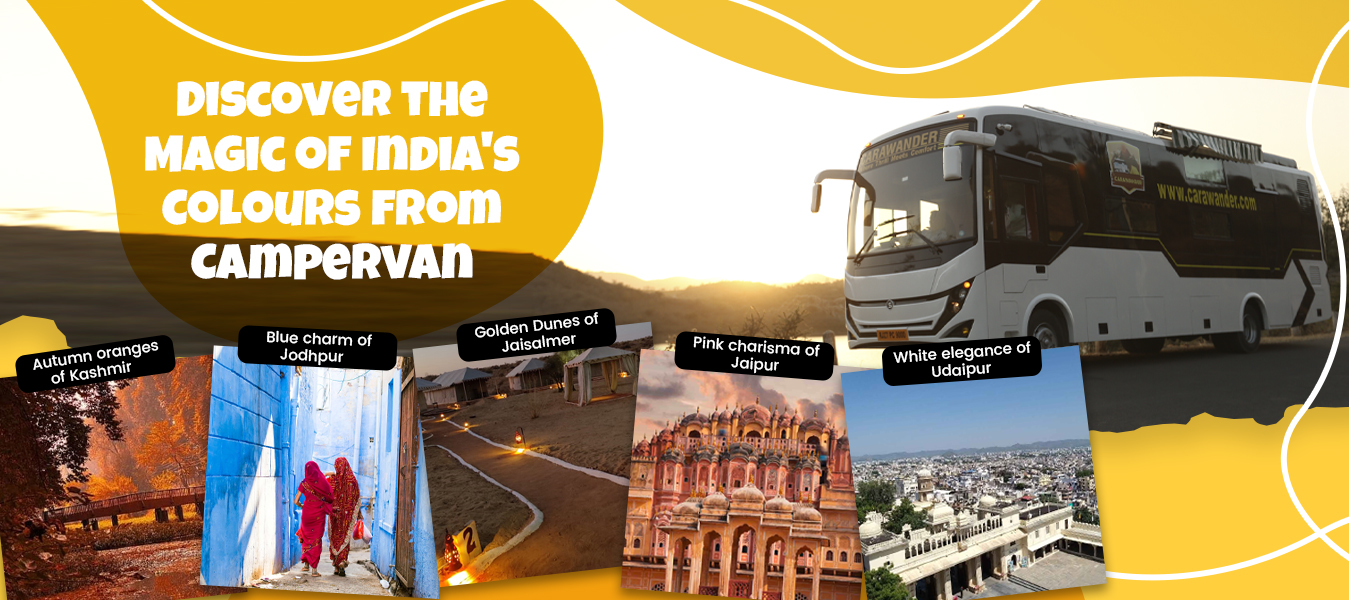 Discover the Magic of India's Colours from Campervan  
Dive into a fantastic and colourful experience as we reveal India's brilliant tapestry from the comfort of your campervan. India is an incredible treasure of delights for every traveller, with its natural beauty, captivating festivals, and tapestry of customs. This is why some of the country's most exquisite cities are given colour-themed names due to their colourful appearance or how they appear from above.   
India is a true kaleidoscope of colours; with its diverse landscape, this vibrant country boasts a stunning array of hues you will not find anywhere else. But what sets India apart is its constant celebration of life, with festivals happening all year round. This means there is always a colourful and joyous atmosphere, no matter where you go.
If you are looking for a truly immersive experience, hop into a campervan and explore the most vibrant places in India up close and personal.
1. Rainbow Colours of Valley of Flowers    
Prepare to be swept off your feet by the breathtaking beauty of the Valley of Flowers. This natural wonderland is bursting with over 300 vibrant flowers, creating a stunning rainbow of colours that will leave you spellbound. The meadow has various flowers, from delicate orchids to cheerful marigolds. As you trek through this enchanting valley, you will find yourself lost in a sea of vivid hues that will take your breath away.   
To get to this paradise, start by embarking on a scenic campervan journey from Dehradun that will lead you to Joshimath. From there, it is just a short hour-long drive to Govindghat, where you will begin your trek to Ghangaria. As you make your way up, anticipation will build until you finally witness the incredible rainbow of colours that awaits you.
The best time to experience this colourful spectacle is between July and mid-August when the flowers are in full bloom.
2. Autumn oranges of Kashmir   
Have you ever heard of the autumn season in Kashmir? It is called Harud, and it is a truly magical time of year. From the end of September to mid-November, the entire valley is covered in a carpet of orange leaves. The weather is foggy, but the golden-brown foliage is stunning and creates a fairytale-like environment.
If you are looking for a destination as beautiful as Tokyo during autumn, then Kashmir is the place to be. Not only will you be surrounded by snow-capped peaks and fresh white snow during the winters, but you will also experience the breathtaking maple leaves-strewn autumn season.
Visit some of the finest Chinar gardens in Kashmir, located in Srinagar, Anantnag, and Ganderbal. You won't regret it – the views are postcard-perfect and will leave you with memories to last a lifetime.
3. Blue charm of Jodhpur   
Picture this: You're travelling with a caravan and suddenly come across a sea of blue houses. The vibe is serene and calming. Welcome to the Blue City, also known as Jodhpur! The city is famous for its blue-painted homes, which you can get a stunning view of from the summit of the majestic Mehrangarh Fort – one of the highest points in the city.
The Brahmins started painting their homes blue to distinguish themselves from lower castes. But over time, this practice became common among all residents, giving the city its distinct character and earning it the nickname "Blue City." The locals also use blue paint to cool their homes during the summer heat.  
Wouldn't you want to experience the beauty of Jodhpur's blue city for yourself?  
  4. Golden Dunes of Jaisalmer   
Imagine waking up to a breathtaking view of the Thar Desert as the sun's rays paint the dunes in gold, brown, and yellow shades. This stunning phenomenon has earned the city several nicknames in Jaisalmer, including the "Golden City." Park your caravan amid these mesmerizing dunes and spend a night under the starlit sky. You will feel like you have stepped into a fairytale land. It is no wonder why Jaisalmer is a must-visit destination for anyone seeking natural beauty and awe-inspiring landscapes.  
5. Pink charisma of Jaipur   
Welcome to Jaipur, the Pink City of India, it is a city that boasts grandeur and vibrancy, and it is not hard to see why. In 1876, the Maharaja decided to paint the entire city pink, and ever since then, it has been one of the most colourful cities in India. From the stunning Hawa Mahal to the mesmerizing City Palace, Jaipur is home to several beautiful palaces rich in colour. The pink stone used to build most structures in the city adds to its unique charm, making it a sight to behold. If you are planning a trip to Jaipur with your family or friends in a campervan, be sure to take your girl family member or friend along – she will love the pink hues for which the city is famous.
6. White elegance of Udaipur   
Have you ever heard of the city known as the 'Venice of the East'? That is right, Udaipur in Rajasthan is famous for its stunning lakes and gorgeous architecture. But did you know it is also called the 'White City'? That is because most buildings here are dazzling white marble, shining brightly in the sunshine. You can sip on a warm cup of coffee from your caravan while watching the sunset over the serene lakes of Udaipur. It is no wonder it is considered one of India's most romantic cities, thanks to the abundance of lakes in the state. The palaces here are breathtaking, and every year, people from all over the world visit this beautiful city.
Conclusion   
Are you ready for an adventure filled with vibrant colours and unforgettable experiences? India awaits you!
From the breathtaking Valley of Flowers to the golden sands of Jaisalmer, each stop on your campervan journey is an opportunity to immerse yourself in India's colourful spirit. Rent Our caravans for the perfect way to witness India's beauty up close and personal.  
So, what are you waiting for? Buckle up and let the colours of India mesmerize you on the trip of a lifetime.