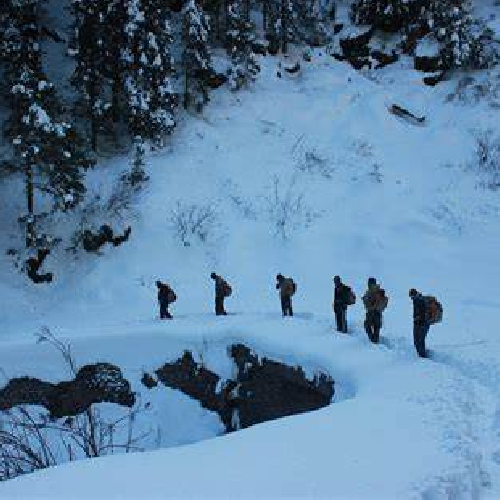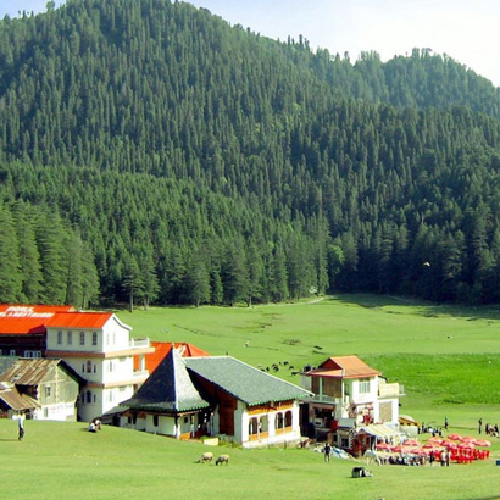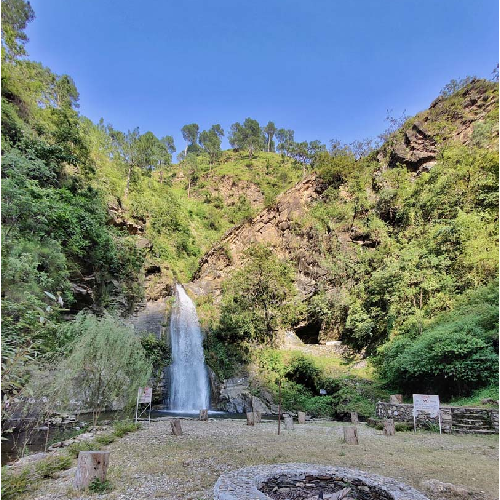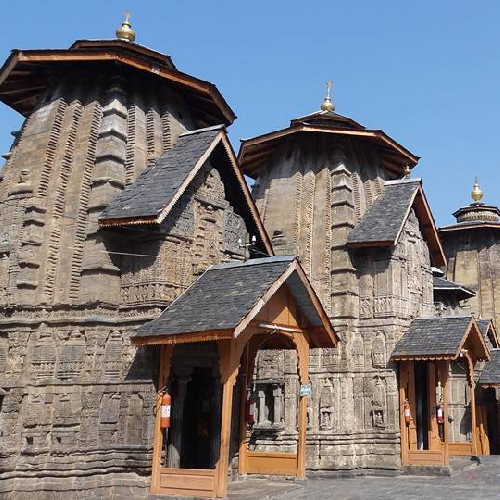 Caravans in Mukteshwar
Mukteshwar is a small hill town located about 50km from Nainital in Uttarakhand. The picturesque town takes its name from the belief that Lord Shiva killed a demon here and gave it Mukti or salvation. Mukteshwar is a picturesque mountain town best known for its tranquil atmosphere, incredible weather, and breathtaking views of the snow-capped Himalayas. This relaxing weekend getaway features ancient temples, lush forests, and narrow hilly trails.  
When you start your journey in a caravan from Delhi, it will take 8 to 12 hrs. You can halt in a beautiful location and have a sound sleep in spacious caravan beds. Wake up with a view in the morning, pack your meal and start your day with a long walk in the greens. On the way, you will encounter one of the most beautiful waterfalls, Bhalugarh Waterfall, explore and enjoy the freshly prepared food you have packed, feast in the jungle, and experience nature like never before. Return to your halt, a one-minute walk from the waterfall entrance. Build a campfire, set up tents, and spend a peaceful night in nature. Create memories of nature and reconnect with yourself.  
Beautiful places to visit
Chauth Jaali
 Re-energize with a hearty brunch and get ready for today's stunning views. You will burn those calories walking uphill toward your goal for the day, Chauth Jaali. It is a local spot with breathtaking views; Stop at Chauth Jaali; Set up your tents and get ready to stargaze the beautiful constellations. Sleep well under the glittery sky and get up early to witness one of the most alluring sunrises. 
Dokhaney Falls:
You must run early in the morning (in your home on wheels) to the next destination. After a 20–40-minute walk (depending on the route chosen), you will witness another waterfall, Dokhaney Falls, but trust us when we say, "you're going to have a great time." Take a dip, relax, head down to the creek, and enjoy some much-needed time with a freshly prepared meal. Capture your memories as many times as you want, but you will still want to come back. 
You are now heading to your collection point for the night. Park your "home on wheels " in the middle of nowhere. Let the fire run high because it is not just a party for you; They have a wild audience. If you look up tonight, you will see Venus, Mars, Jupiter, and more. 
Peora  
Peora can best be described as a hidden gem. Situated at an elevation of 6,000 feet, this place is serene and peaceful, with lush natural beauty. When you travel in a caravan, you can witness the beauty as it is Untouched by industrialization; Peora is a perfect place to enjoy moments of tranquility away from busy city life. The simple and ideal lifestyle of the people here and the traditional tiled roofs will make you feel like a completely different world. 
Things to do in Mukteshwar
Trekking – breathe the mountain air  
Hilly topography, unexplored trails, lush green forests, and narrow trails make trekking one of the most exciting activities in Mukteshwar. Depending on your experience and condition, you can choose accessible to moderately complex hiking trails. Most of them do not require professional guidance and offer a refreshing walk in the great outdoors of Mukteshwar. Popular treks include Peora to Almora, Peoria to Mukteshwar, Binsar to Artola Trek, and the Riverside Walk.  
Night hikes and camping are also popular. These activities are fun if you plan a weekend getaway with family, same-age couples, or a group of close friends in our luxury van, "Mini wanderlust."   
Paragliding – flying so high above the world  
Paragliding is one of the most popular activities in Mukteshwar. It is most often offered as part of a camping package that includes a range of fun and exciting activities such as river crossings, kite flying, night hikes, and wildlife tracking. Which is one of the best places to try paragliding in India as a professional guide will ensure you glide smoothly and safely over the beautiful greens of Mukteshwar.  
Rock Climbing: Accept the Uphill Challenge  
Rappelling and climbing are two of the most challenging activities in Mukteshwar. A few cliffs and ledges in Mukteshwar offer distinct levels of difficulty. Even if you are a beginner, there are plenty of easy climbs. Both rappelling and rock climbing will provide expert support and make you proud to complete the challenge.  
Sunrise over Nanda Devi Peak – enjoy the view  
Nanda Devi – India's second highest peak, can be seen from the tops of the Mukteshwar Mountains. The mesmerizing view is accentuated by the orange and gold tones of the sunrise. One of the best experiences in Mukteshwar is witnessing the sunrise over Nanda Devi Peak and illuminating the small hill station. Record it with your video camera to relive this incredible sunrise again.  
Visit Ancient Temples: Meet the Pahari Gods  
There is something inexplicably enchanting about mountain temples, and Mukteshwar is no different. It is a small town with many ancient temples, such as Shiva Temple, Rajarani Temple, and Brahmeswara Temple, which are popular among locals and tourists for weekend vacations. The most famous temple, Mukteshwar Dham, is dedicated to Lord Shiva, Parvati, Ganesha, and Nandi. Temple visits are an integral part of tourism in Mukteshwar. Add these visits to your list of things to do in Mukteshwar to connect with nature and the Pahari Gods!