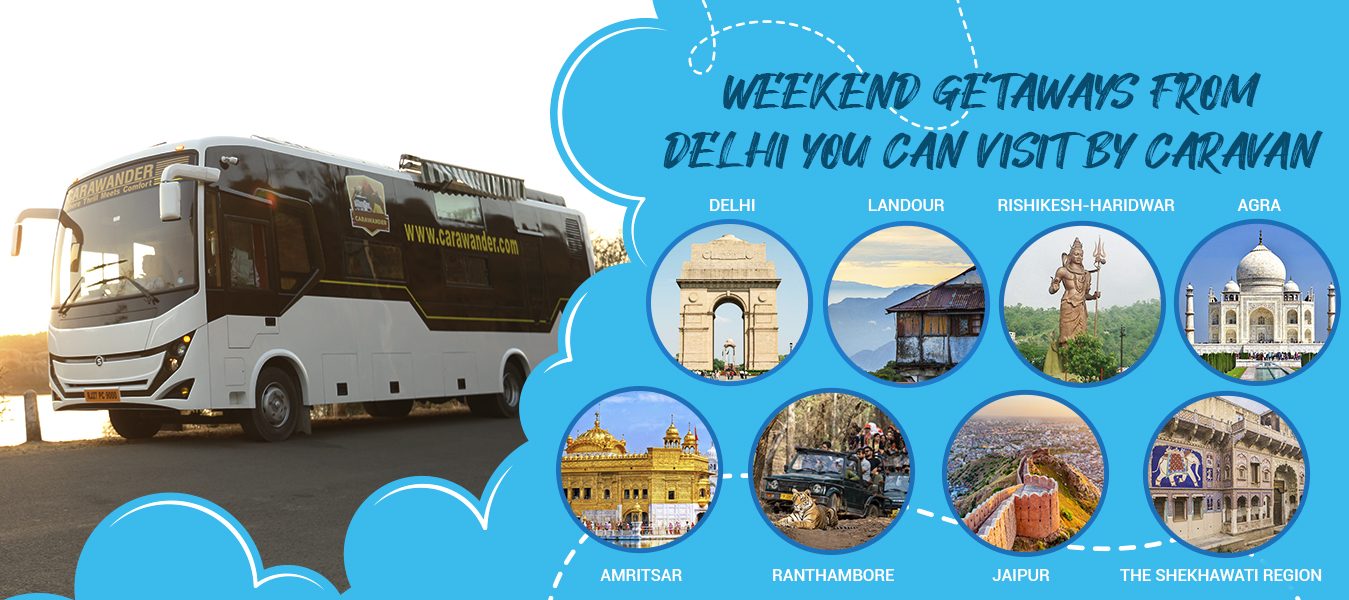 Weekend Getaways From Delhi You Can Visit By Caravan  
The national capital, i.e., New Delhi, is the hubspot from where people can fulfill their desire of wanderlust. You can visit so many short weekend getaways on Saturdays and Sundays, only to return wholly rejuvenated on Monday. Some destinations are offbeat, and others are popular weekend getaways from Delhi that you can easily visit by caravan.  
For a group or solo travel, especially in the pandemic, it is better to take a caravan than a visit by trains or flights. Secondly, many of the places are located in the mountainous regions which you can avail only via road transport.
Let us look at some of these offbeat and beautiful weekend getaways from Delhi that you can visit by caravans:
Landour
Many children's books have referred to this little town outside Mussoorie. This small British cantonment is also the residence of Ruskin Bond. If you want to meet him, you can visit his book signing session at the Cambridge Bookstore every Saturday.
Stroll across the mountainous roads surrounded by deodar trees at the Gol Chakkar, while paying a visit to the Kellog's Church and Christ Church to see the gothic architecture.
In Landour, witness the beautiful sunrise and sunset by taking a small hike to Lal Tibba.
If you want to beyond the tourist trail of Mussoorie, then take a day trip to the corn village of Sainji and Bhatoli and see the Garhwali culture and cuisine first hand.
Kasauli
This town in the Himachal is offbeat and not very touristy. It is the ideal place for trekkers, so do not forget to go for a hike to see the beauty of nature at the Gilbert Trail. While caravaning in Kasauli, relish your taste buds at the oldest cafes and whiskey breweries.
If you are interested to see how women of Himachal pick apples, head to the apple orchards of Mashobra, which is just a few hours away from Kasauli.
Kasauli is an offbeat and less touristy place in Himachal that is ideal for adventure seekers and solo travellers.
Rishikesh-Haridwar
If you want a solitary retreat of peace and an escapade to spirituality, head to Haridwar and Rishikesh. You can sit by the Ganga in the evening and watch the grand aarti. Boat rides are also available for interested travellers.
You can also pay visits to the oldest temples , such as the Kankhal temple in Haridwar and offer your worship.
For the adventure seekers, Rishikesh is the ideal getaway destination for cliff diving and river rafting.
The Beatles Ashram is also a heritage site that might not be missed when visiting Rishikesh.
Haridwar and Rishikesh both have a great culinary heritage which must not be missed in your getaway trip.
Agra
This small town in Uttar Pradesh is a window of history and heritage from the Mughal Era.
Besides being awed by the beauty of the Taj Mahal and the architectural marvel of Fatehpur Sikri, travelers can also visit Noor Jahan's Tomb, Buland Darwaza, Salim Chishti's Mosque, Agra Fort, etc. During your stay at Agra, you can also shop for souvenirs and local handicrafts to take home.
Every nook and corner of Agra is filled with history and heritage of the Mughals. You can visit the local neighbourhoods and listen to the old tales.
Agra is the ultimate caravanning weekend destination for history buffs.
5. Amritsar
This old city of Punjab relishes its glory of spirituality, freedom struggle, and the partition of India.
In your Amristar bucket list, you must start by visiting the Golden Temple early in the morning to find tranquillity and peace.
This should be followed by strolling around the old city and visiting the Partition Museum and Jalianwala Bagh for a glimpse of pre-independence history.
If you want to go offbeat, head to Pul Kanjri and Sarai Amanant Khan. These are hidden heritage gems of Amritsar. While visiting Pul Kanjri, you can also head to see the evening parade at Wagah Border. Thousands of visitors from both India and Pakistan gather to see their respective armies carry out the parade.
Also, do not forget to relish the delicious culinary wonders that Amritsar offers.
6. Ranthambore
If you love wildlife amongst the heritage, then caravan to Ranthambore. This small town of Rajasthan is known for tiger lovers. You can camp out and then take a safari to see the tigers and canters at the Ranthambore National Park.
Besides observing the big cats, you can even do early bird watching at the national park.
For offbeat nature lovers, caravan to the cities of Anantpura Lakarda to see the exotic species of striped hyenas.
Other than wandering in nature, you can also hike up to the majestic Ranthambore Fort and witness its magnificent architecture overlooking the national park.
7. Jaipur
The Pink City of Jaipur is a popular weekend getaway for the people of Delhi in the winter months. The city is made of heritage and culture, which must be cherished as a traveler. You can visit the Hawa Mahal, Jal Mahal, City Palace. The city also has some offbeat heritage sites such as the Patrika Gate, Maha Raniyon ki Chatriyan, and the Galta Mata Temple. You can also take a short day trip to the famous and seasonally opened Salt Sambhar Lake. It is a mesmerizing white salt desert that must not be missed by any traveller
In your weekend getaway trip to Jaipur, do not forget to visit the Bapu Bazaar and Johri Bazaar to buy silver jewelry, ethnic outfits, and traditional juttis. Also, let your taste buds relish some Dal Baati Churma when you are in Jaipur.
8. The Shekhawati region
The Shekhawati region, comprising of the towns of Mandawa and Nawalgarh, is known for being an open art gallery . The street corners of both Manadawa and Nawalgarh are adorned with Shekhawati art and paintings. The region also has ancient Havelis of Rajputana style that is vital to the Shekhawati historical heritage.
If you have a strong penchant for the history and local heritage of Rajasthan, the Shekhawati region is only 8 hours away from Delhi.
With Carawander's Rolling Paradise and Mini Wanderlust, you can travel to these destinations during the weekend from Delhi with your family and friends.
Our caravans have all the luxurious amenities so that you feel comfortable and rejuvenated on your weekend break.