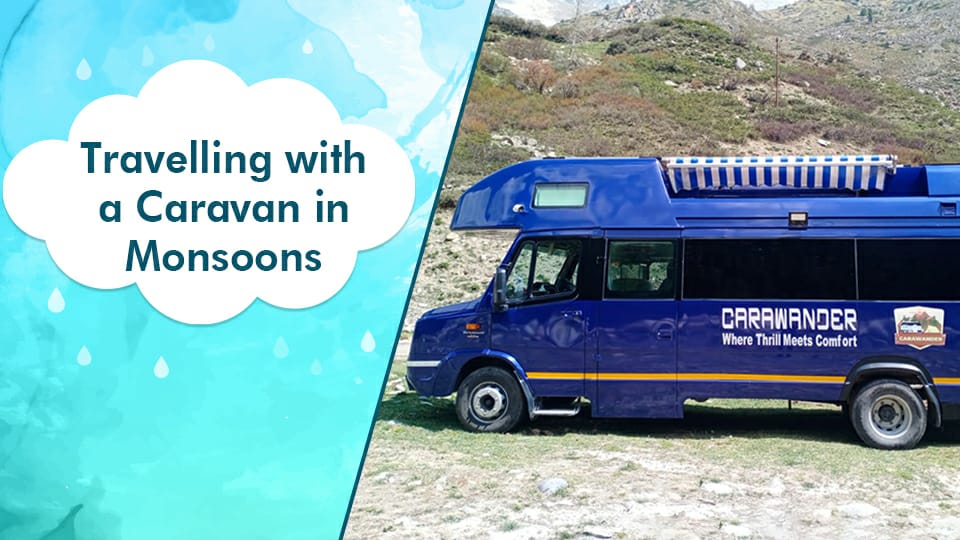 Travelling With a Caravan in Monsoons
The rainy season in India is when the country comes alive and becomes colourful. The lush greenery that sprouts up during this season is breathtaking and makes for some of the most beautiful landscapes you could ever imagine. During this monsoon season, caravans will be the most preferred and convenient commute choice to avoid the shackles of mundane travelling while safety is the key priority.   
Caravan tourism is trending nowadays, and people are travelling to many places in India using caravans like Mahabaleshwar, Lonavala, Amboli, Meghalaya, Kerala, Kodaikanal etc. This place also gets covered with lush greenery, much cleaner air, and many waterfalls with beautiful landscapes to chill in.  
Getaway with carawander :  
Carawander has two types of caravans  
  1. Rolling paradise  
  2. Mini wanderlust    
Healthy monsoon trip with Rolling paradise:  
The Rolling Paradise caravan can go anywhere in India and accommodates a large group of six to eight Travellers, and the cost per pay is Rs 20000. In addition, you also get petrol free for 500 kms. Camping, barbeque, and hiking are the best equipment to use in monsoon. So hit the road with rolling paradise and get a close view of the green paradise places of India.  
In monsoon, there is a high chance of getting fungal and bacterial infections. You need not worry about travelling in the caravan as it consists of services like bathing amenities maintained and kept spotlessly clean. It has a geyser and western-style toilet. So, while travelling during the monsoon, you can easily take hot showers. Also, the western-style bathroom makes it easy for elderly people in your family to travel in the caravan.
Make your solo trip perfect with Mini wanderlust:  
Mini wanderlust caravan vehicle is best for solo travelling and can accommodate 4 to 5 Travellers, which also comes with night vision cameras for your safety in hazardous conditions. CARAWANDER has the best well-equipped kitchen with pantry cabinets and a microwave, which is ideal for making hot meals and heating them instantly, imagine having a hot bowl Maggi in cool monsoon weather in a beautiful spot. Monsoons are incomplete without getting caught in the rain and relishing the hot food.  
Rainy days were made for drinking coffee:   
 Good news for coffee lovers, as CARAWANDER has a well-equipped coffee machine in it. Make some coffee, grab a book, and watch as heaven opens its gates. Having coffee in the company of nature makes you feel the warmth while rain is dripping off your face is the best moment. Monsoon seasons make the country greener, nature comes to life, and forests and rivers swell with activity. Who does not like to witness the beauty of nature on rolling wheels, experiencing every hinge of it?  
Escape to nature:  
We live in an era where the ozone layer is depleting, pollution is increasing, and trees are being cut down; in such conditions experiencing nature will be a fortunate opportunity for humankind. It is also the best way to escape reality for young tech workers as carawander provides you with Wi-Fi and GPS tracking, which can help you balance working and exploring in mini wanderlust on the laps of nature.
Have solitude time:    
People who opt for another mode of transport do not prefer much travelling in monsoon due to the clumsiness, so we do not find much crowd in places which is a boon to caravan Travellers, to park and have an isolation time with your loved ones in beautiful places. You can have a crazy night by setting up tents, and bonfires, making your food, dancing, singing, and making most of the happy times with your loved ones in our Carawander.
Weather is neutral:    
Weather in monsoons is just ideal. It is neither too hot nor cold. It is calm and pleasant, without being too chilly. The climate in most towns and hill stations in India is dreamy when the skies open after heavy showers, causing brief but beautiful spells of sunshine and warmth. Travelling in a caravan, you can protect yourself from heavy rainfall, and when it stops raining, you can continue with your adventures. The Mini Wanderlust has spacious and well-lit interiors, unlike motels with cramped spaces. The vehicle also has a sound ventilation system with hot and cold air-conditioning systems. It is ideal for travelling in India's unpredictable climate conditions.
Freedom    
Caravan multiplies the liberty of the Traveller. Who does not crave freedom in monsoons to feel the drizzle outside? The Traveller can pause the trip a bit if he finds some beautiful locations on the way and can completely indulge himself in the scenic beauty or even have a hot tea and snacks in the beautiful monsoon surroundings. This process enhances the trip and adds beautiful memories to the travel diaries of the Traveller with his friends and family.
Tips to keep in mind:   
While travelling in monsoon, there are a few tips which can make your trip more comfortable and effortless,
*Ensure to carry synthetic clothes.   
*Do not forget the repellents and medicines.   
*Do pack stock surplus supplies.   
*Do not prefer risky activities.
All the above perspectives satisfy your soul by travelling with Carawander and making unforgettable memories to live on. During this monsoon vacation, let your kids find leisure outdoors, feel free to travel with elders without worrying about their hygiene, and have a chill time with your friends. Book an exciting road trip with Carawander.